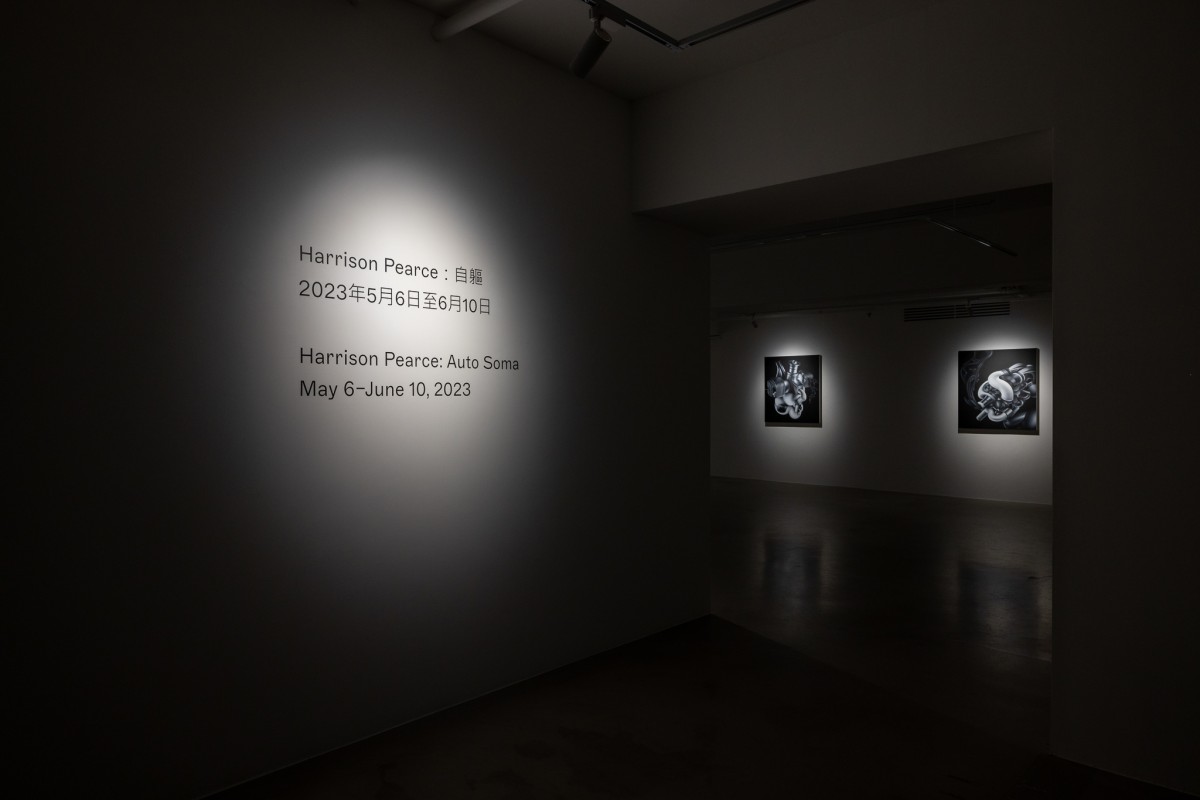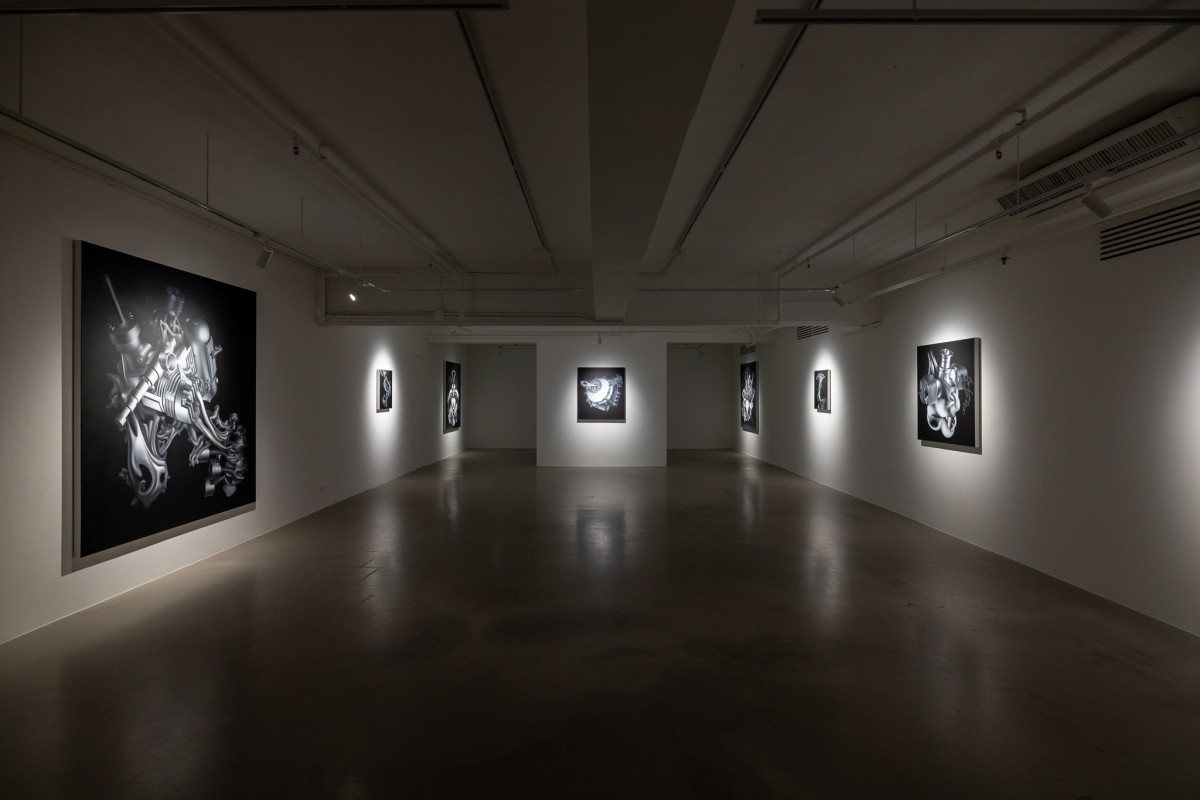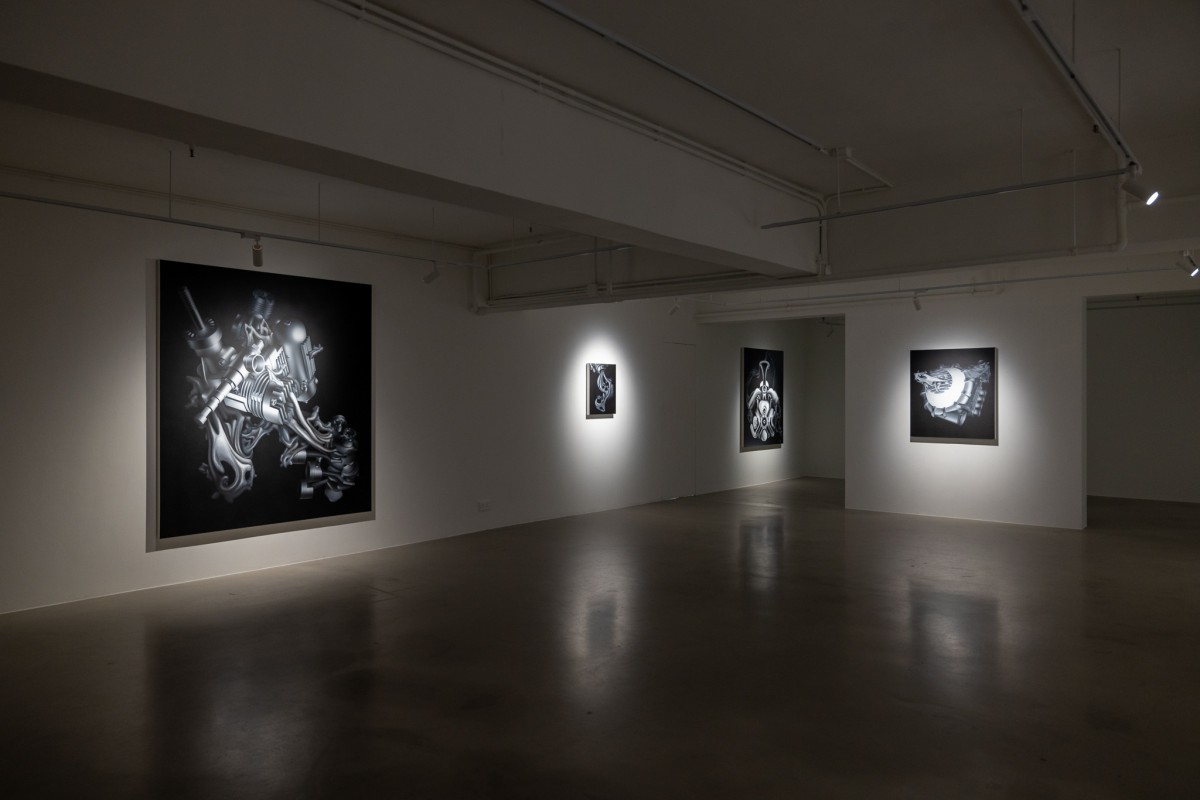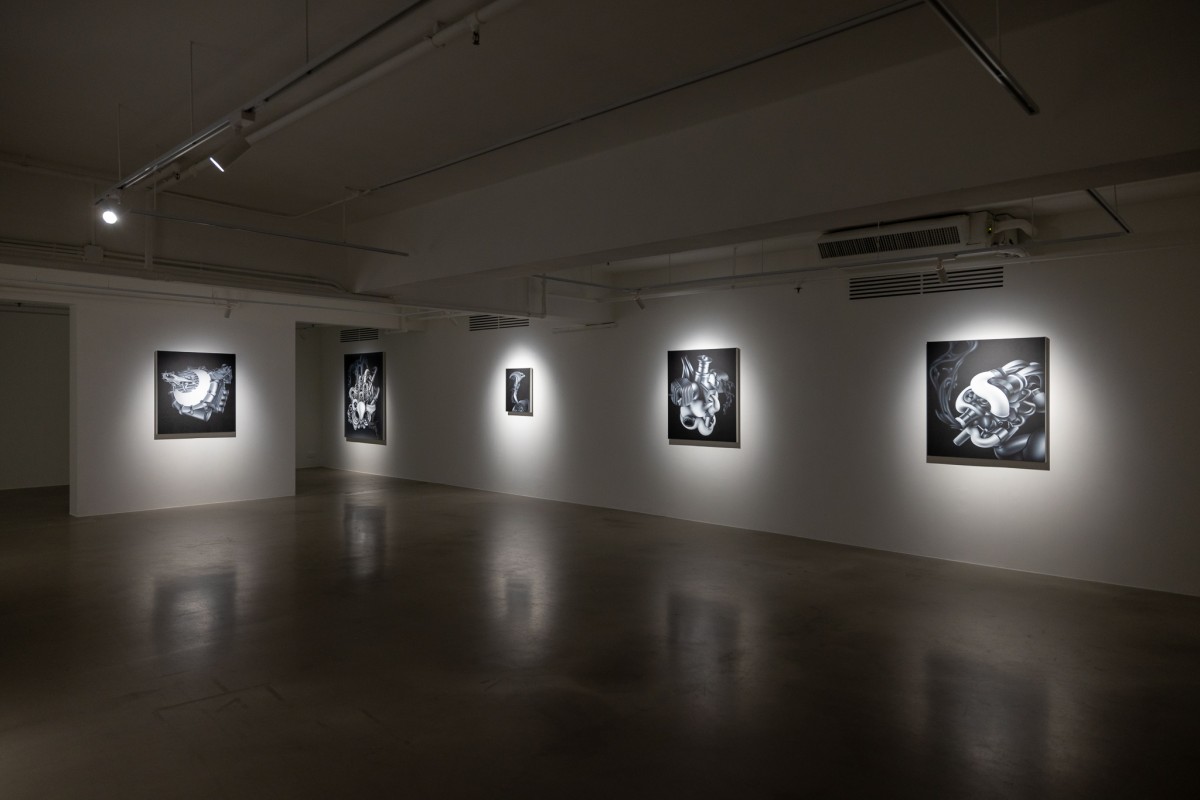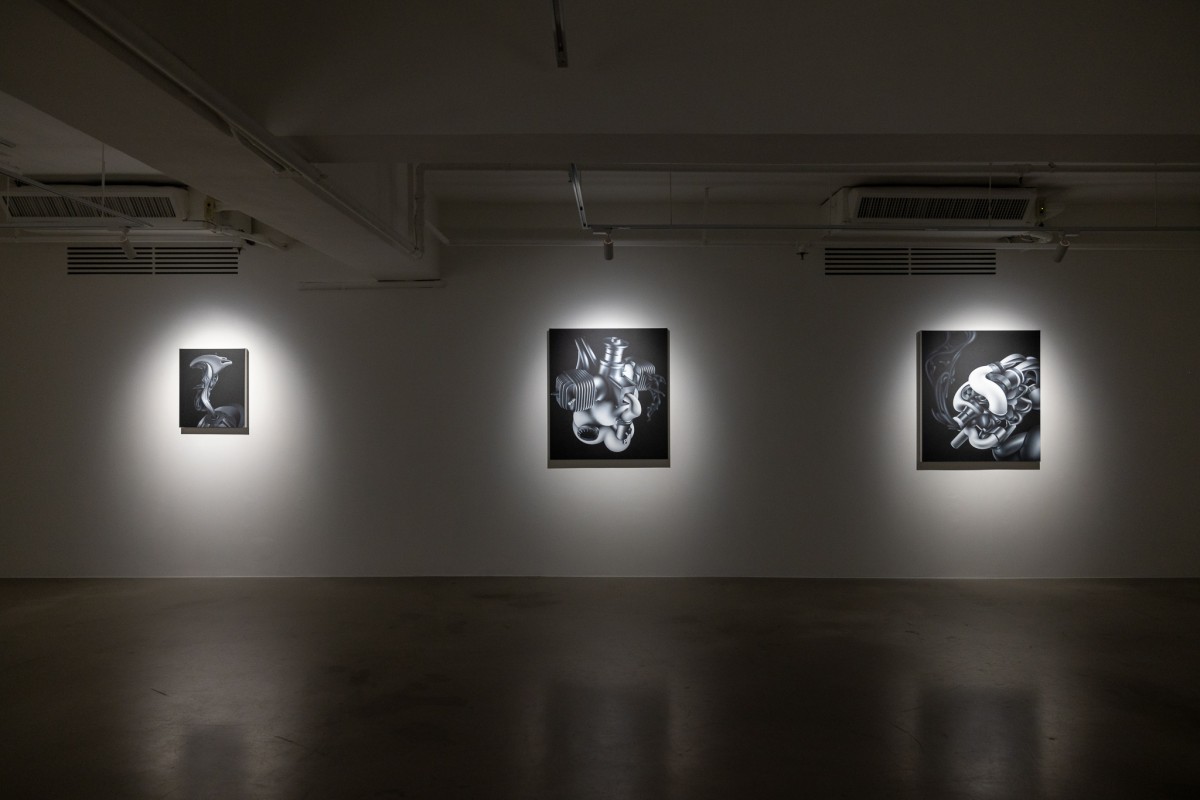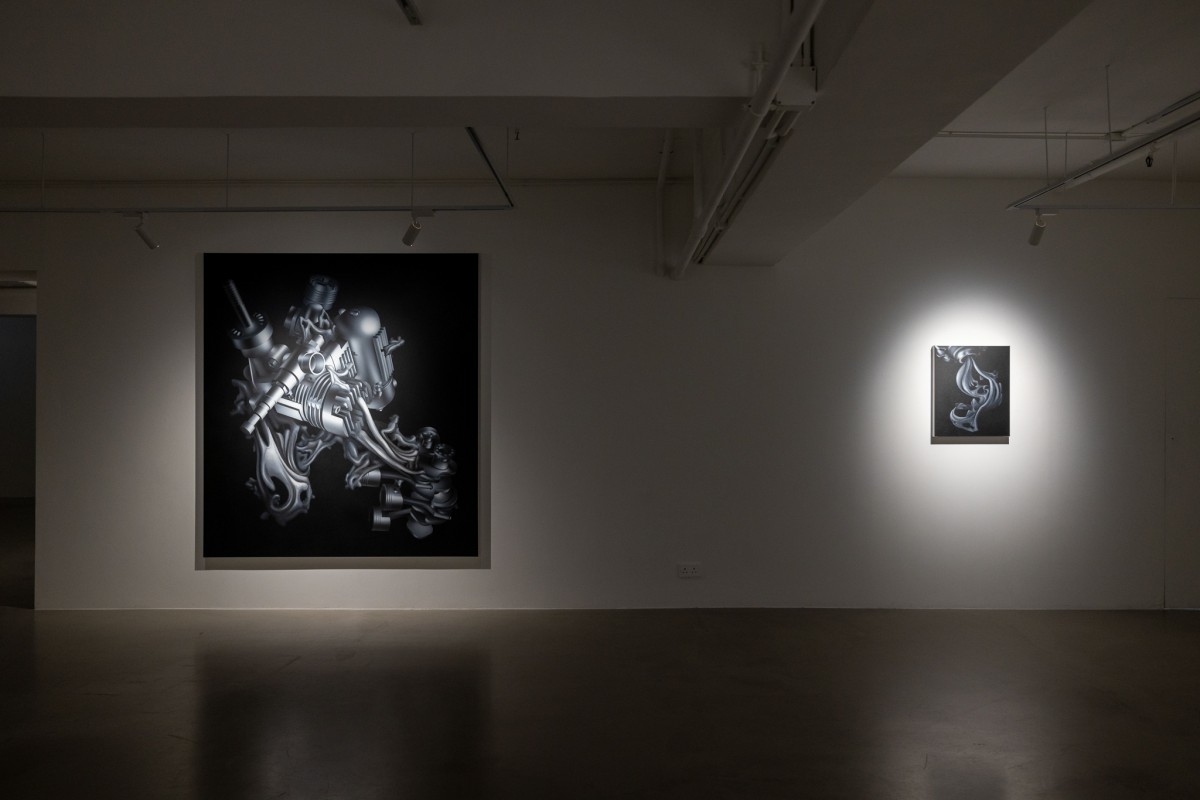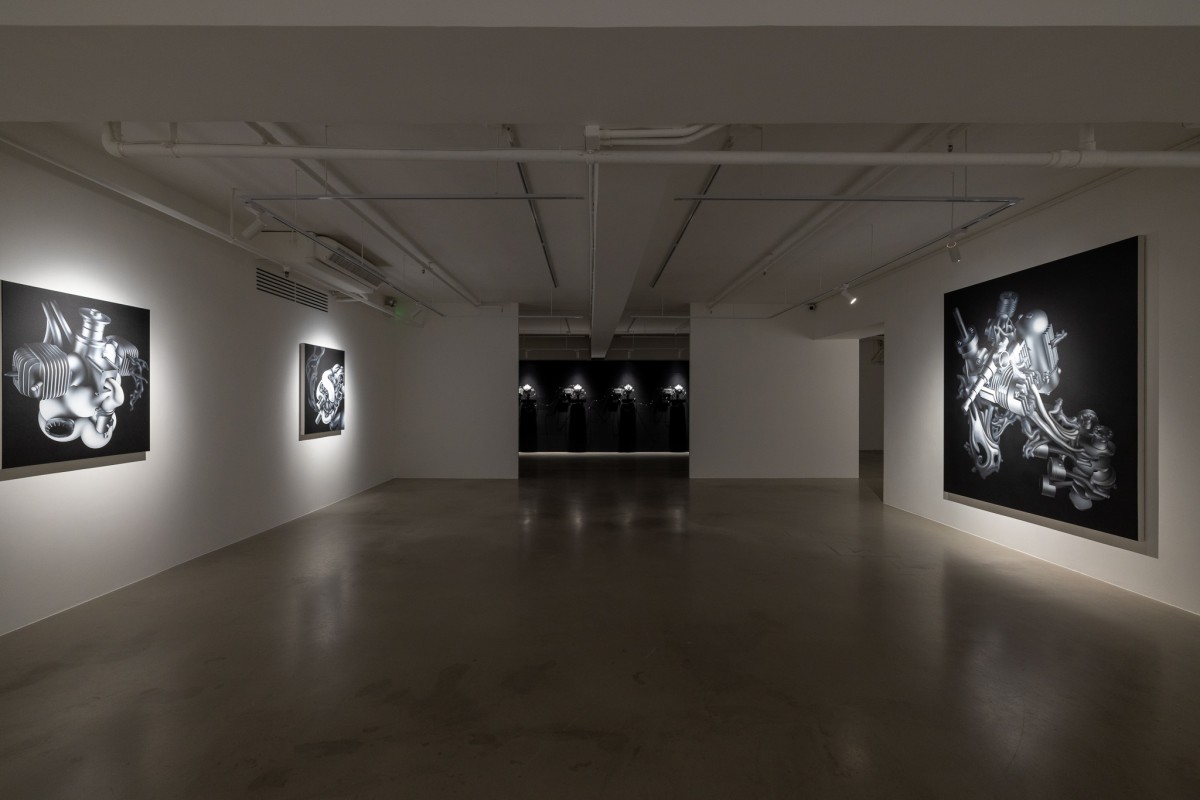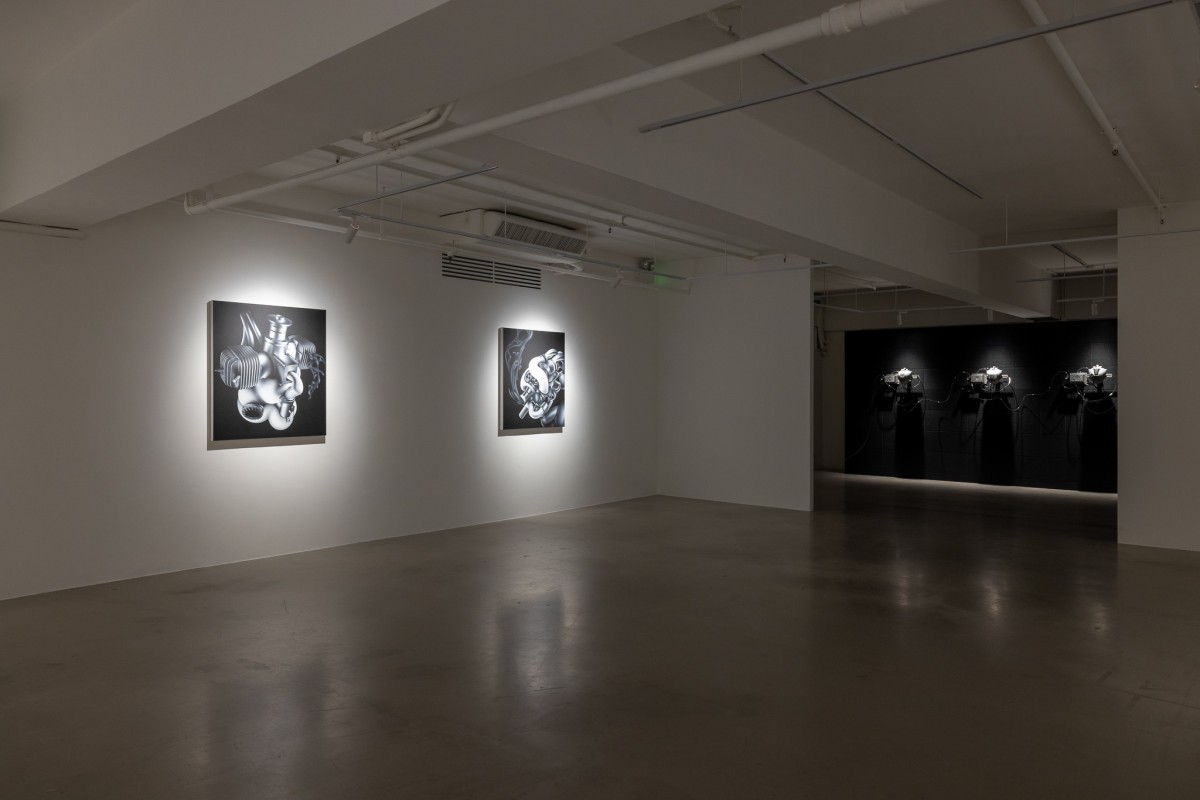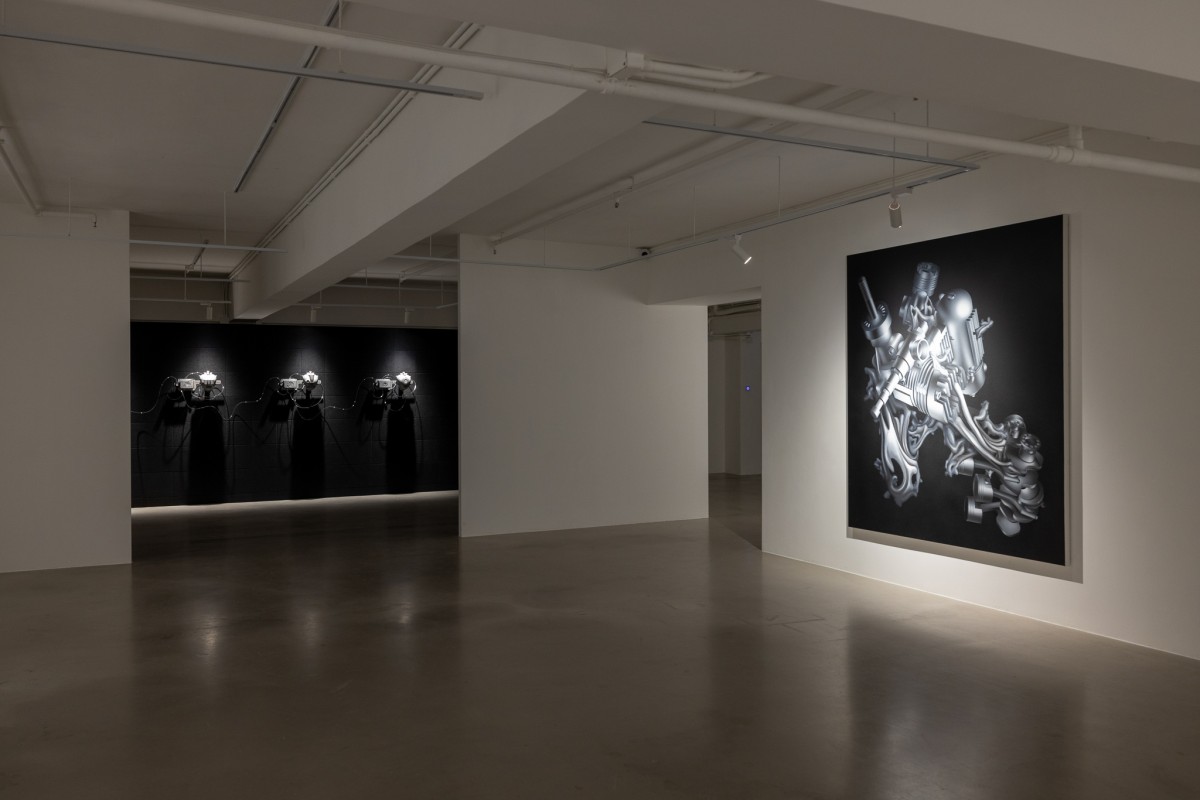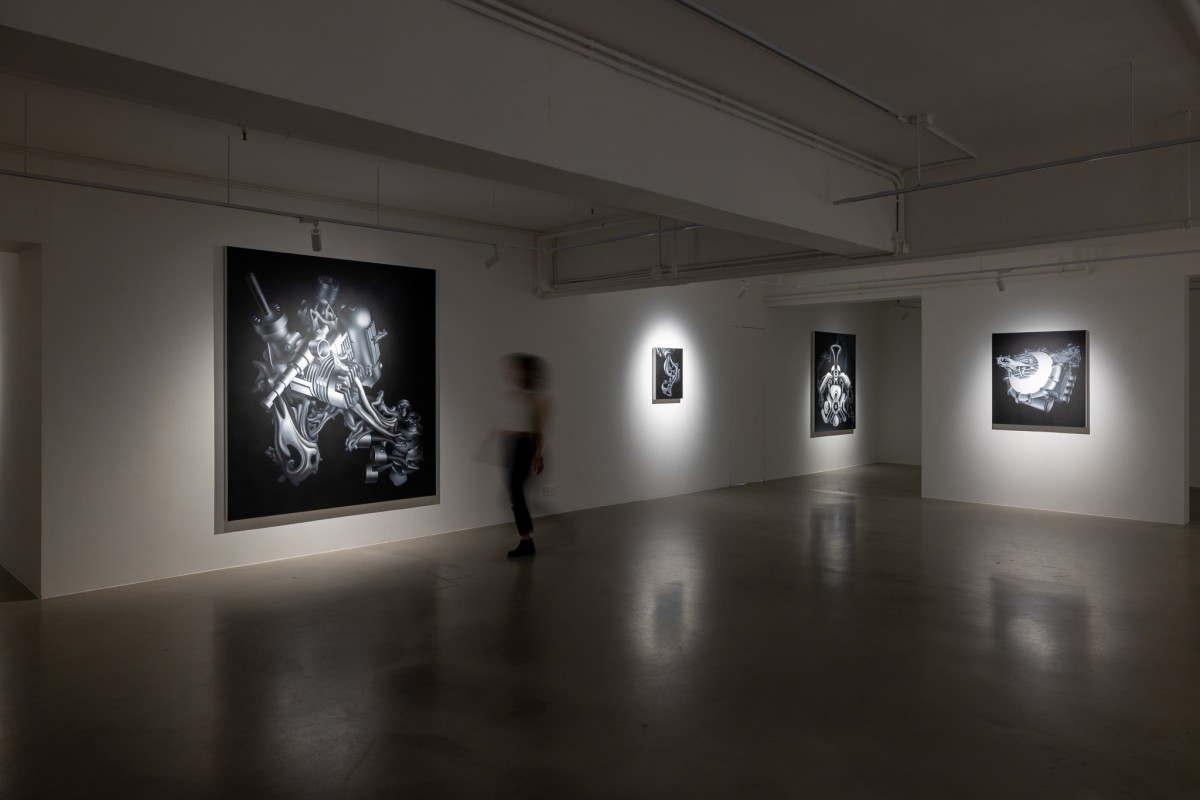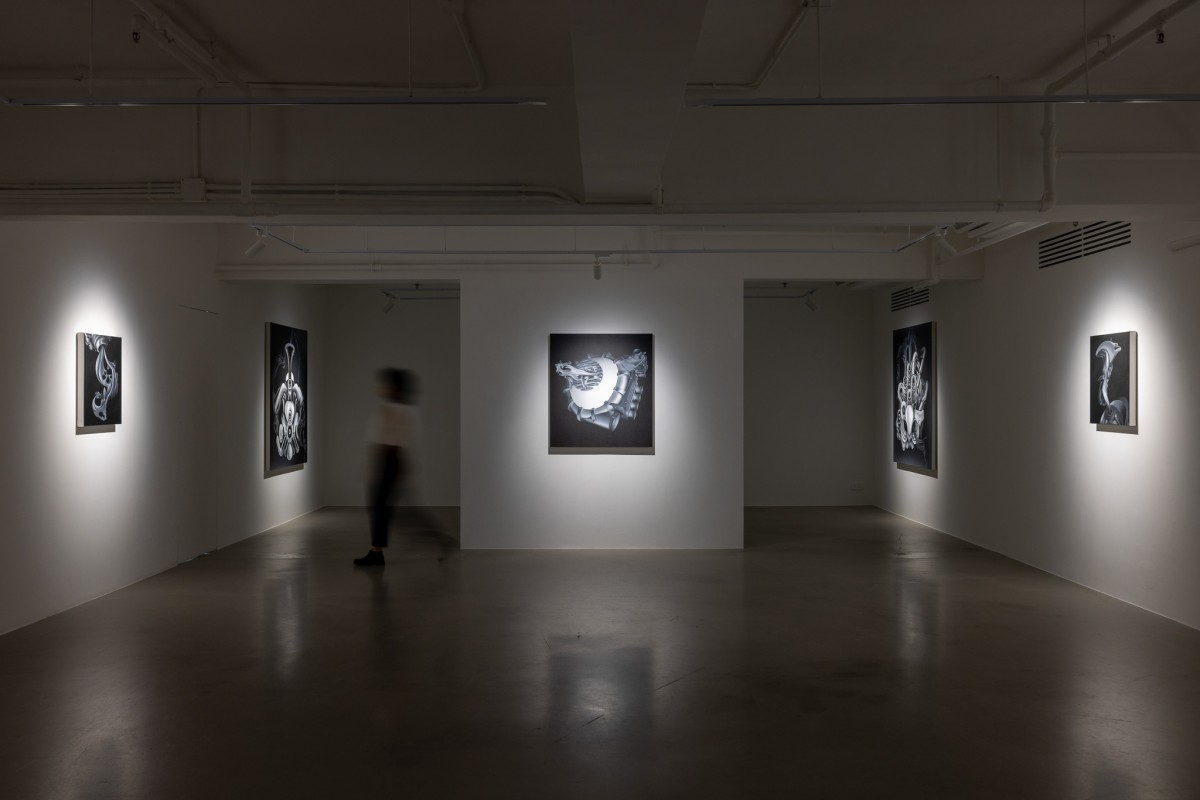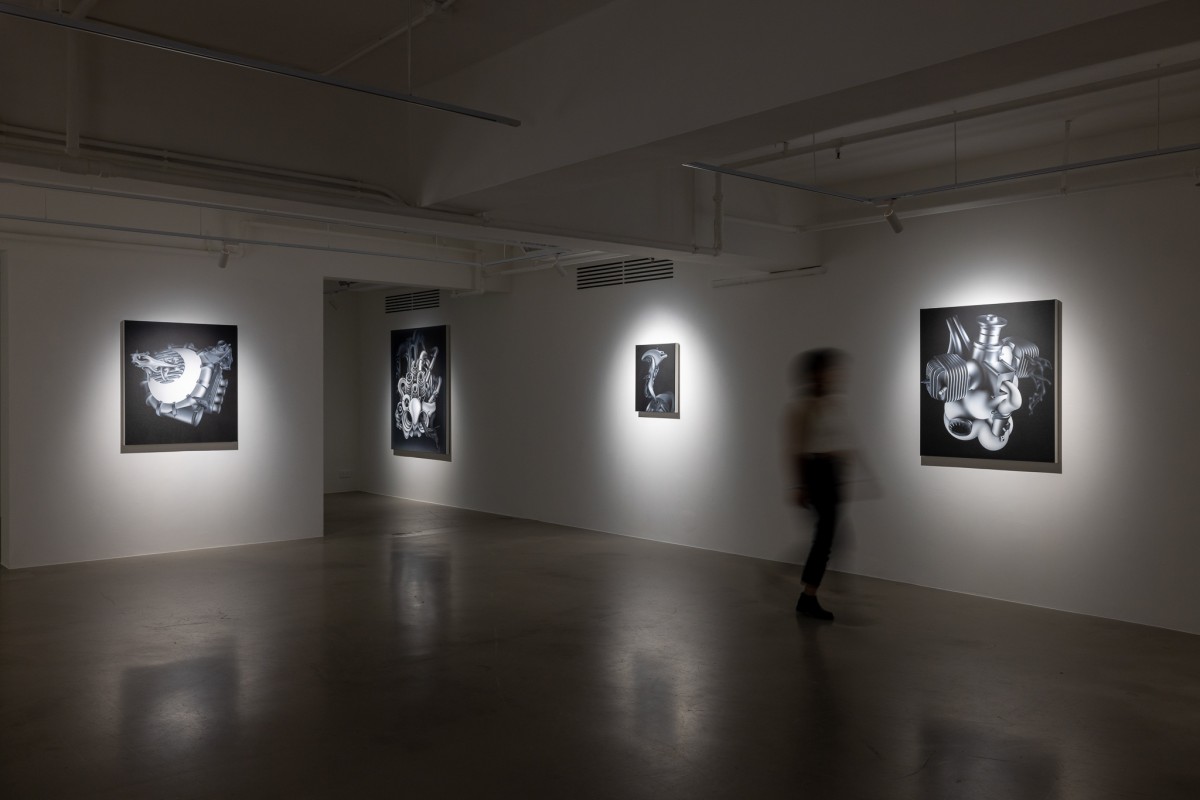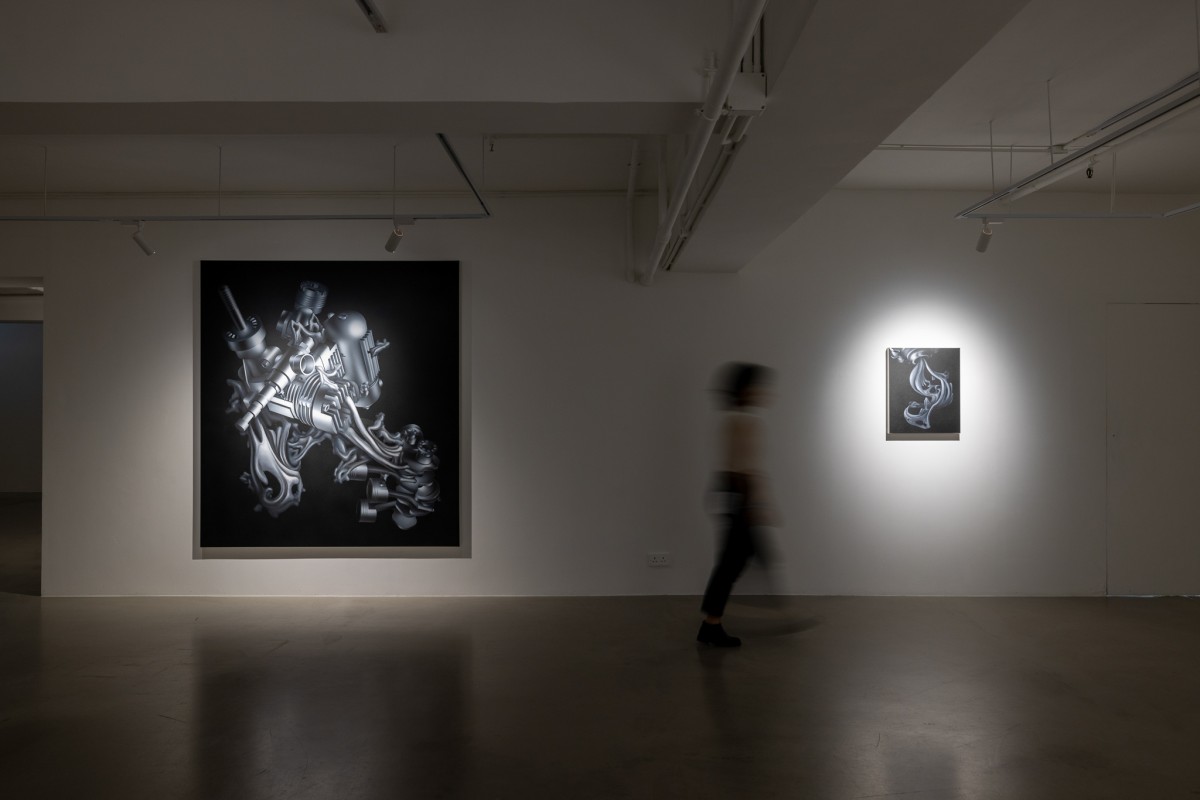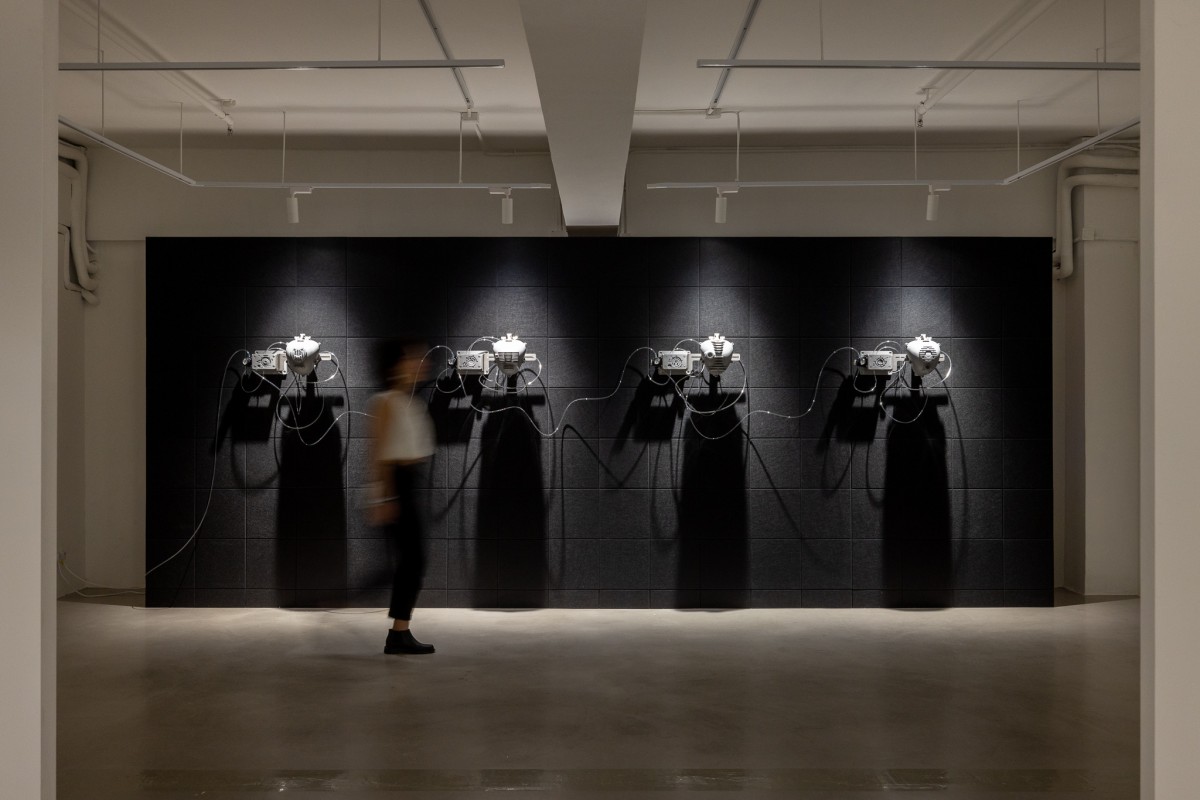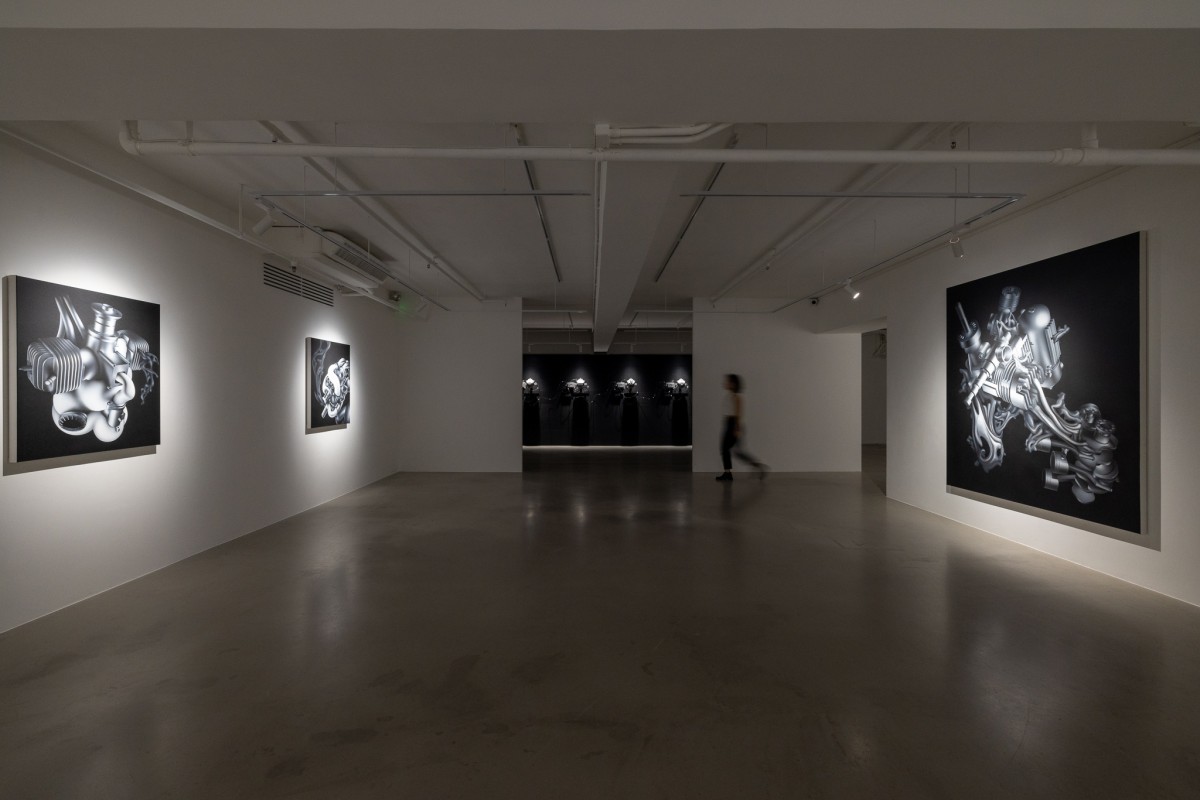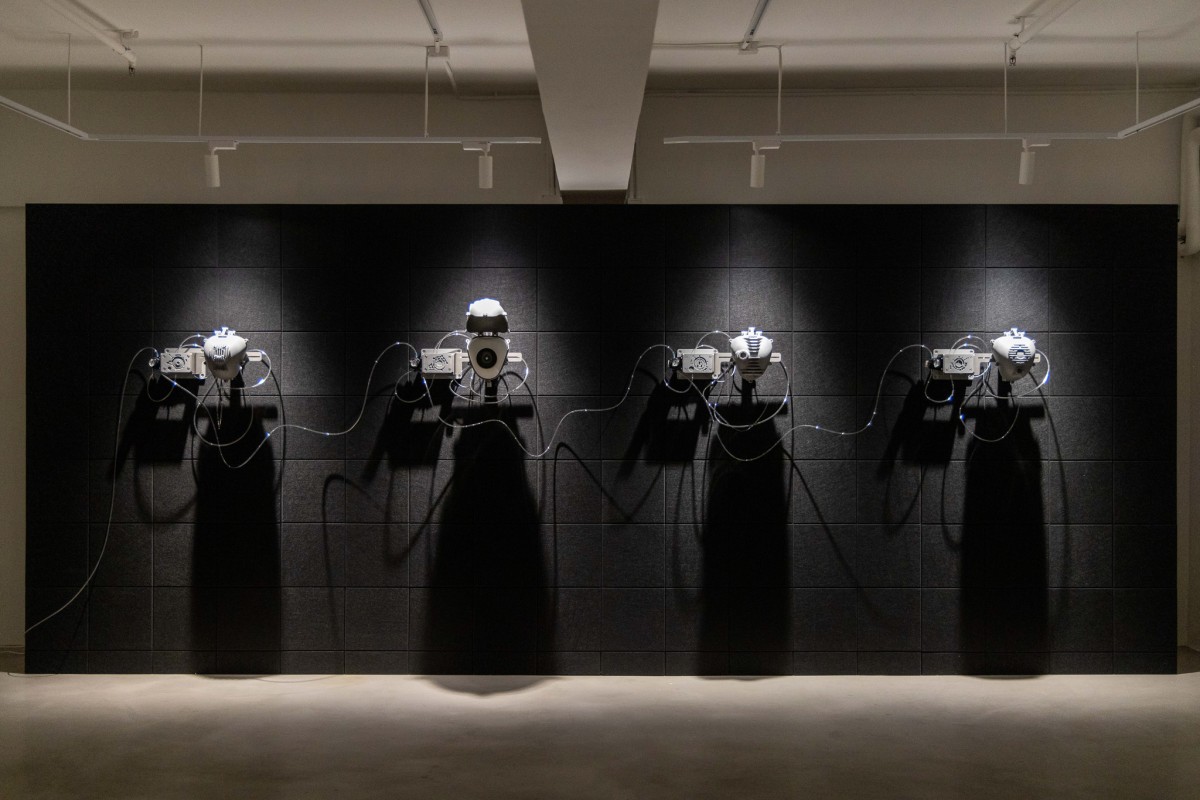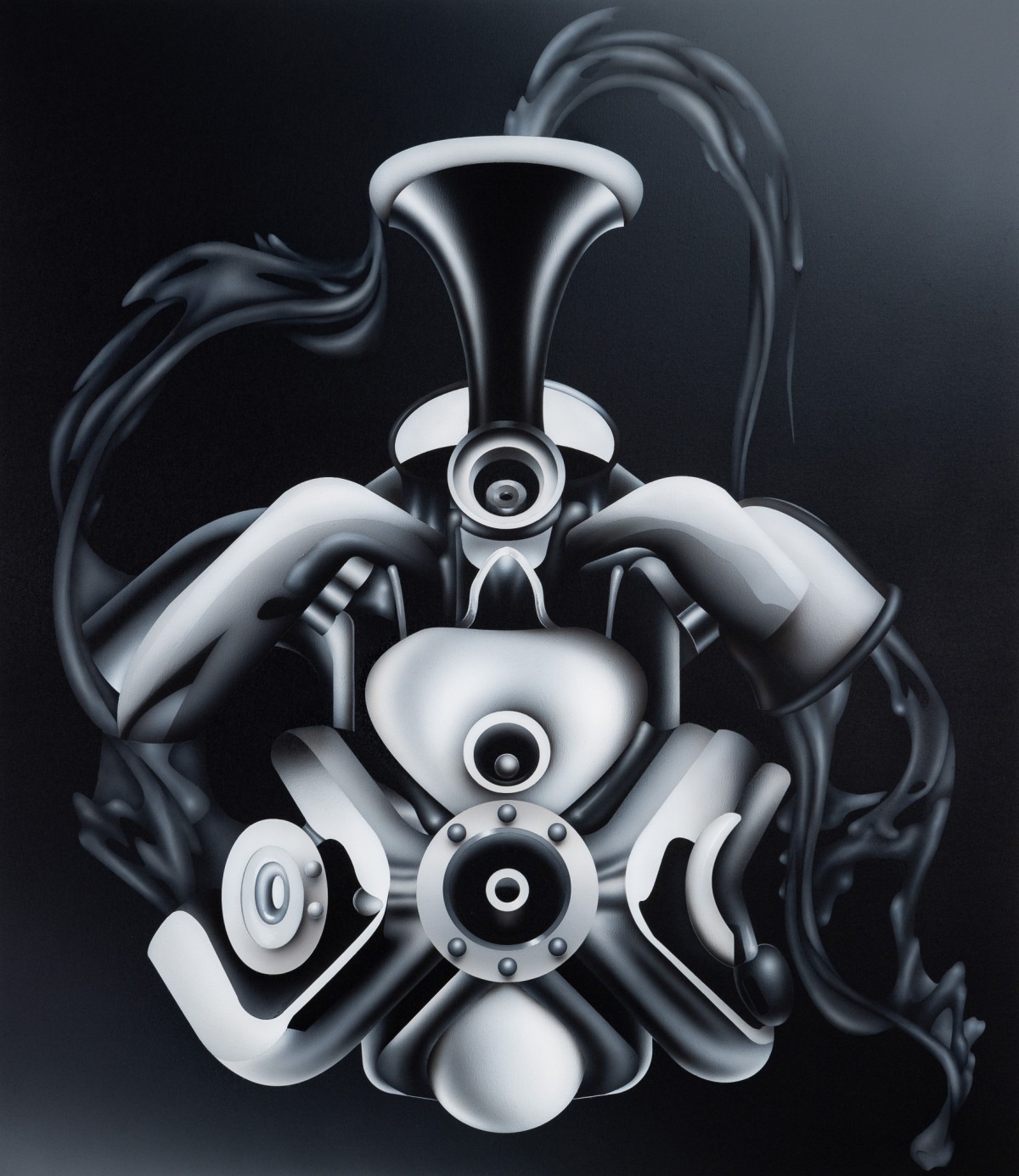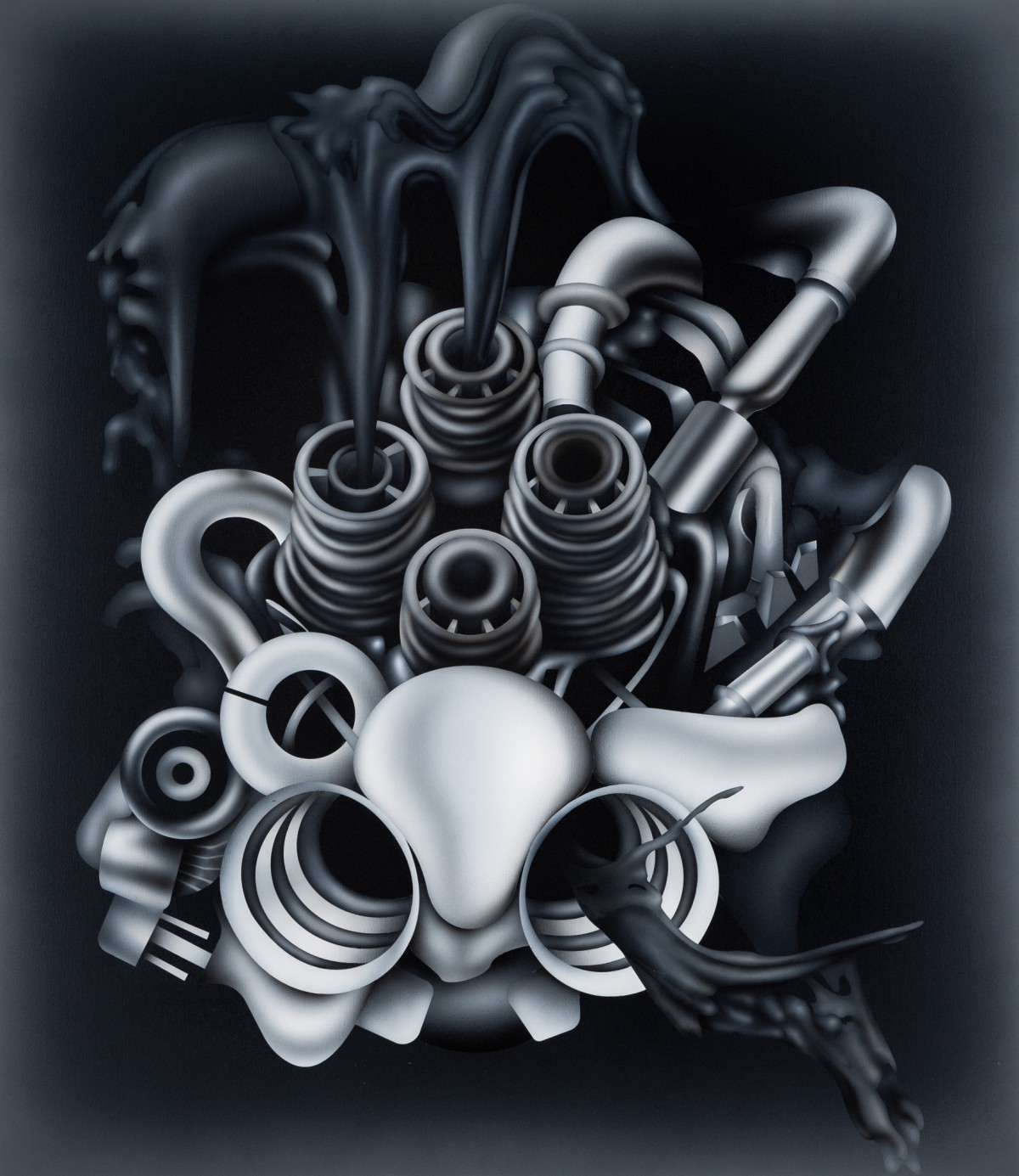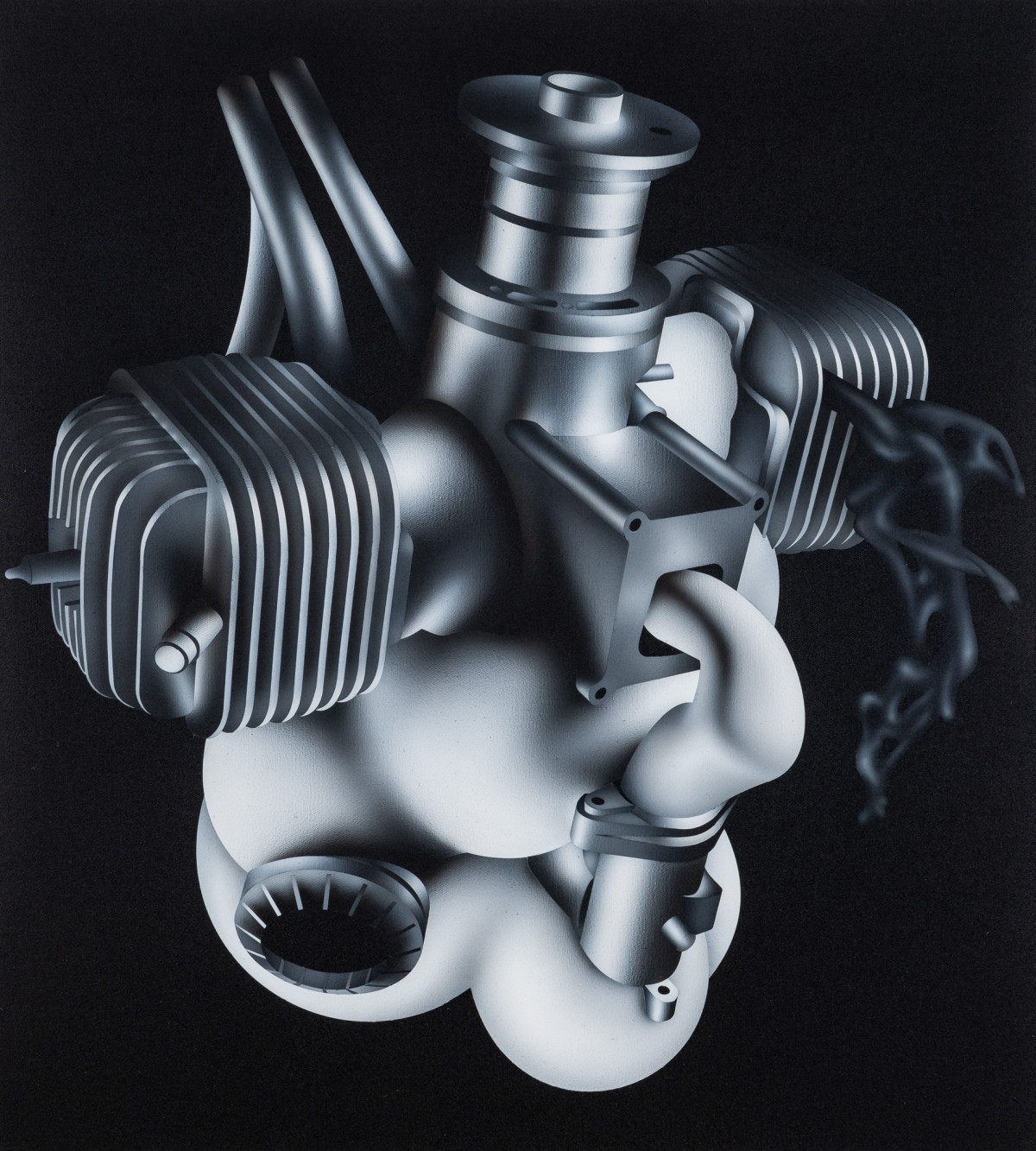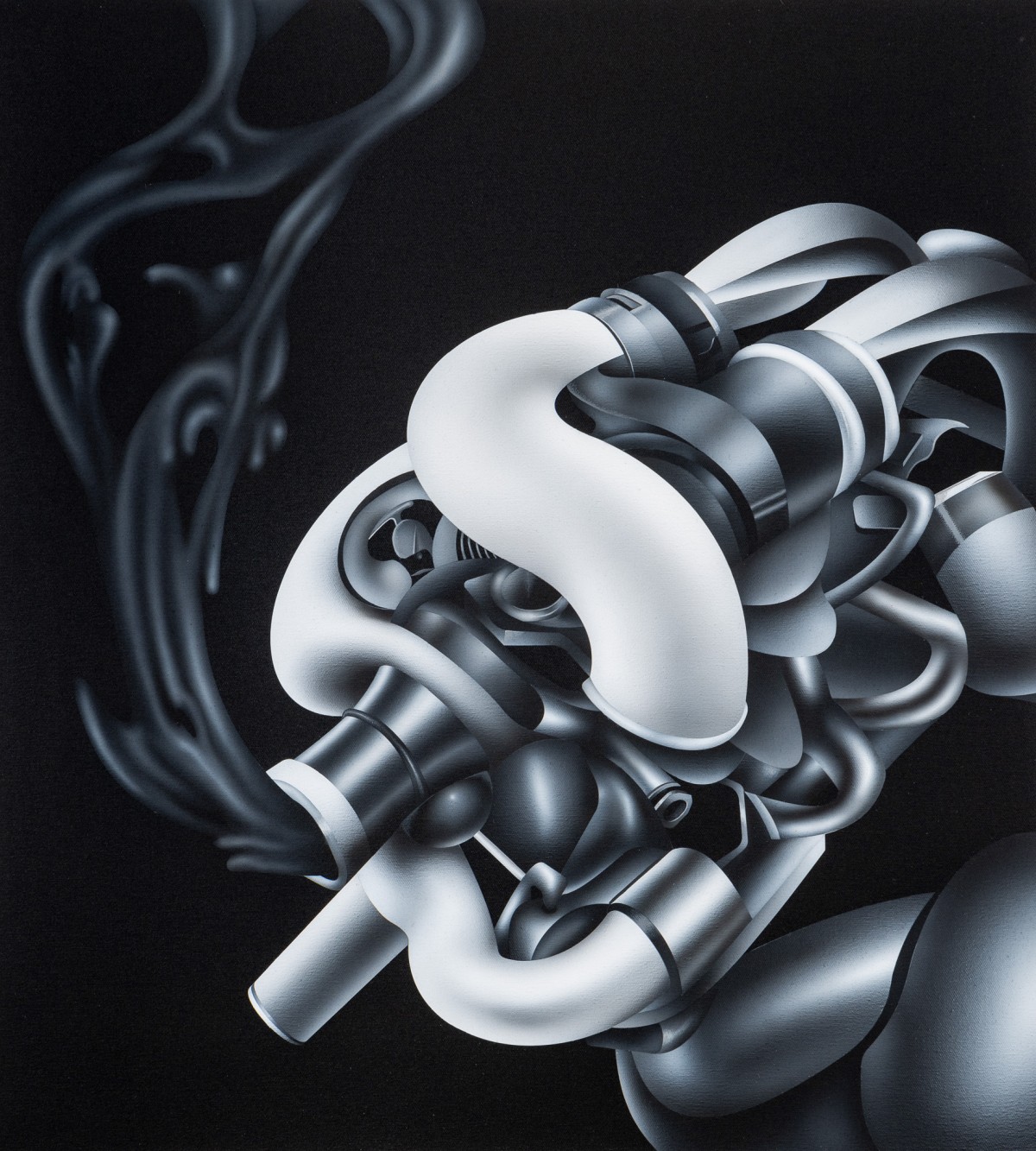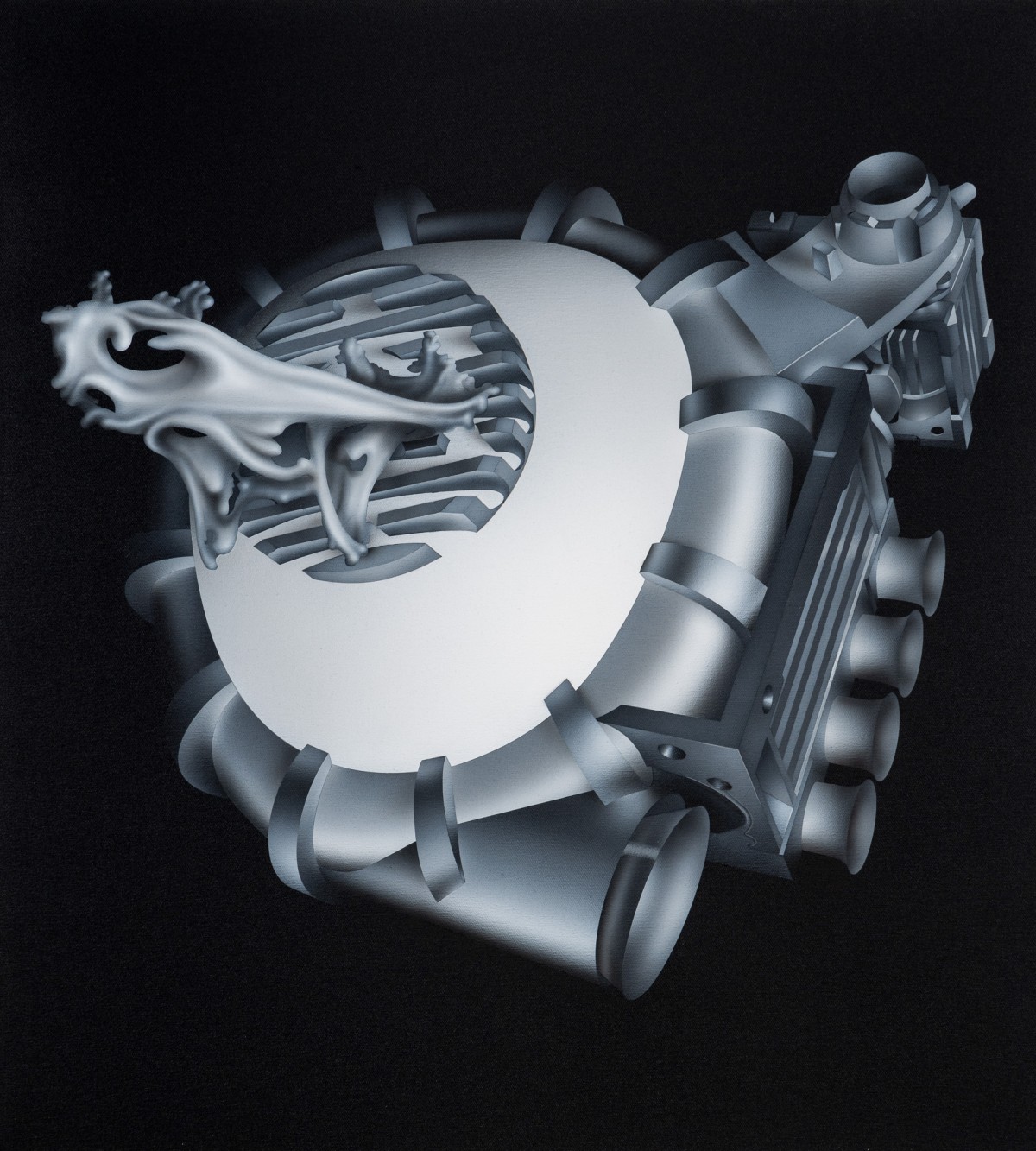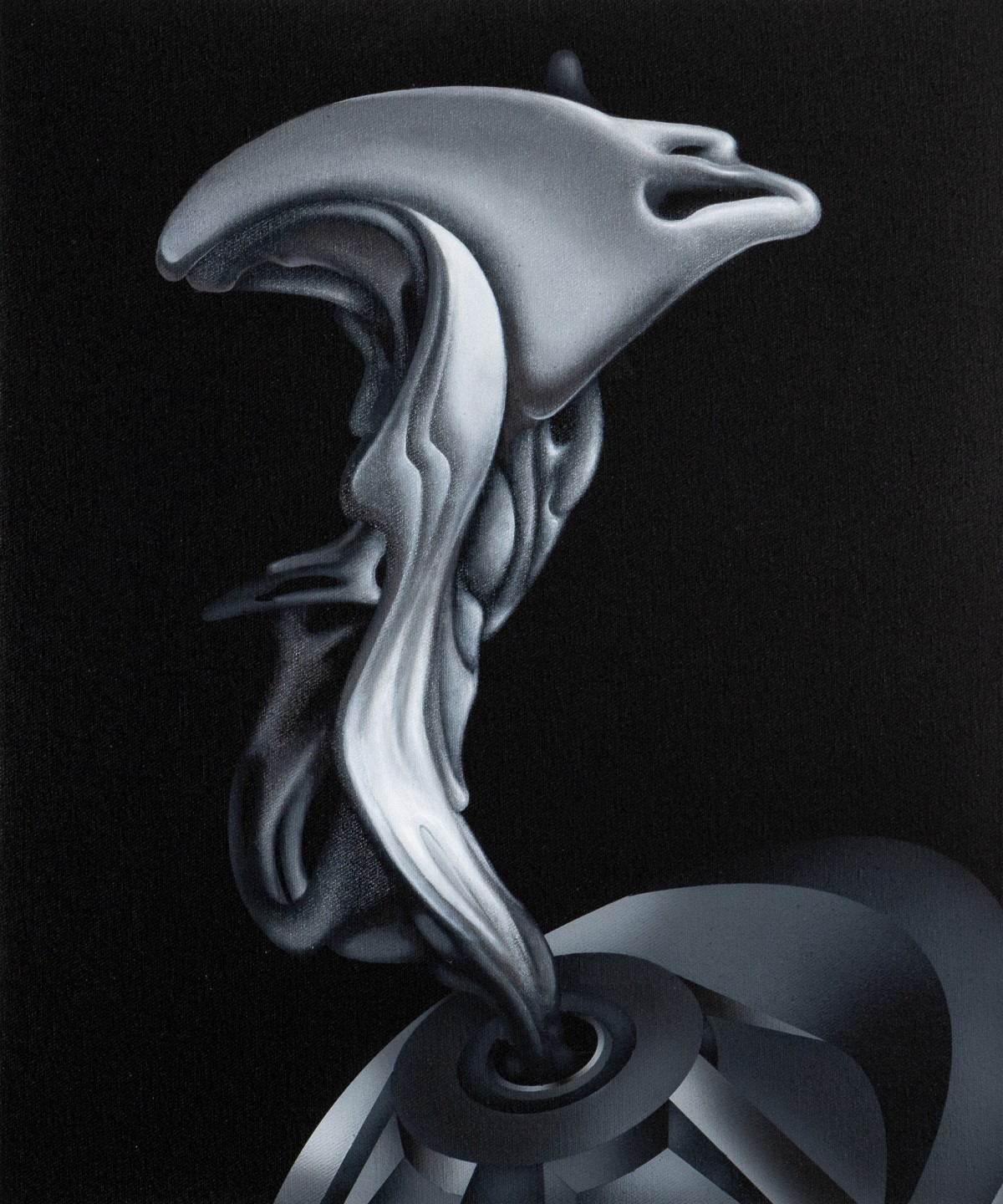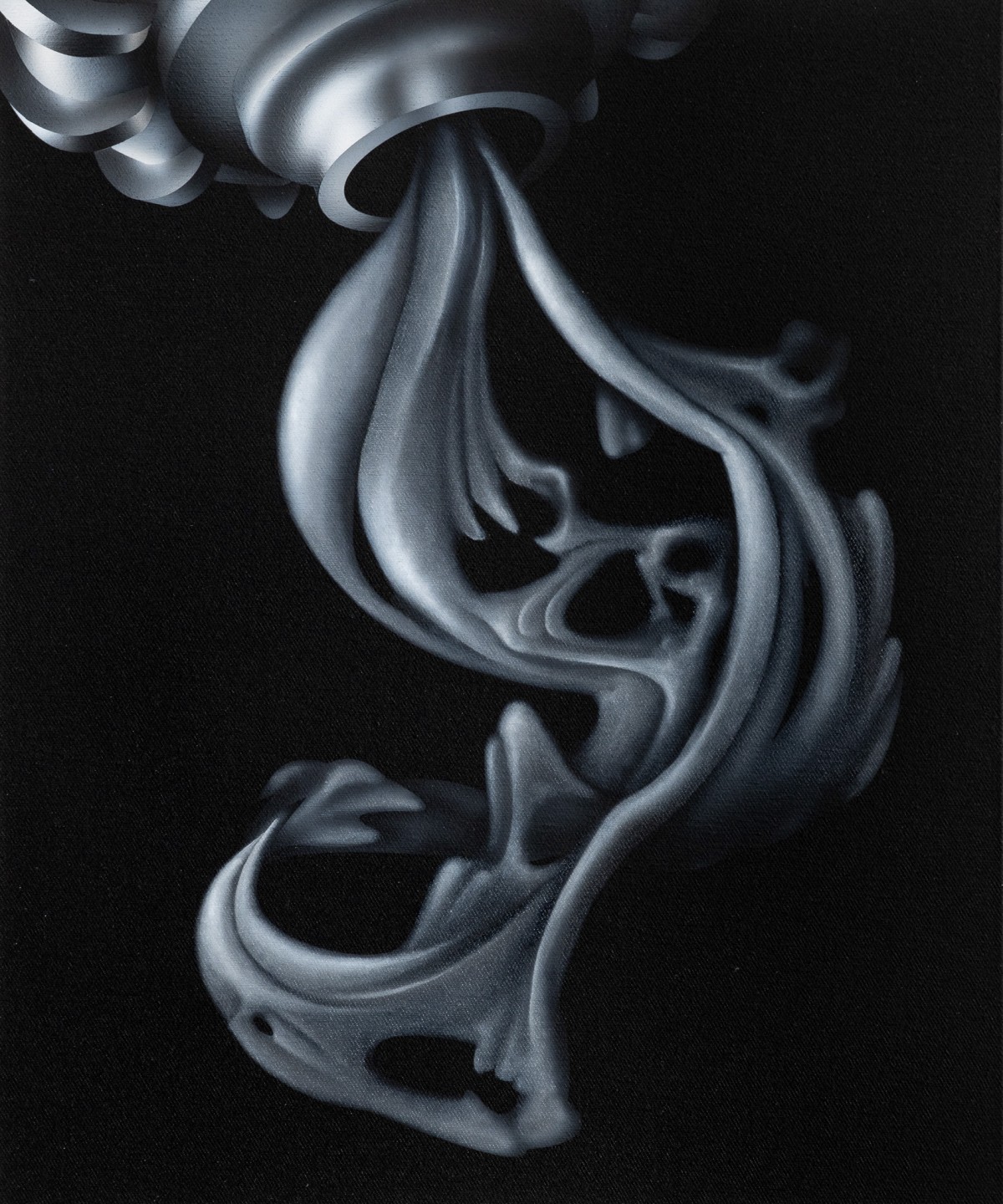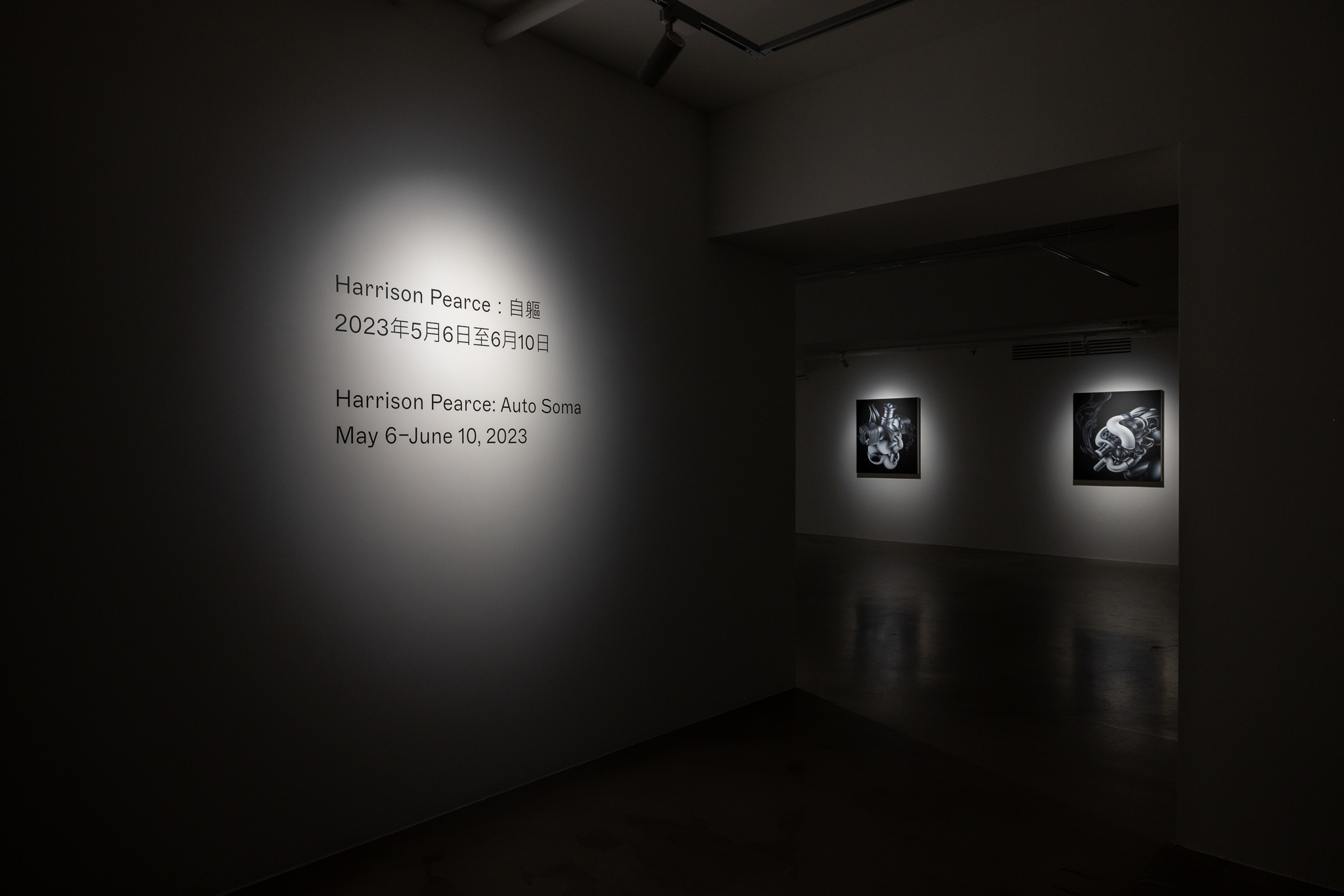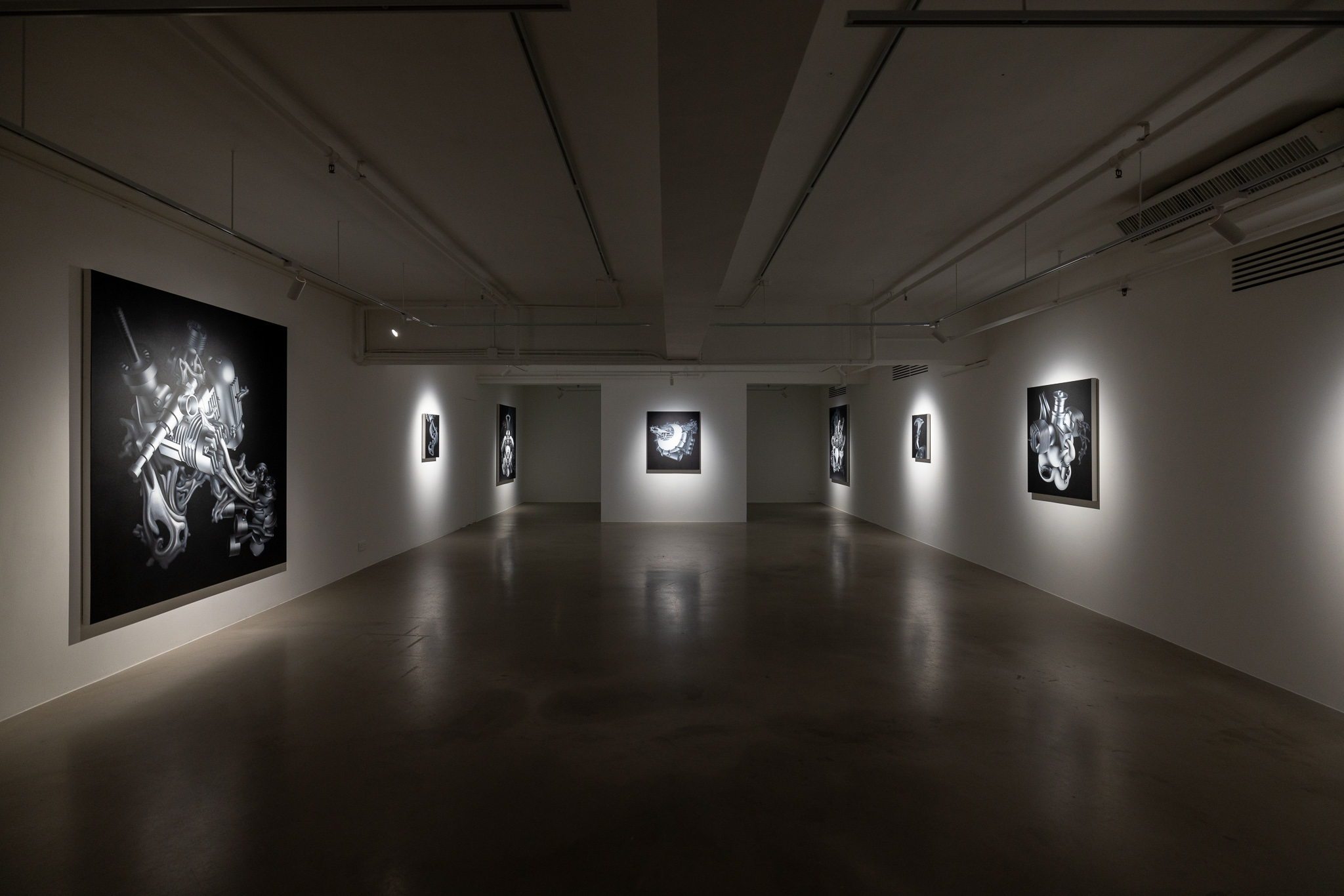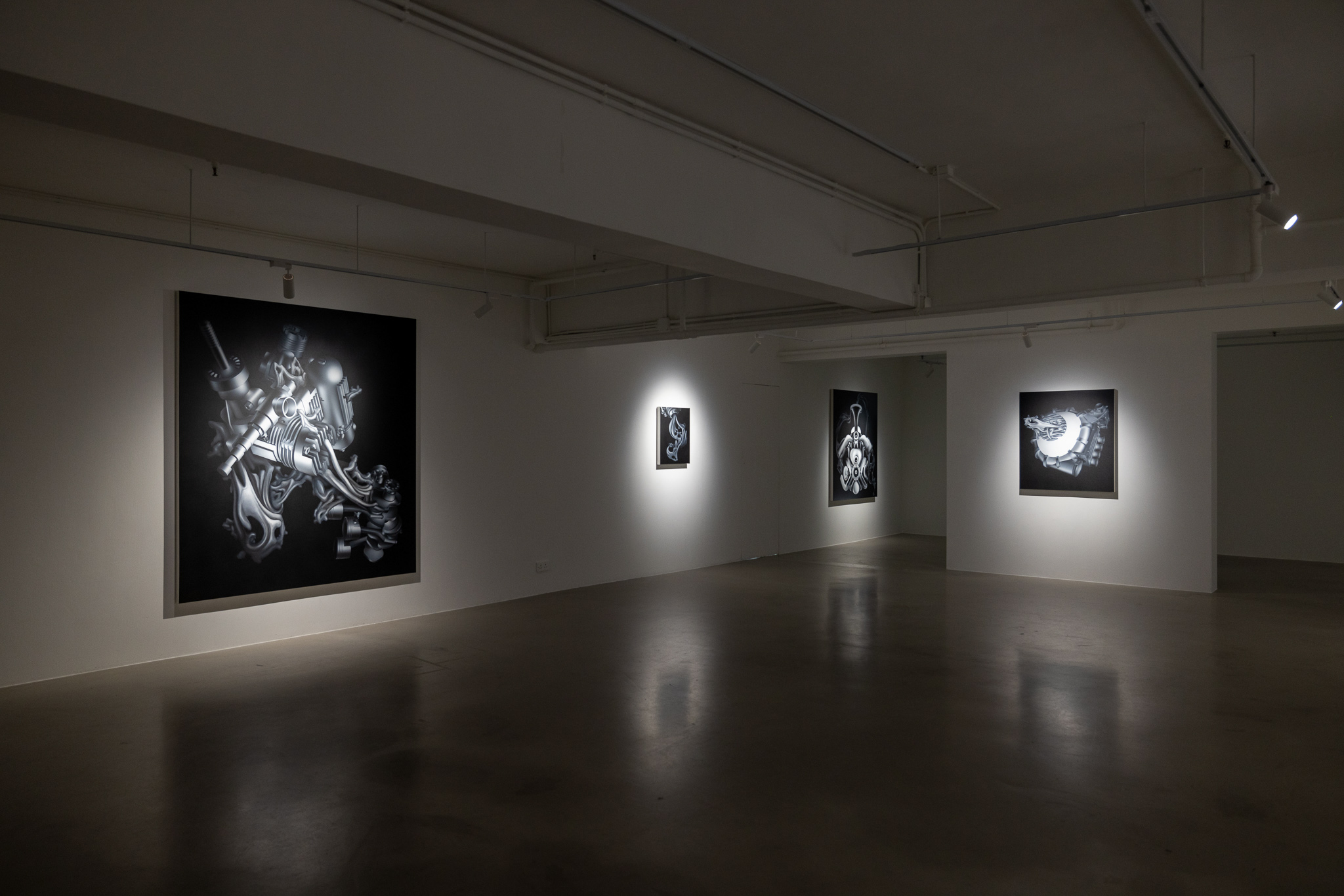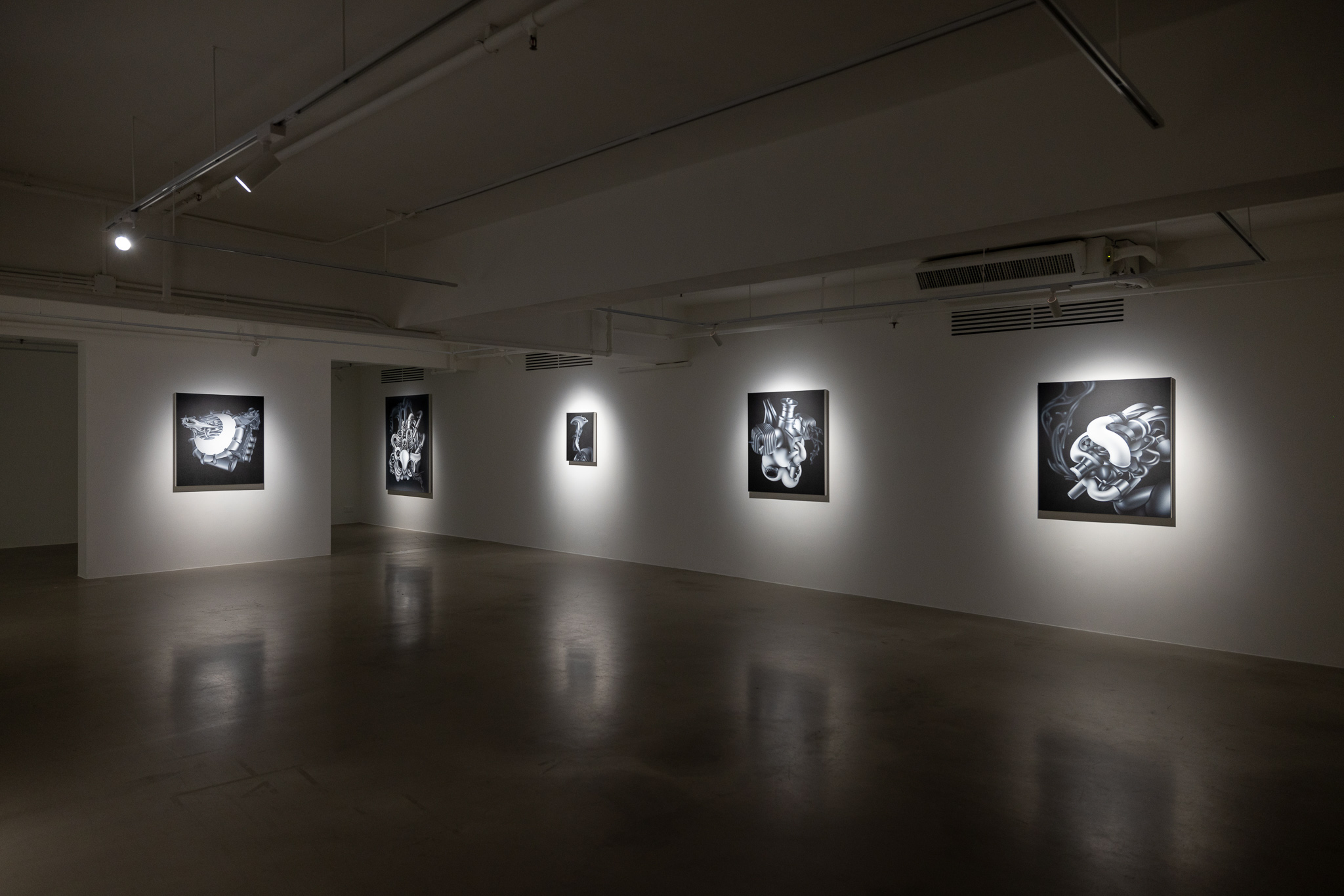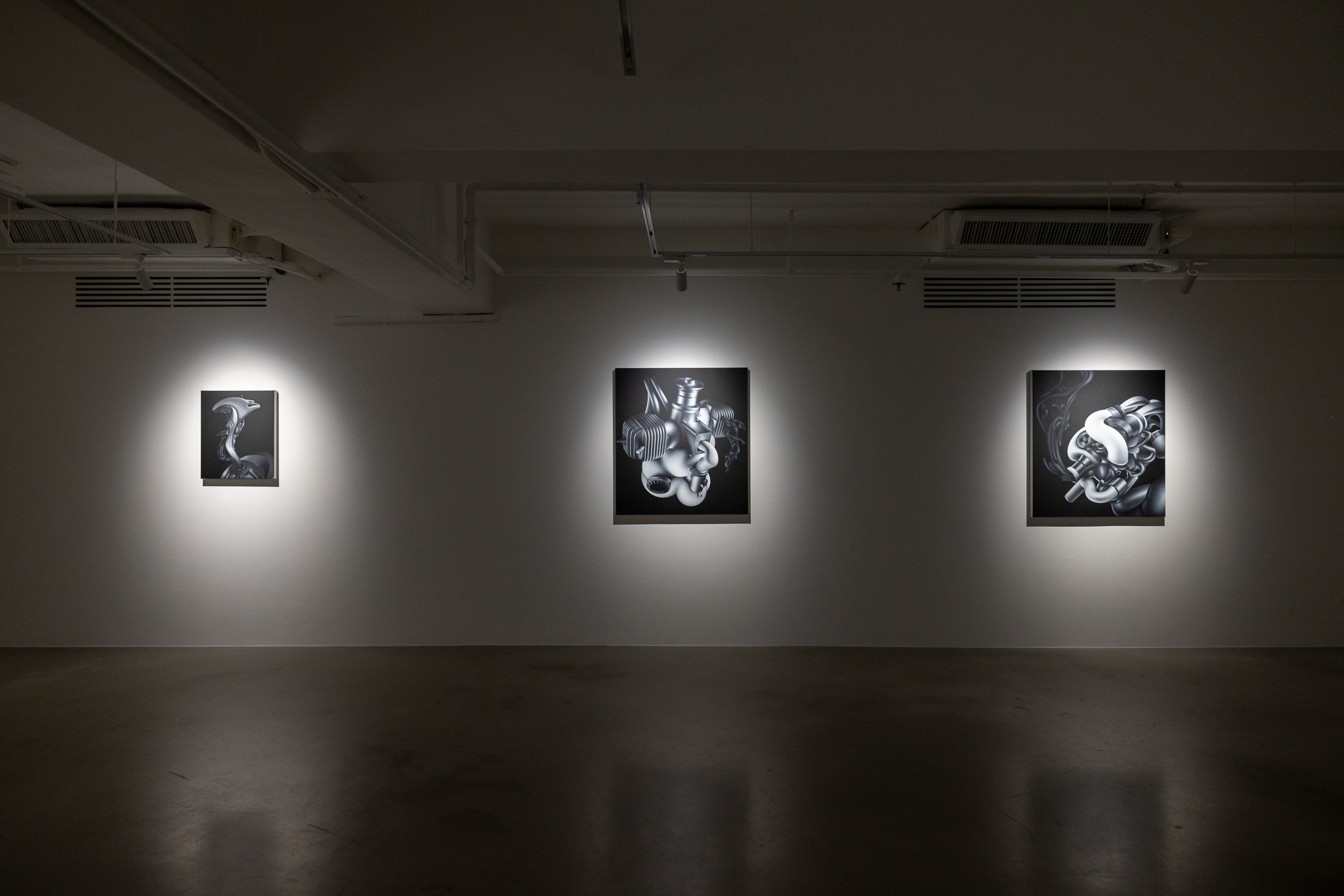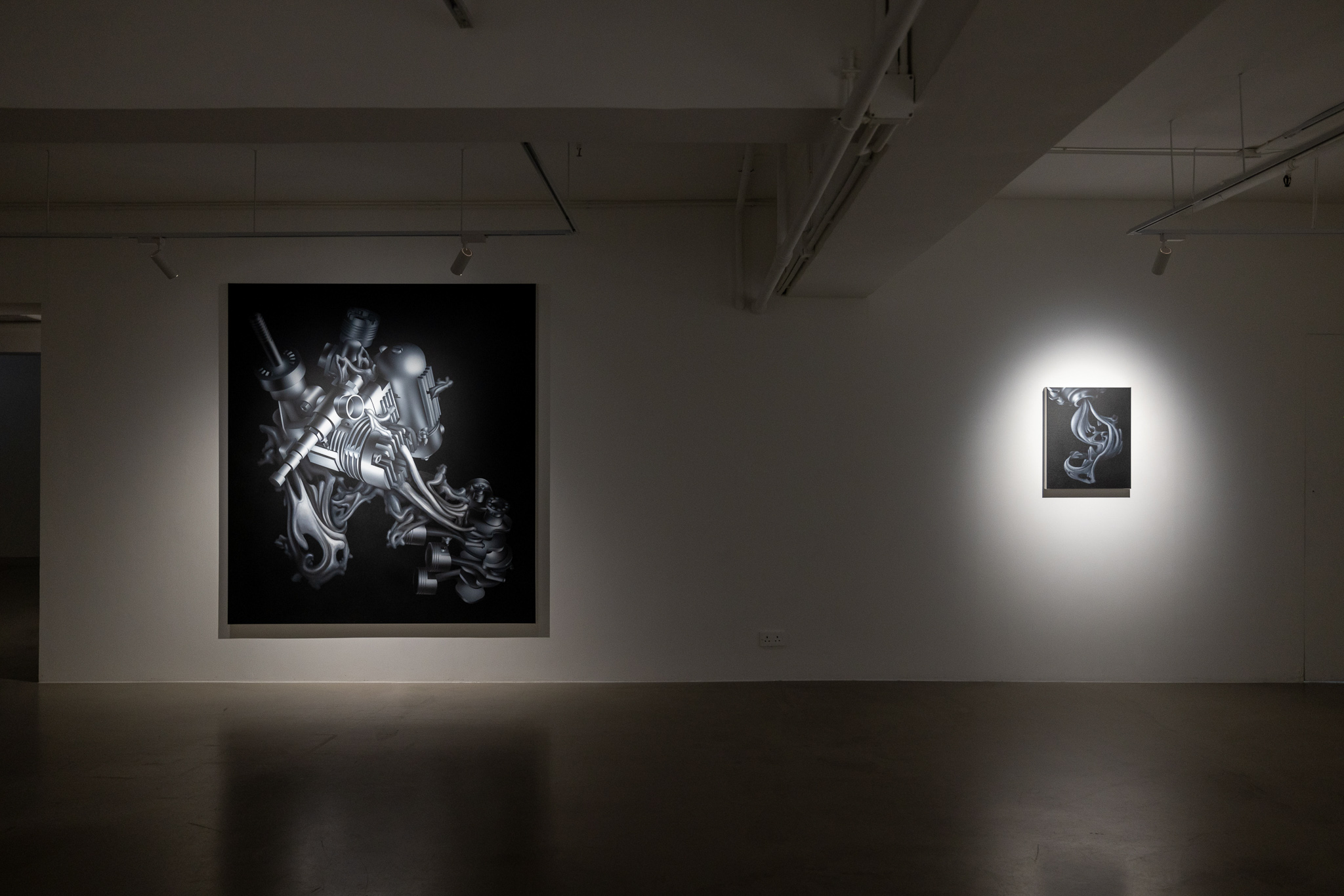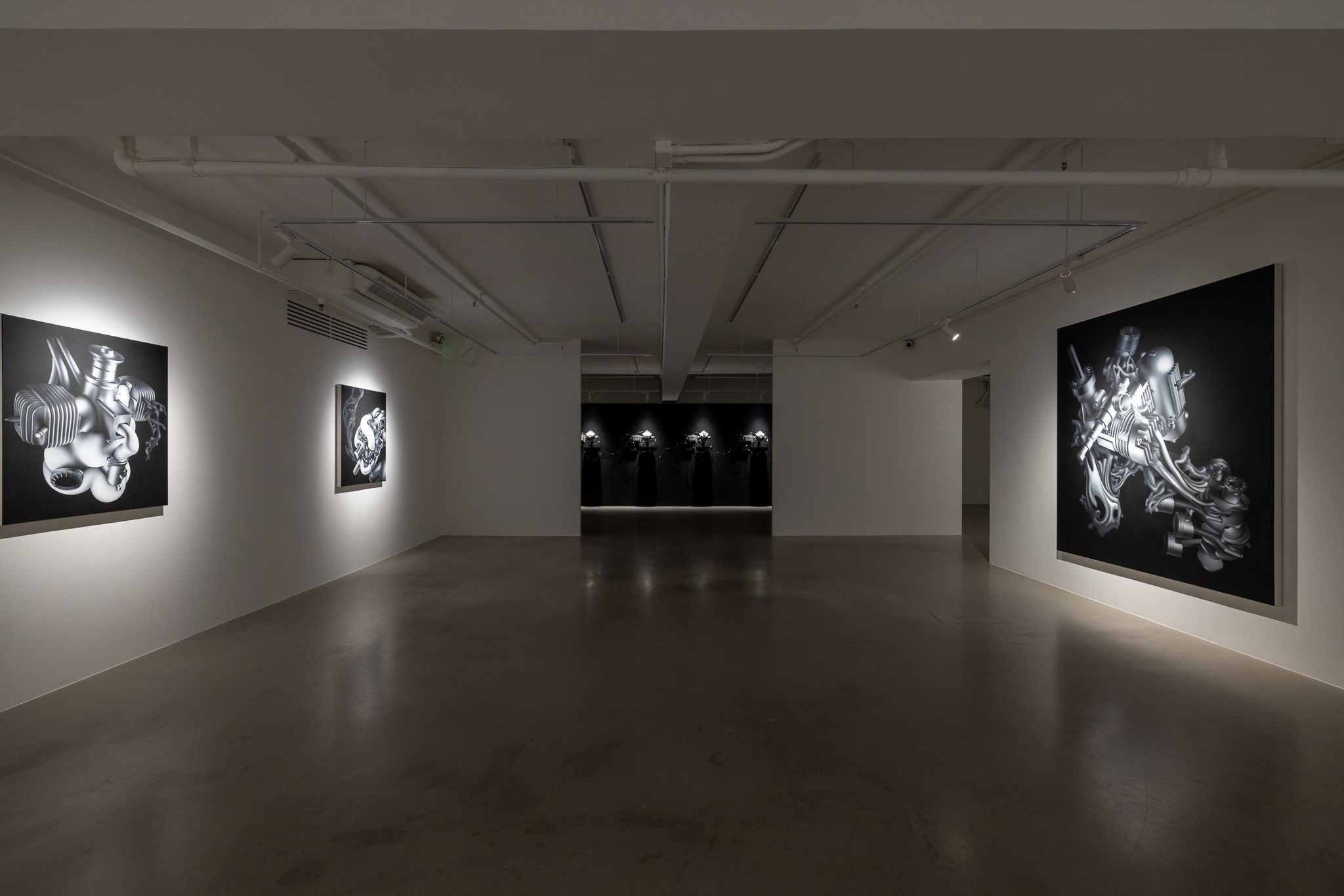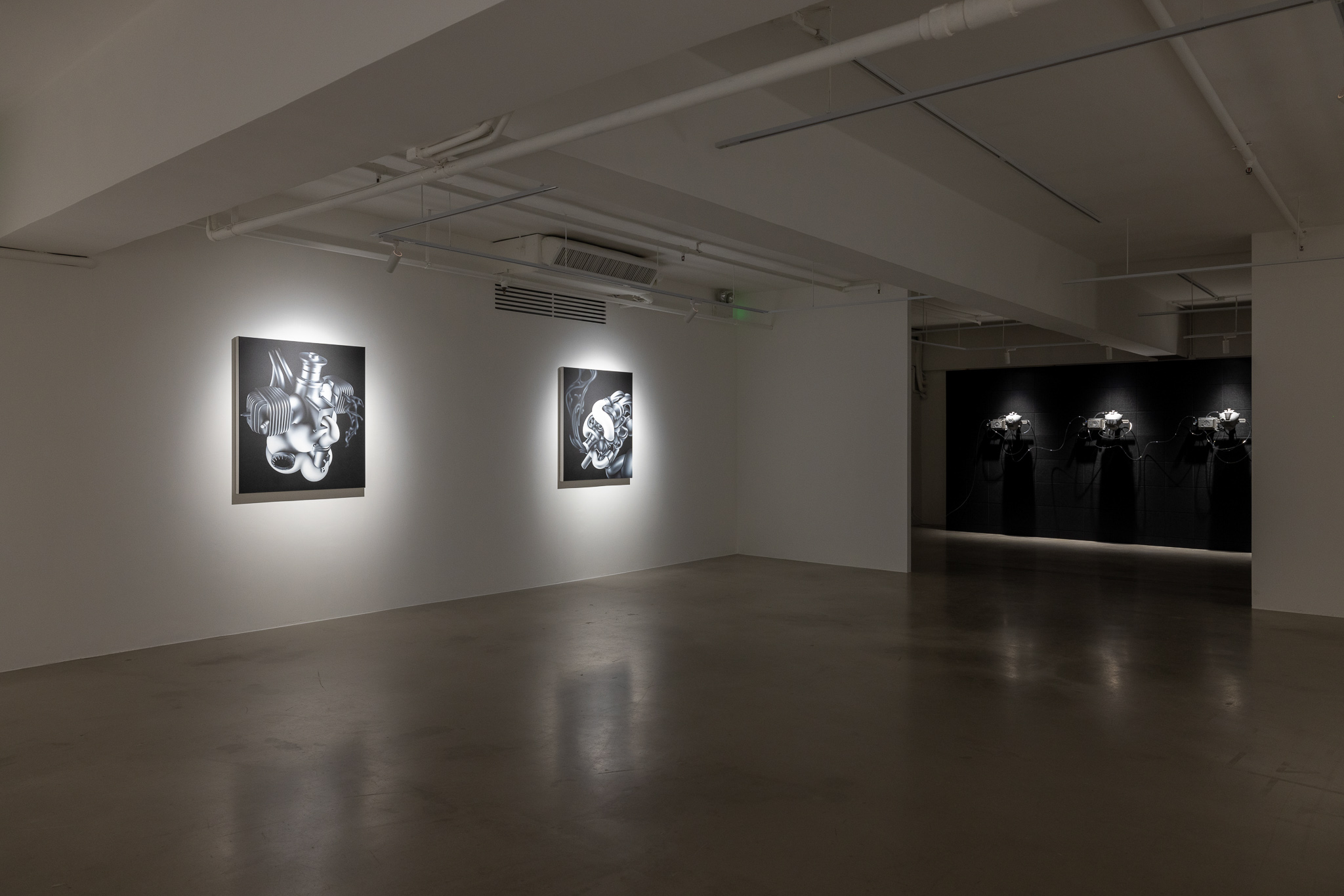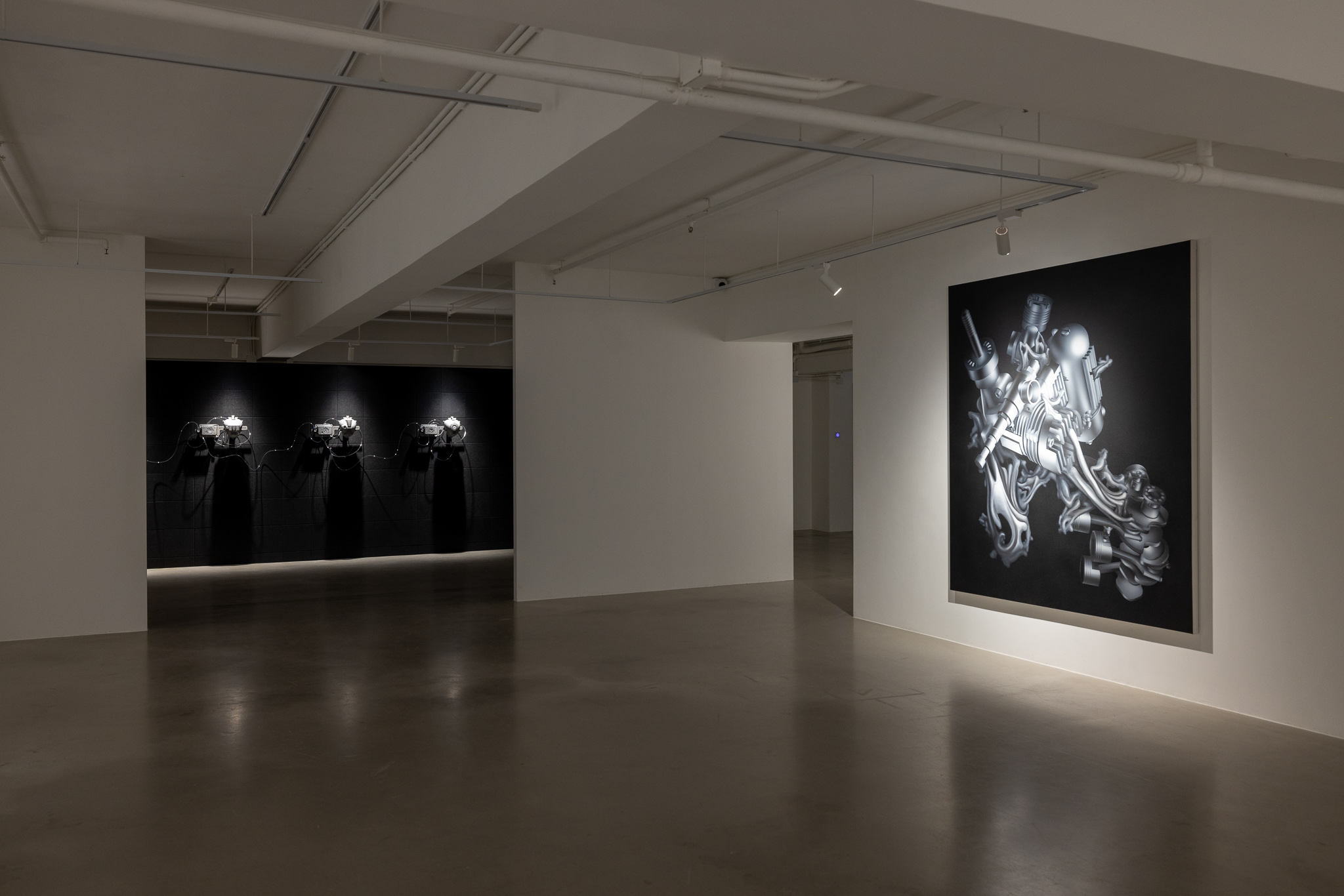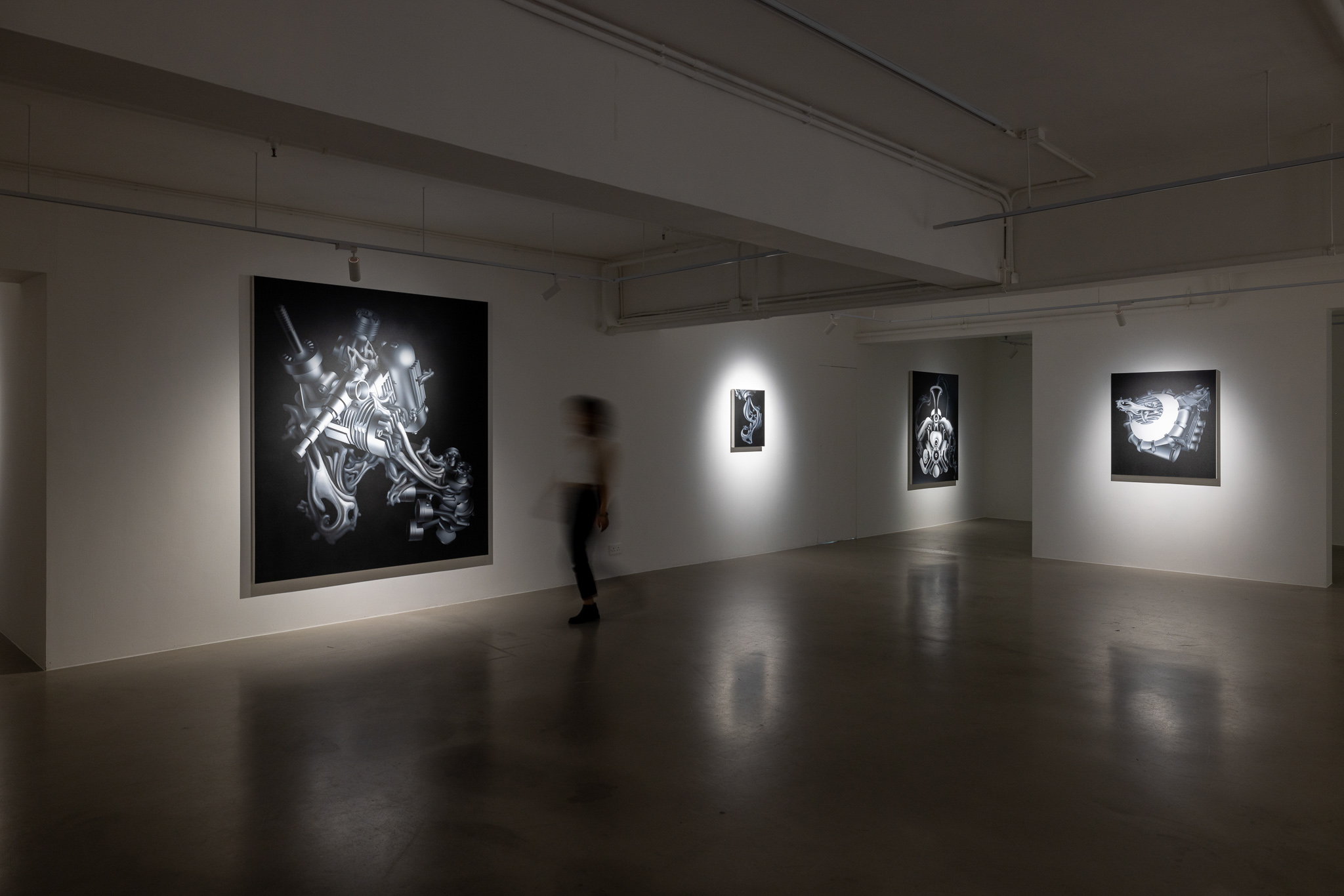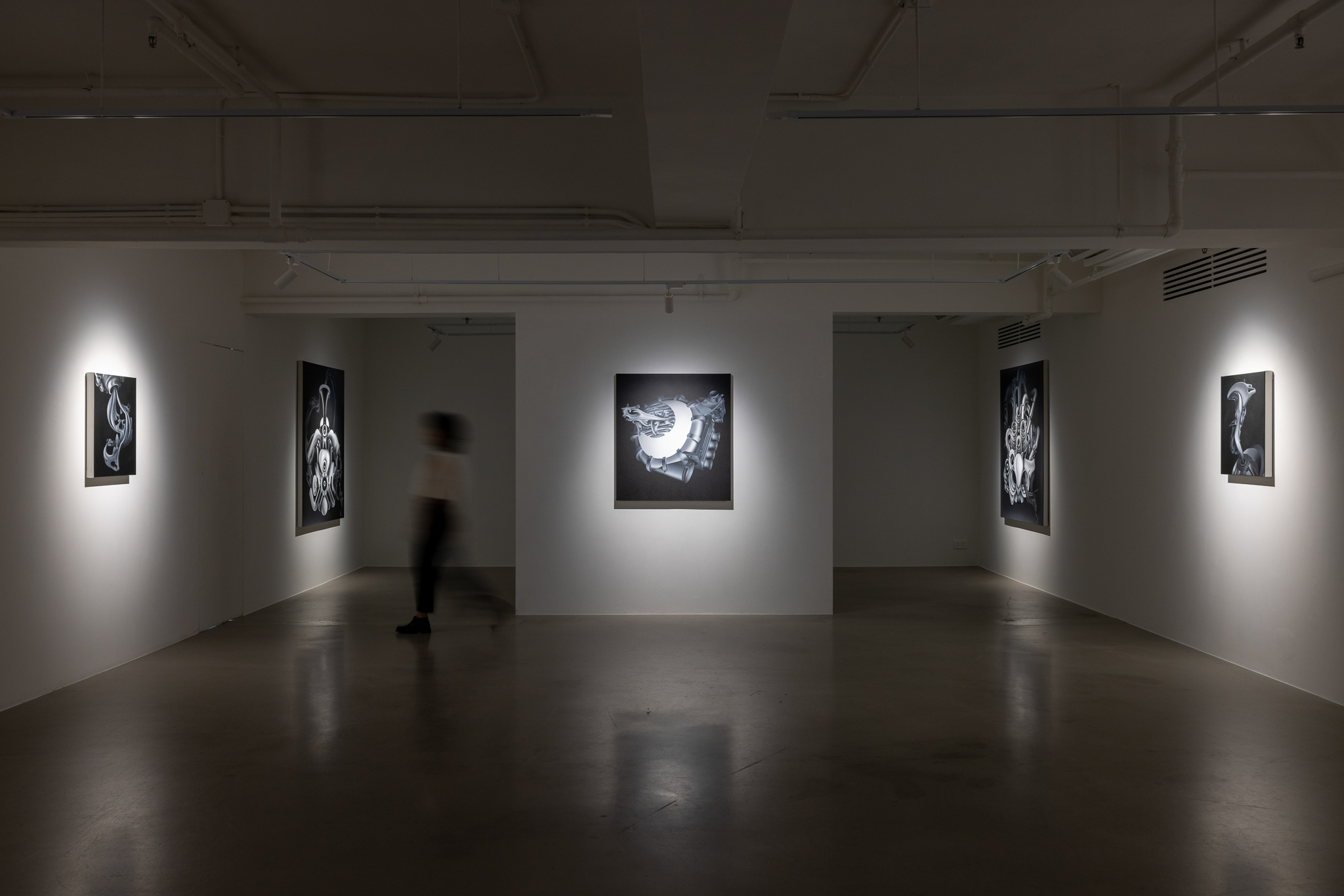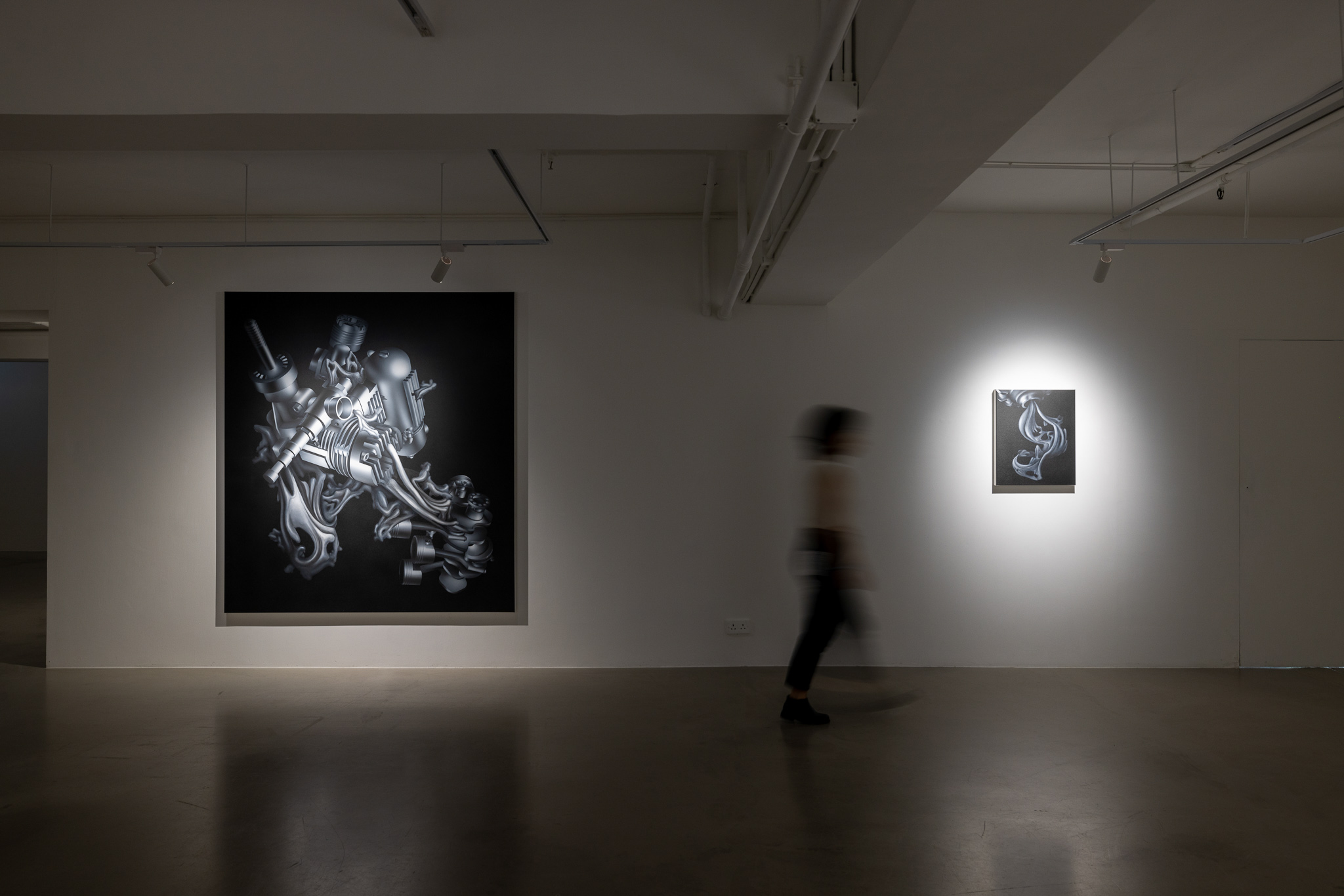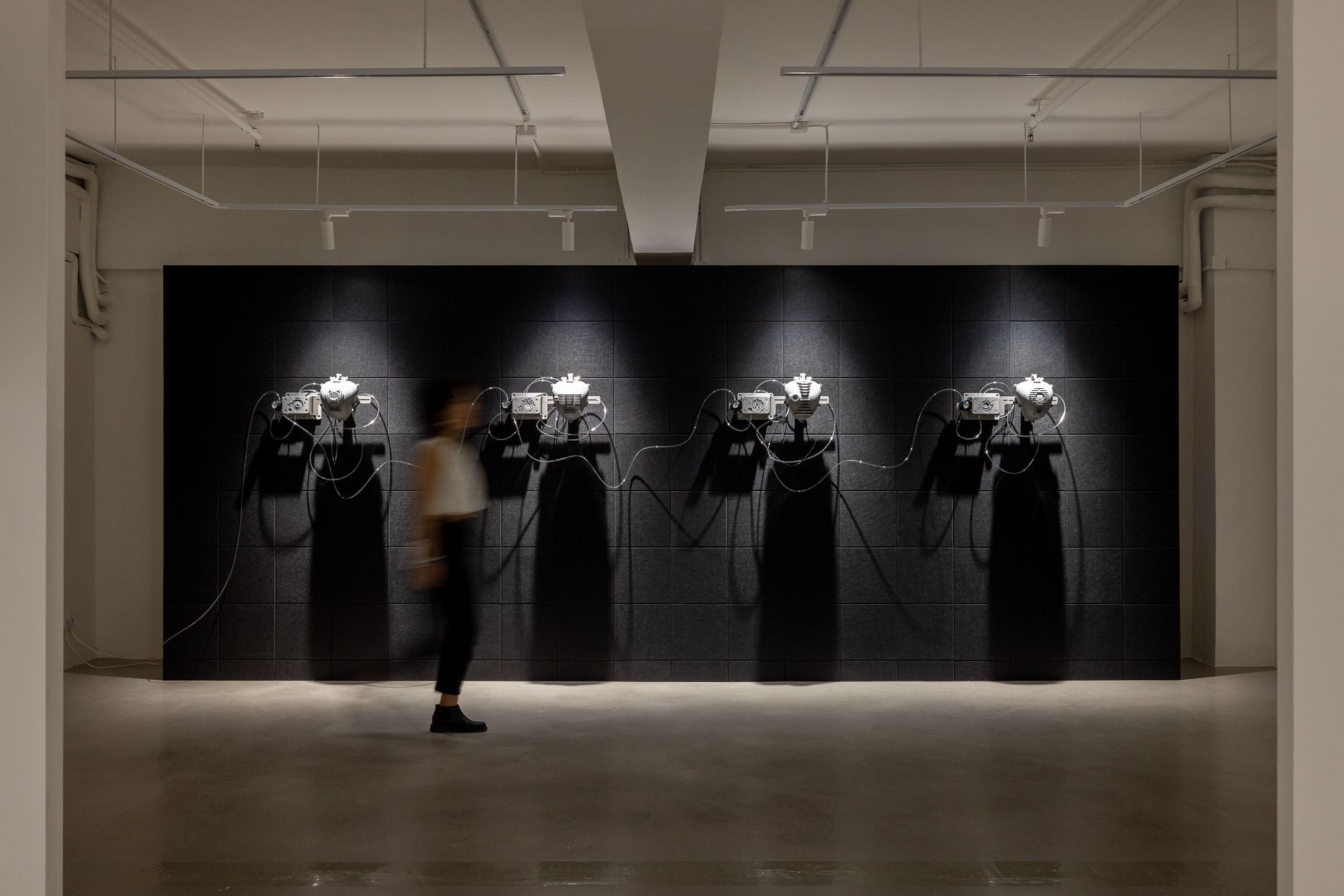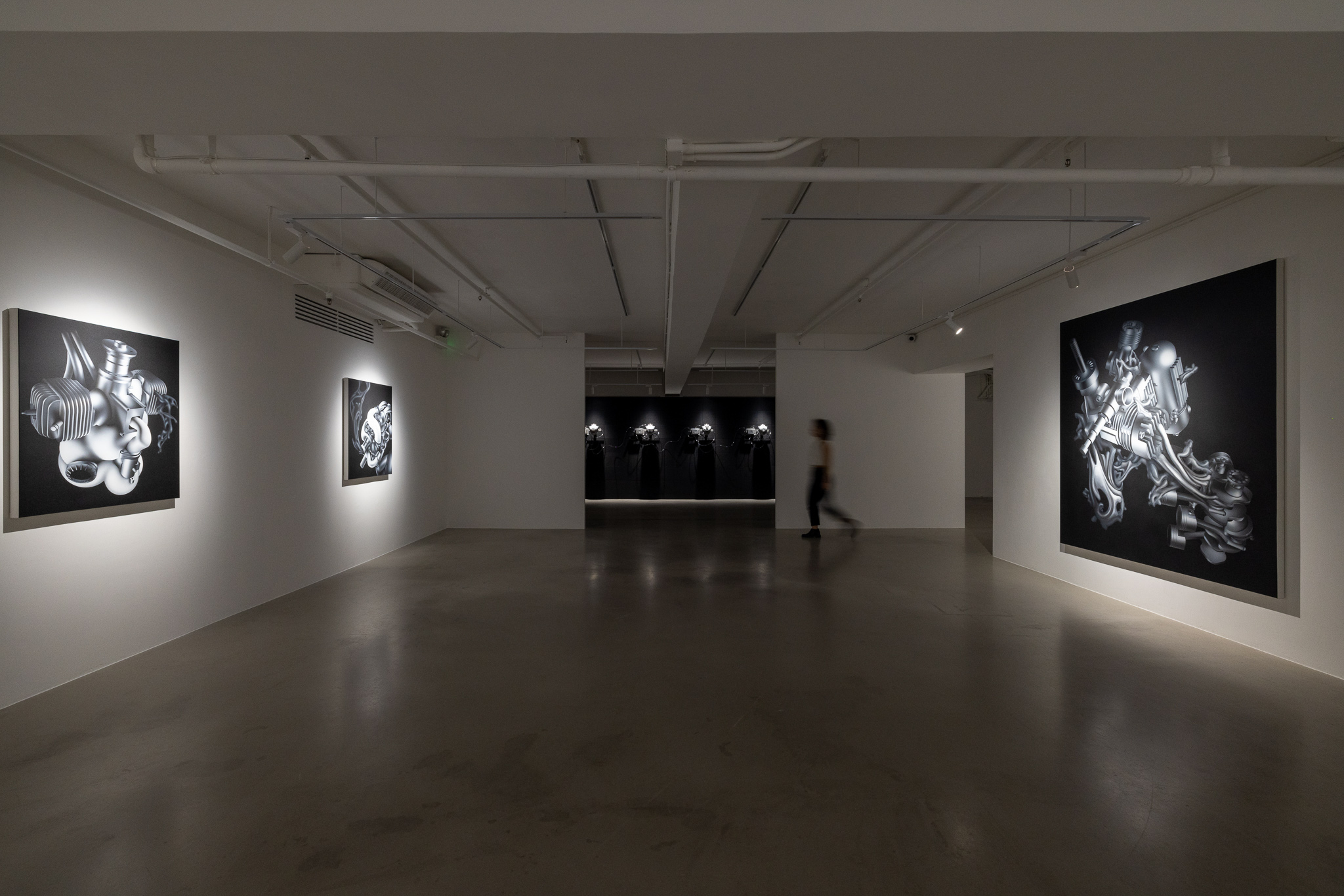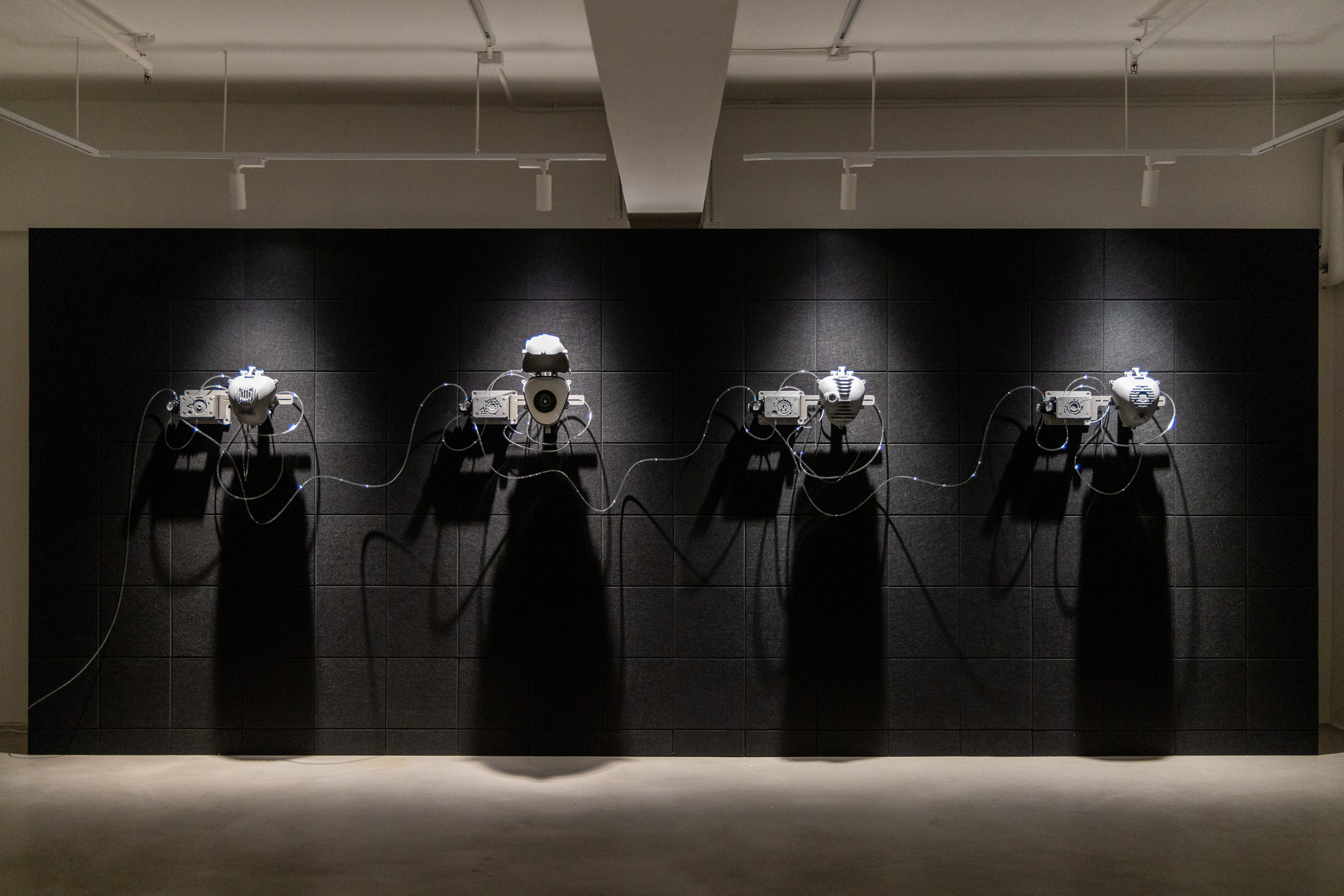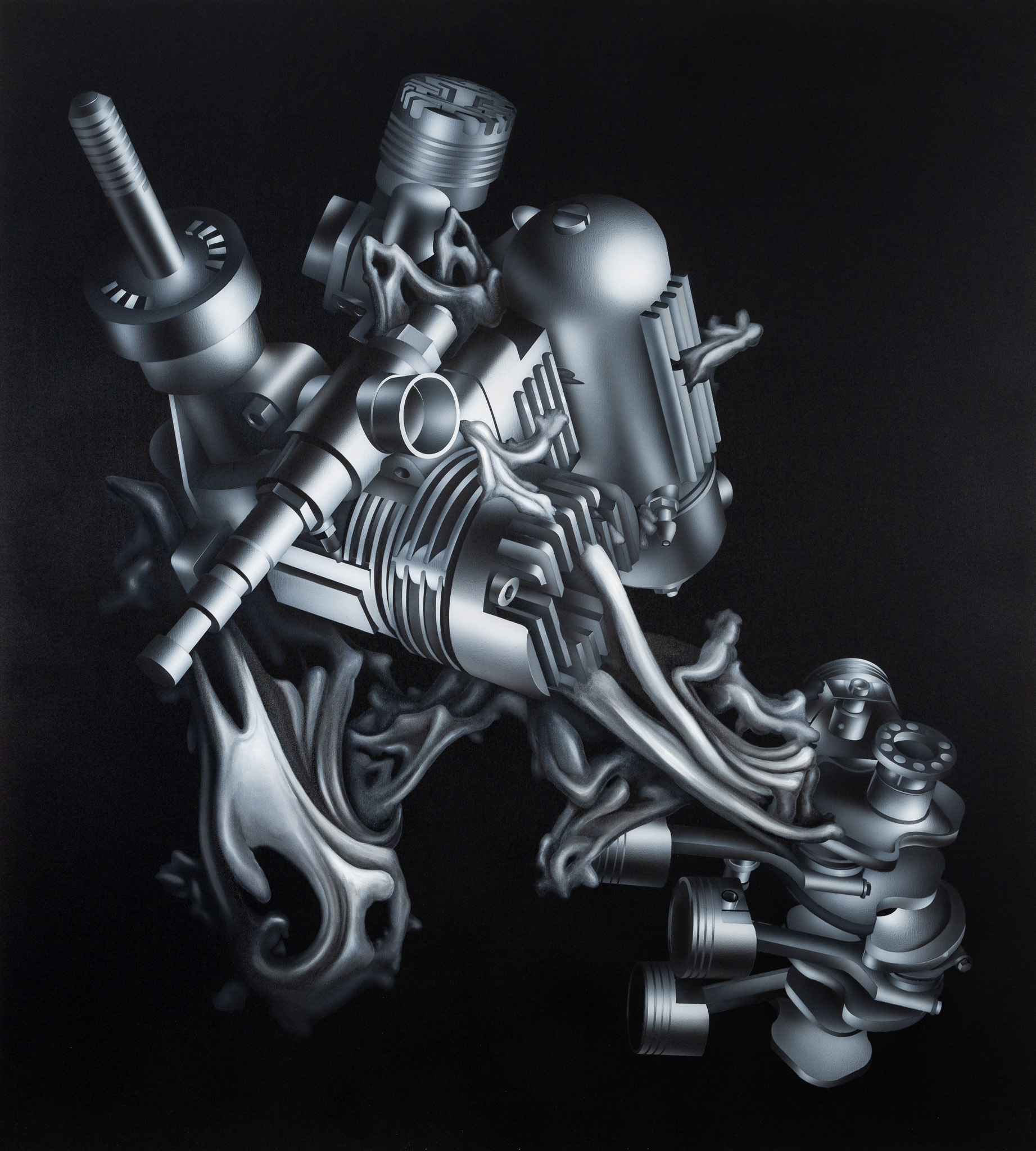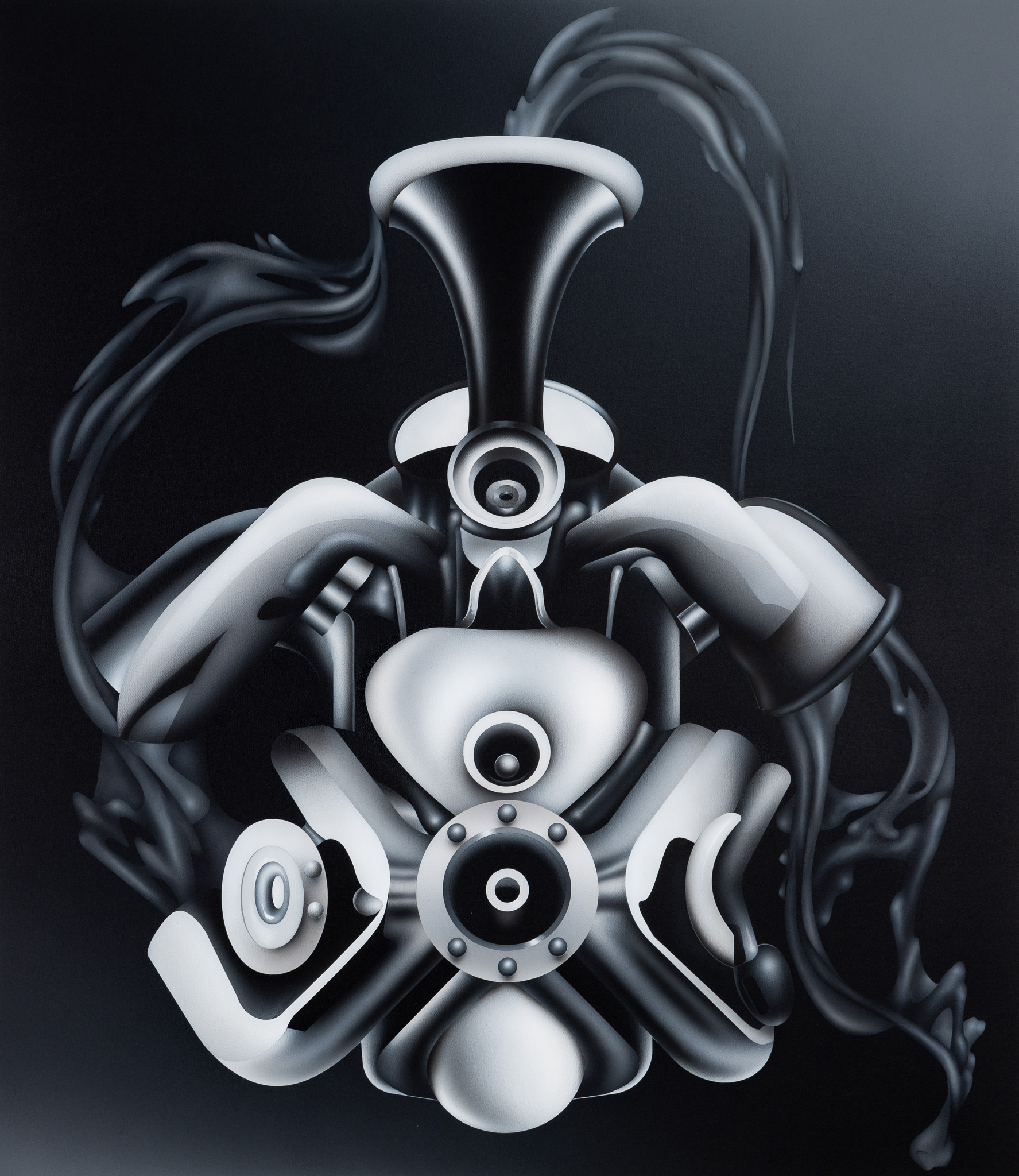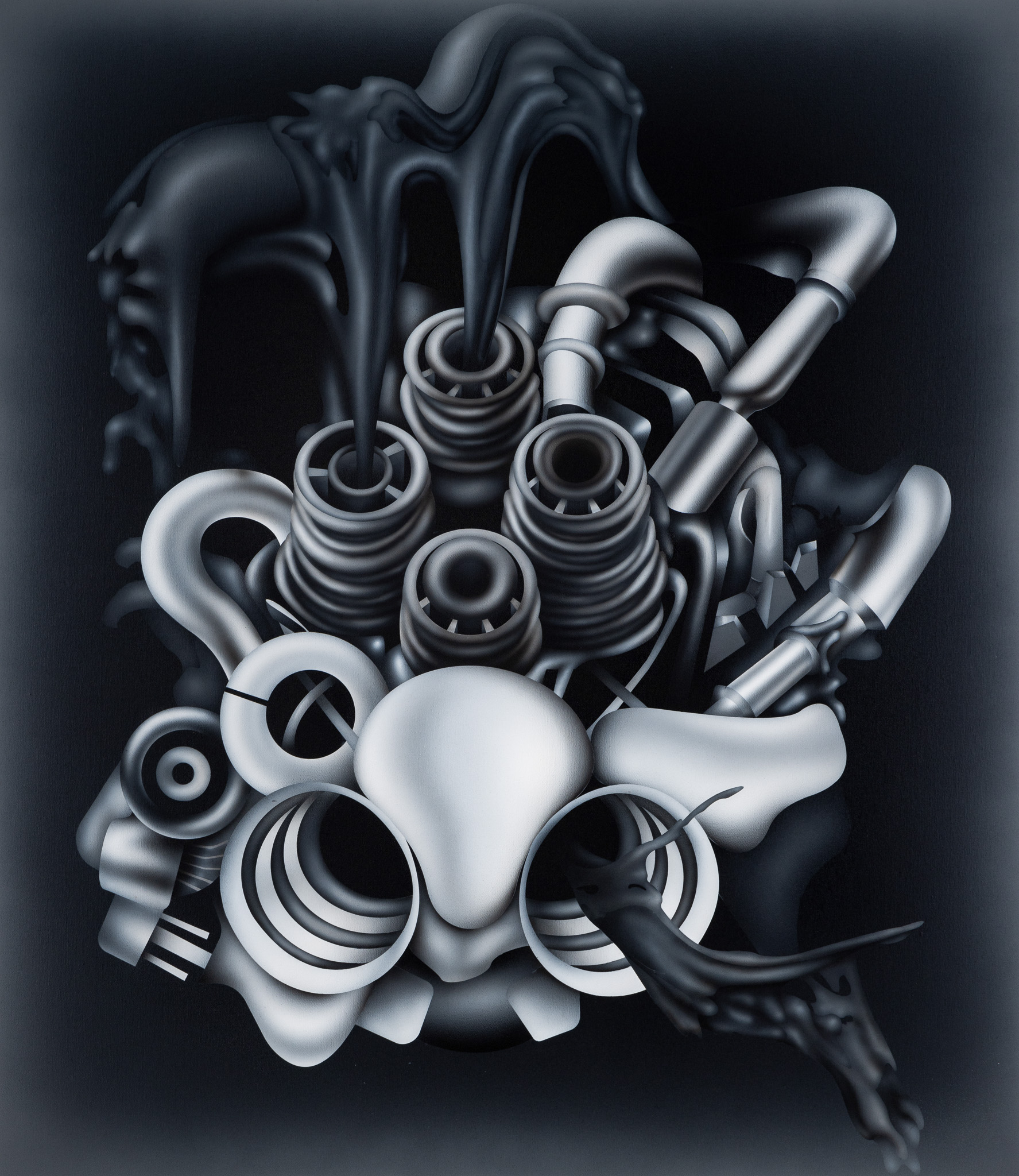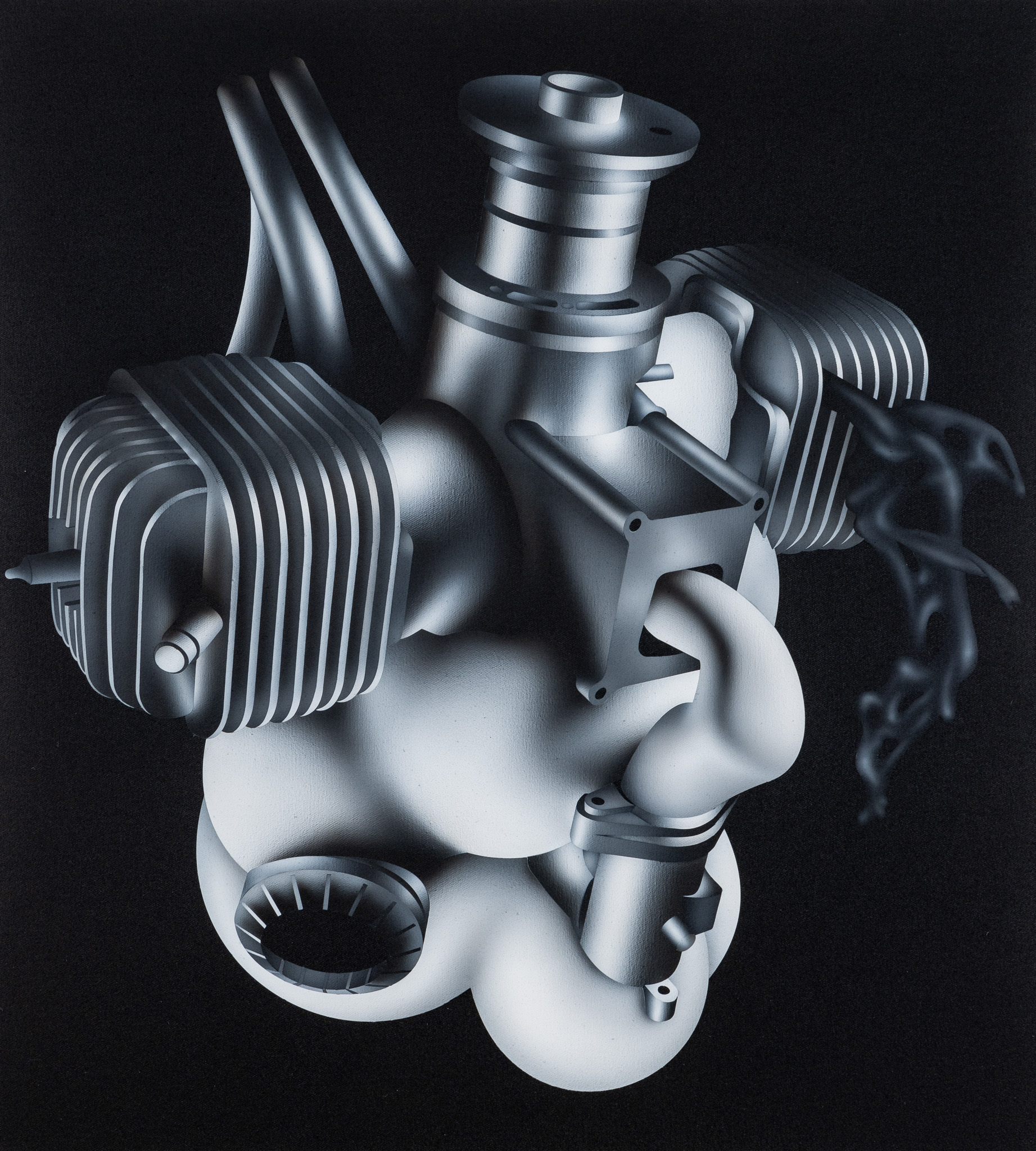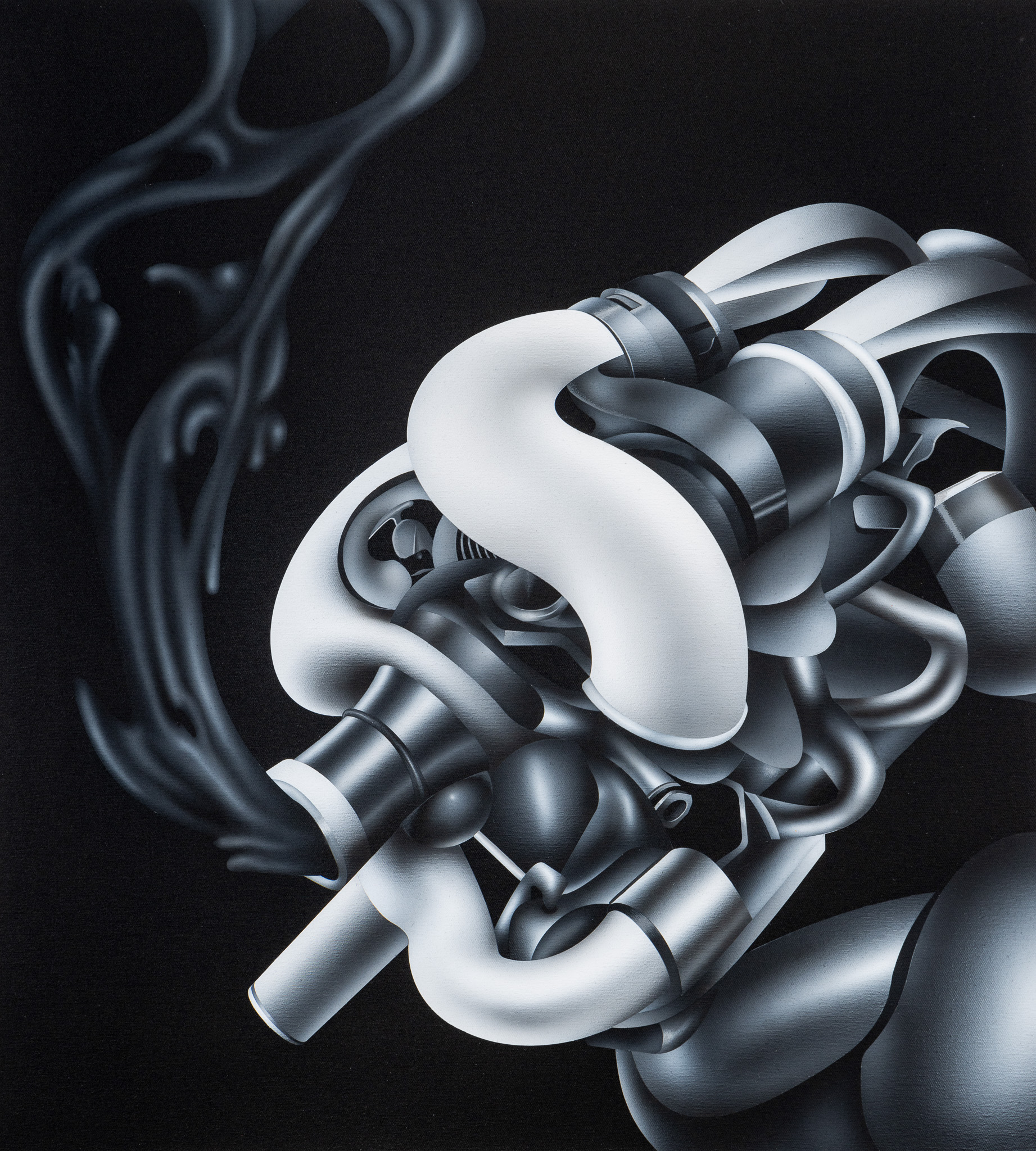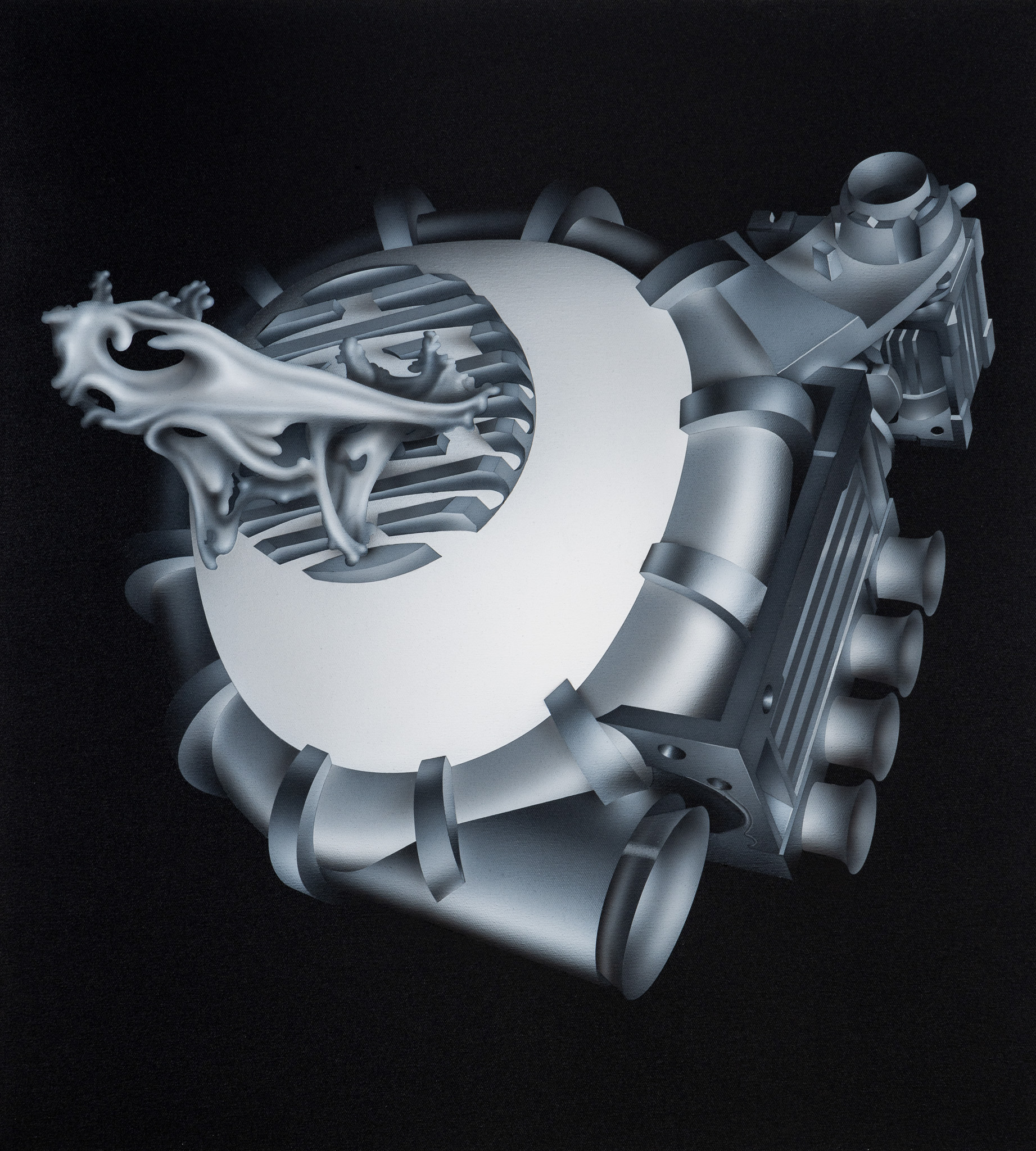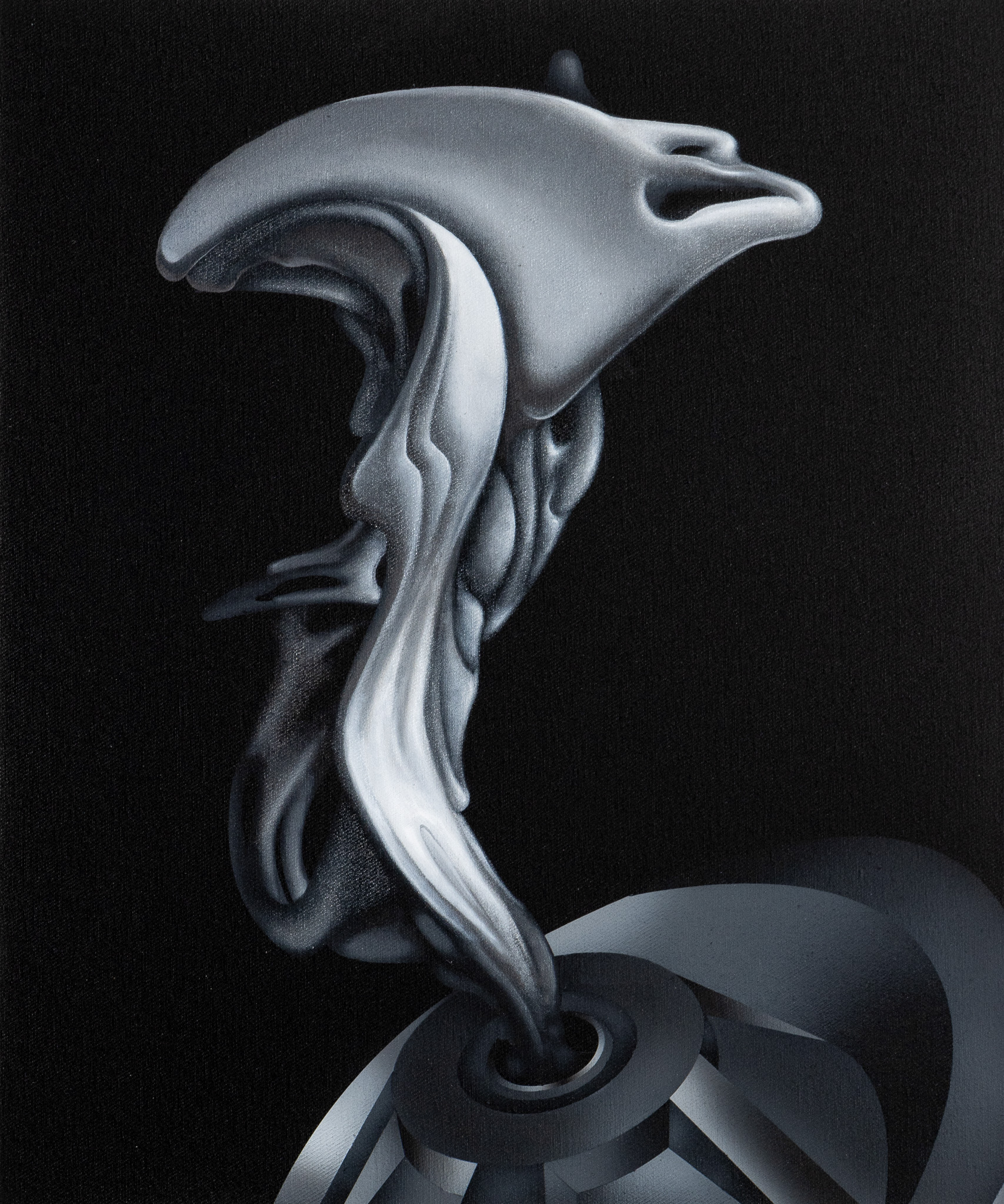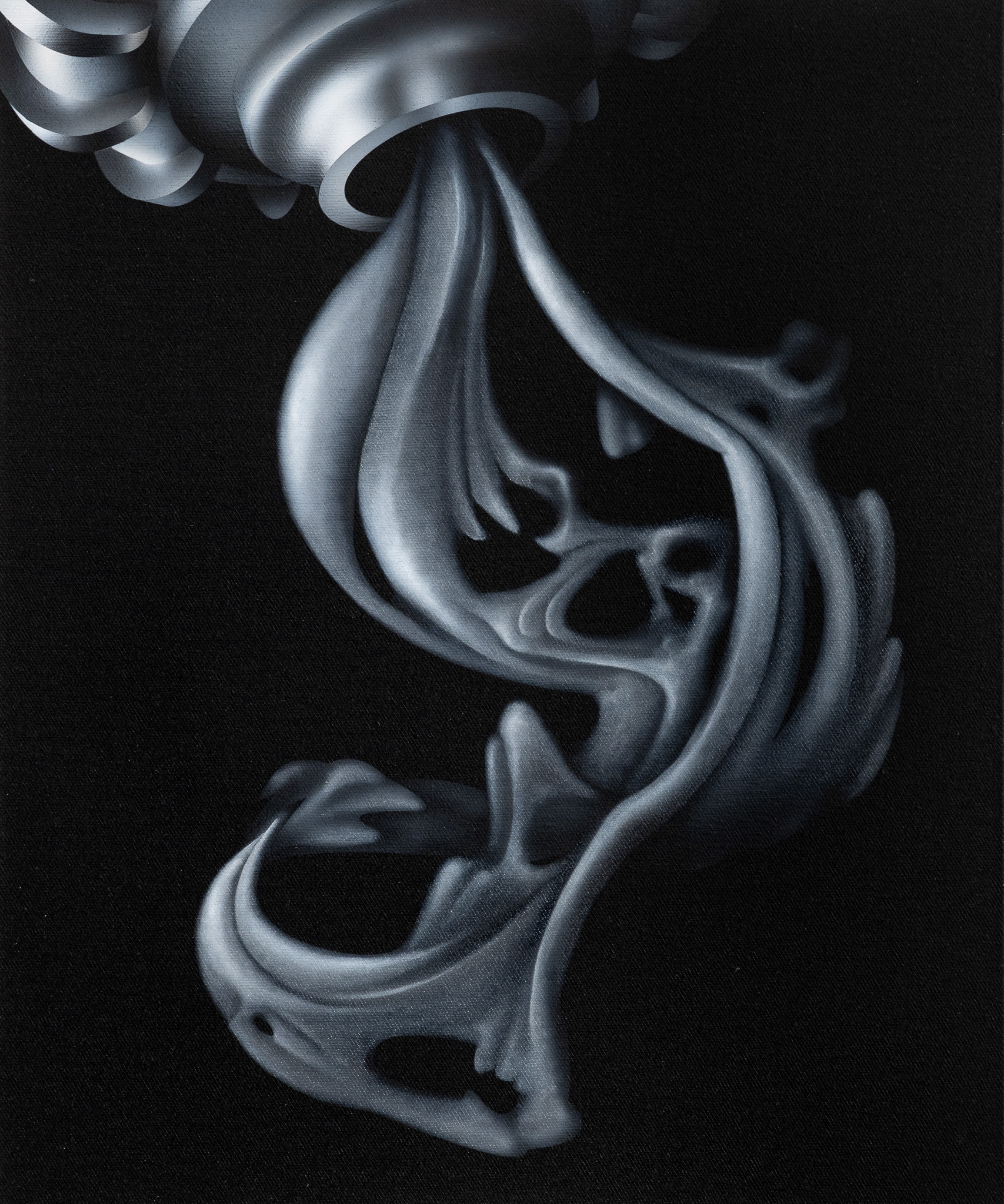 X
Auto Soma
May 6–June 10, 2023
MOU PROJECTS is pleased to present "Auto Soma," Harrison Pearce's first solo exhibition with the gallery as well as in Hong Kong. Featuring a kinetic installation and a selection of recent paintings, the exhibition spotlights the artist's latest exploration and contemplation on the coextensive and intertwined relationship between machinery and humanity amid the technological entanglement of the present reality. Inspired by the Ancient Greek words "Auto" and "Soma," which respectively translate to "self" and "body," the exhibition title probes a fantastically curious conceptual relationship between the construction of the self, the automated body, and how the two ideas are intertextually reflected in the industrial development of the society. Directly hinting at the discourse of mind–body dualism which lies at the core of the artist's practice, "Auto Soma" set out to unfold an expansive, philosophical reflection on the relationship between the mechanism of cognition and the materiality of the body.
A dimly lit room adjacent to the main gallery space hosts the show's eponymous centerpiece Auto Soma (2023)—a set of four sculptural figures mounted on a wall whose appearance lingers between an industrial engine, a helmet armor, and an alien totem. Animated by a compressor that provides pressurized air as power, the outer shells of the sculptural assembly open and close, revealing the embedded speakers hidden inside. Playing in a seemingly distorted voice is a piece of wonderfully peculiar music composed by contrabassoonist Thomas Stone, engendering an operatic performance that endows the cold, industrial materials with motion and vitality. Against a wall of black sound absorption panels, the machines develop intricate dynamics between their sound and movements, as if anthropomorphized as cryptic ancient creatures sorrowfully mourn and cry.
Elsewhere in the exhibition, Pearce's paintings capture, reimagine, and depict the kinetic figures in bizarre, otherworldly forms. At first glance, the depicted amorphous objects seemingly floating against pitch-black backgrounds evoke rendering sketches of alien species for sci-fi horror films or futuristic blueprints of spacecraft; yet a closer inspection reveals their ambiguous resemblance to obsolete industrial objects as if recent discoveries of a techno-archeological investigation. For Pearce, painting is an artistic medium that allows him to nurture fantastic, impossible objects and elude the restraints of the laws of physics. In these painted works, slime-like dark liquid oozes out of the intricate machines, creating strong visual contrasts between organic substances and the clean, definite, and artificially produced objects, situating the viewers in unfamiliar encounters with the uncertain, frightening, yet vulnerable entities.
Pearce's interest in fabricating a theatrical sense of unease in juxtaposing the organic with the industrial, or the clinical, originally stems from his personal experiences with a diagnosis of cerebral mutation eight years ago. At that time, a student studying epistemology and philosophy of mind, Pearce was prompted by his condition to explore his own physical experience with medical machinery as well as mankind's relationship with technology. Gradually, the focus in Pearce's art practice has been increasingly informed and developed into a more complex, entangled web of ideas and materials. Presented in "Auto Soma," the more embracing, open-ended ruminations—over the construction of self in the context of ever-changing technological field—are ceaselessly morphing, evolving, and mutating. Just as art historian and curator Hector Campbell notes, in Pearce's works, "these mercurial mutations have themselves evolved beyond elucidation, now existing akin to a MacGuffin—that characteristically Hitchcockian conceit which promotes an object as being key to the progression of the plot, without itself necessarily being the principal protagonist."
About the Artist
Harrison Pearce (b. 1986, UK) is an artist whose practice spans painting, sculpture, and installation. Often exploring the conceptually entangled relationship between machines and human bodies, Pearce constructs curious machine-driven objects in his sculptural works and renders wild imaginations of them on his canvases. Presented in cold, detached, and minimal aesthetics, the industrially sleek and compact shape of the entities in Pearce's works linger between humanity and artificiality, alive and metamorphosing within a dynamical system.
Pearce received his BA in Fine Art from Winchester School of Art in 2007, MA in Philosophy from the University of London in 2014, and MFA from City & Guilds of London Art School in 2016. His work has been shown at galleries and institutions worldwide and has been acquired for private and public collections.
The artist currently lives and works in London, UK.
Exhibition Text | Harrison Pearce: Pneumatic Applications, Anthropomorphic Mutations, Ectoplasm, and the MacGuffin | By Hector Campbell
Auto Soma
May 6–June 10, 2023