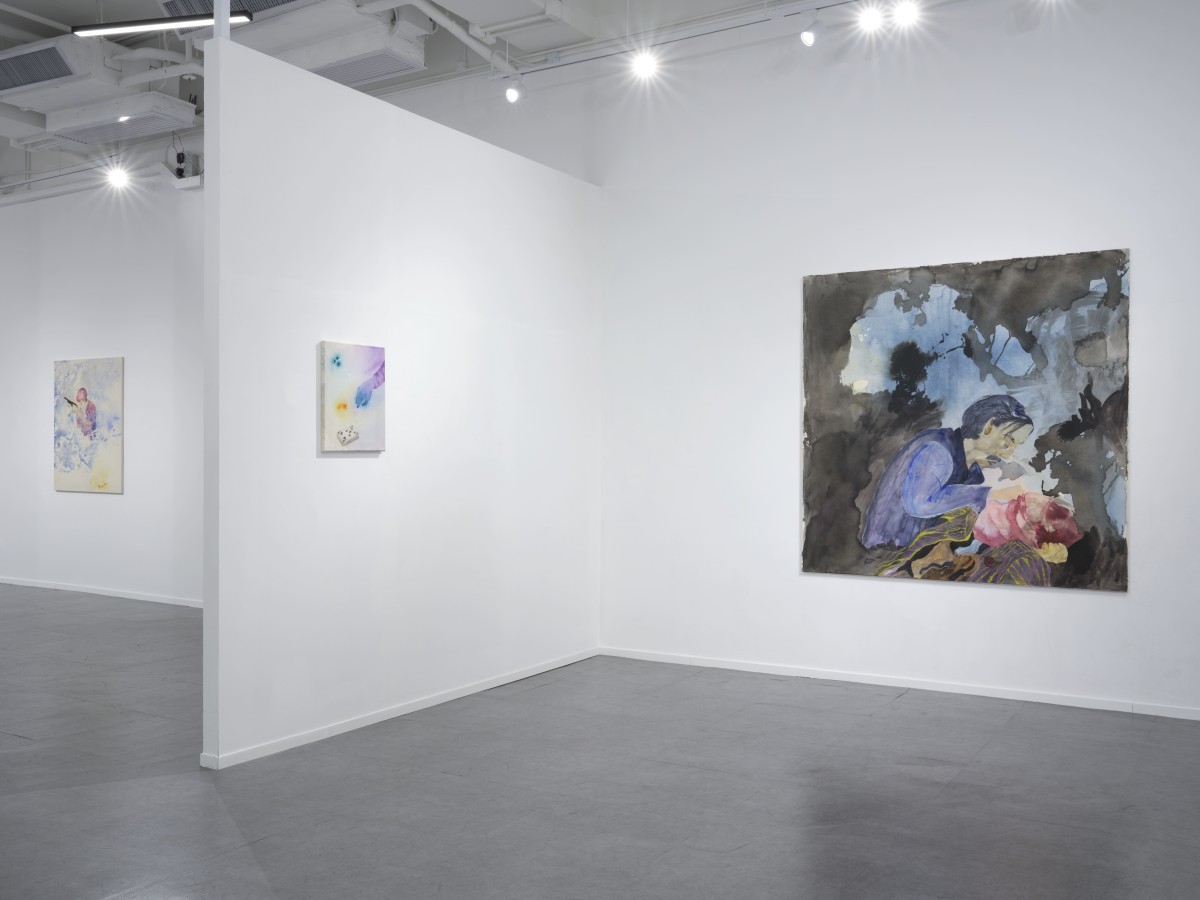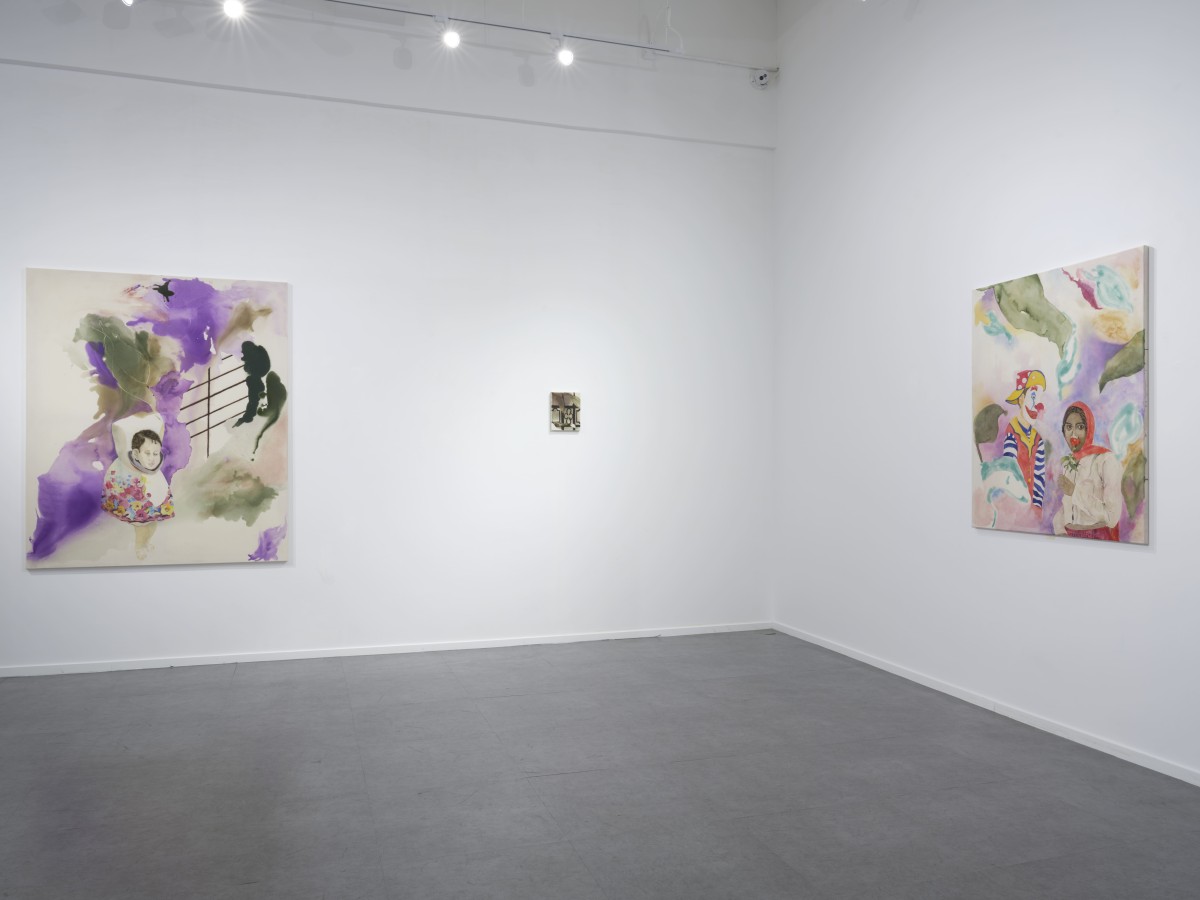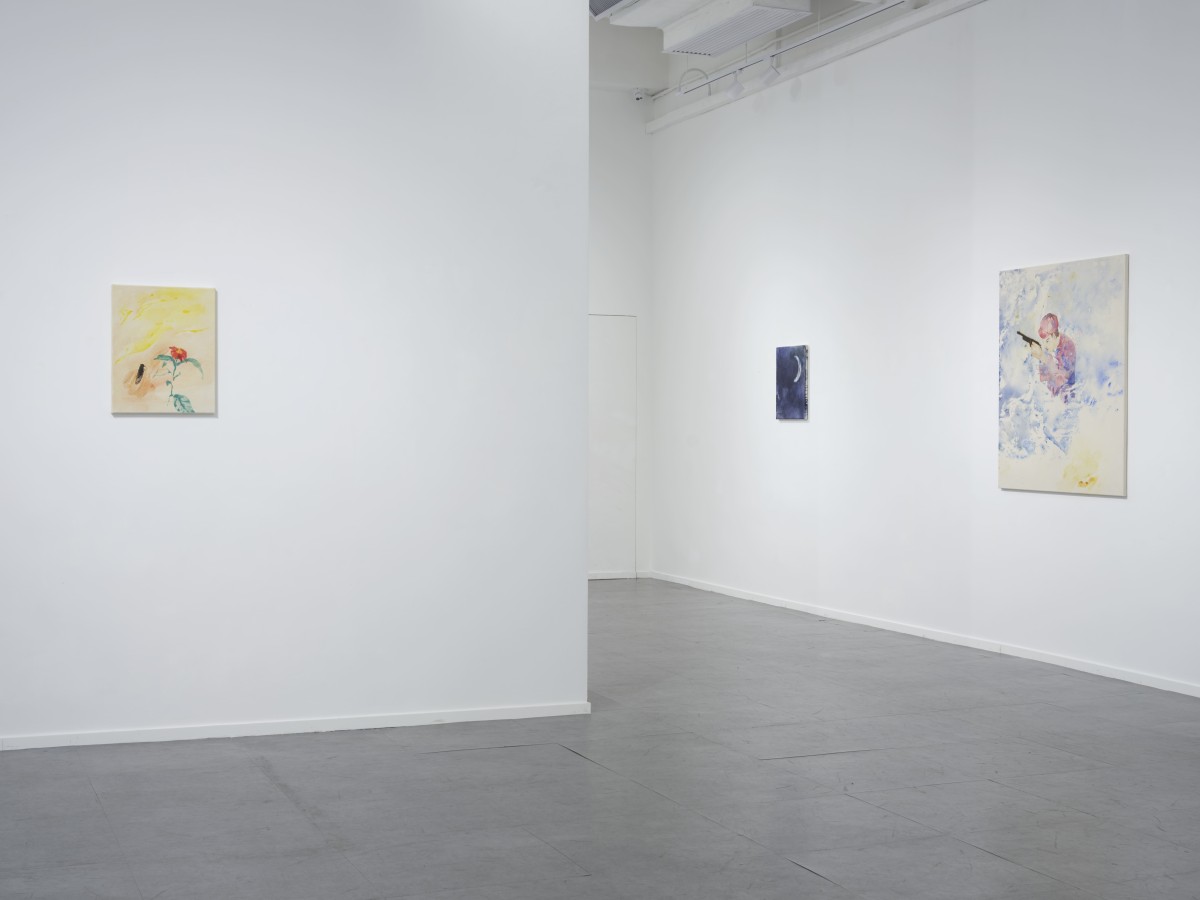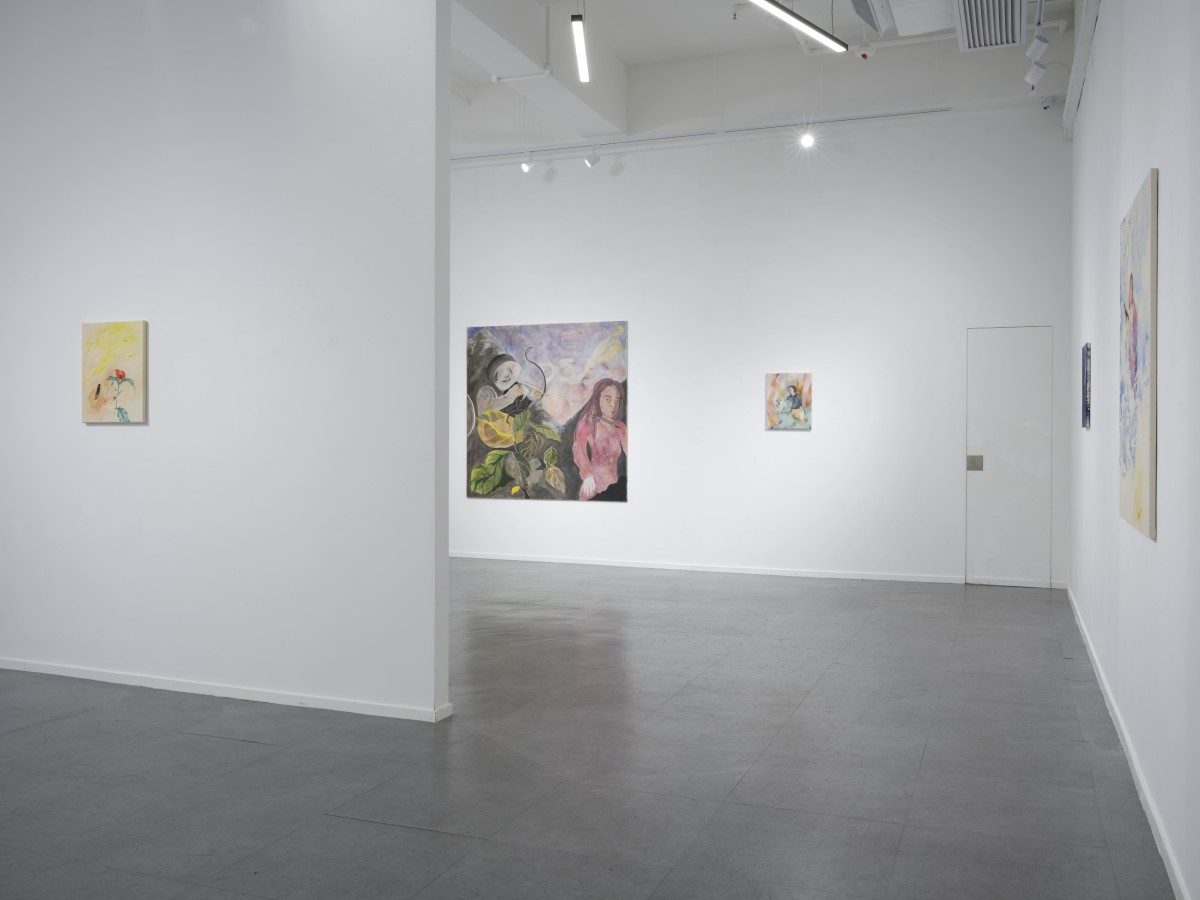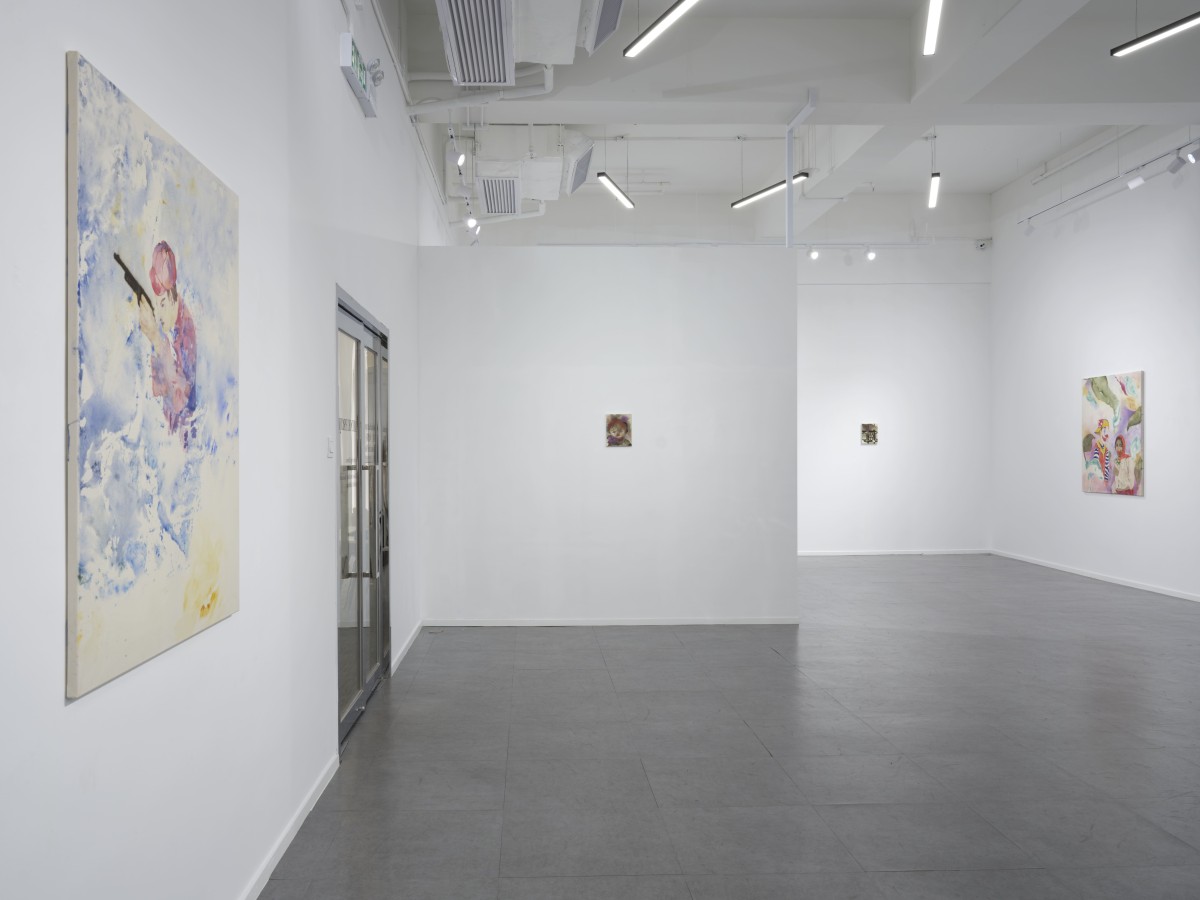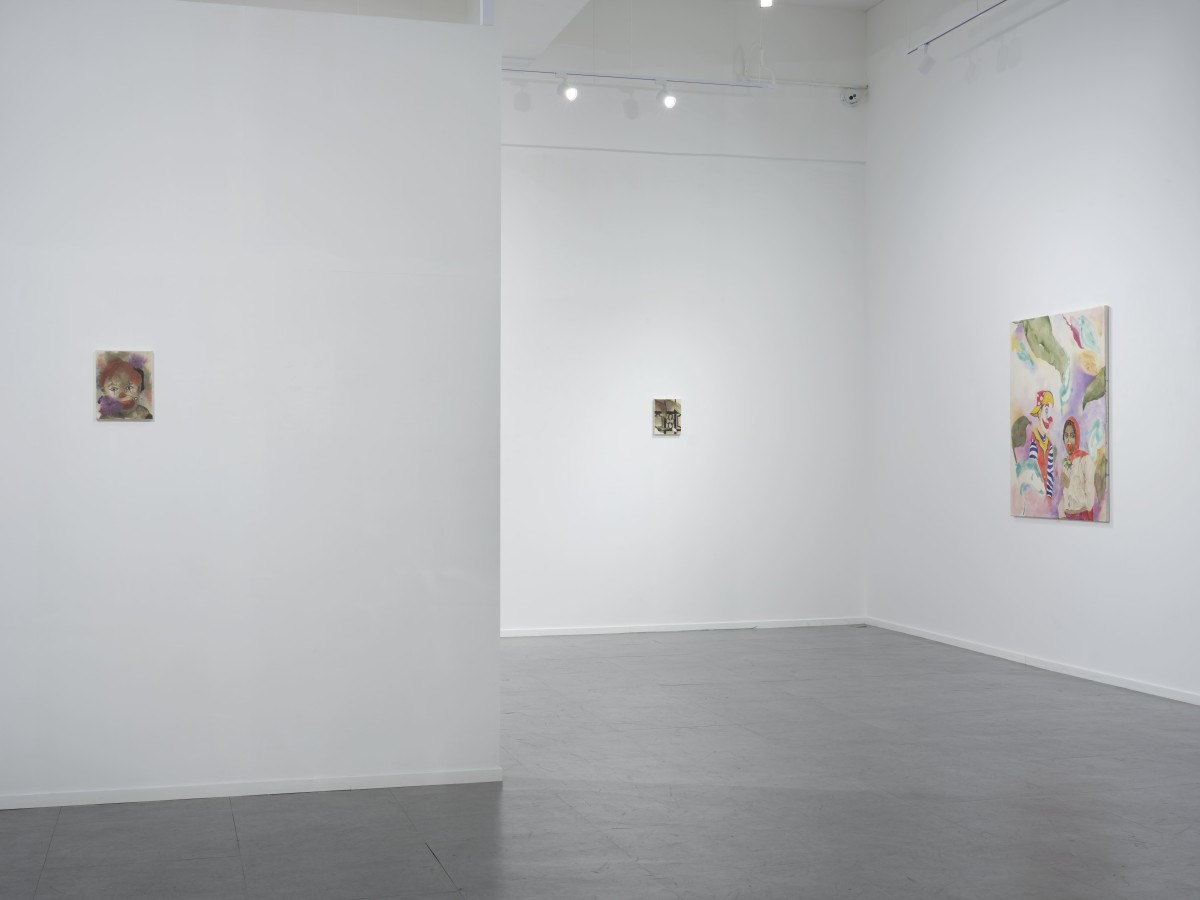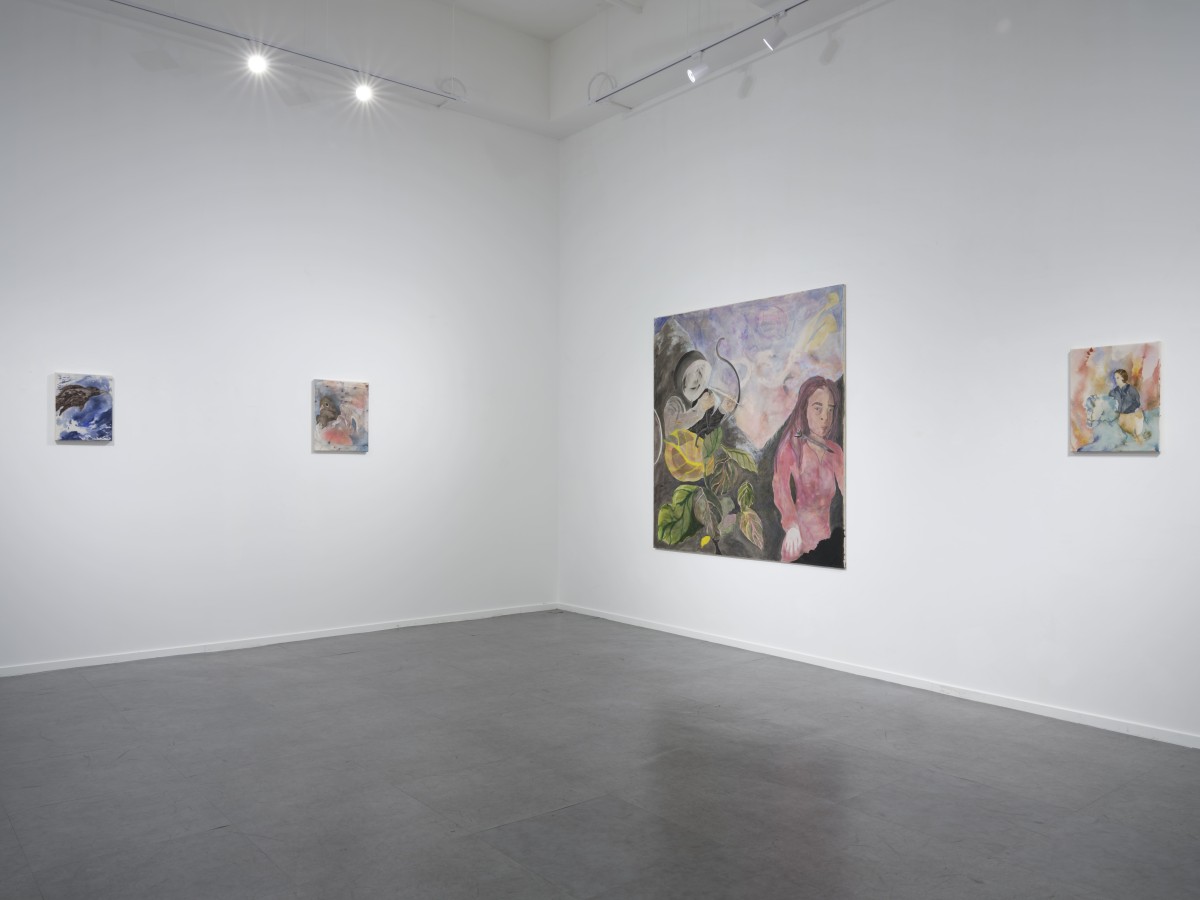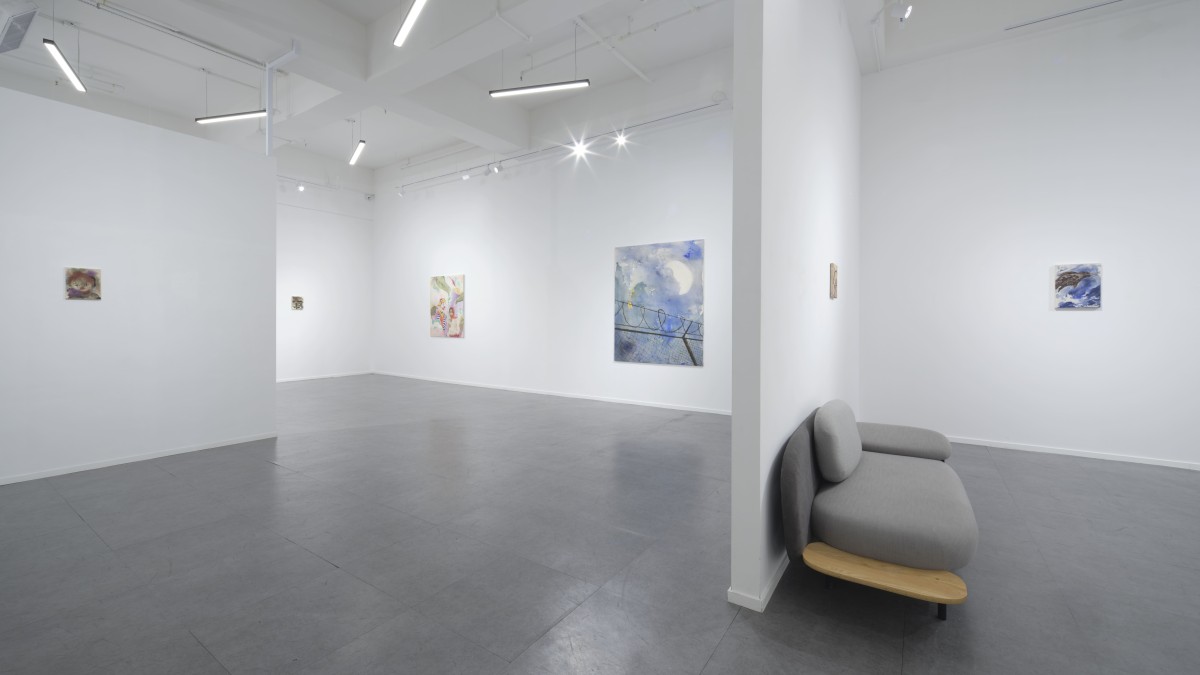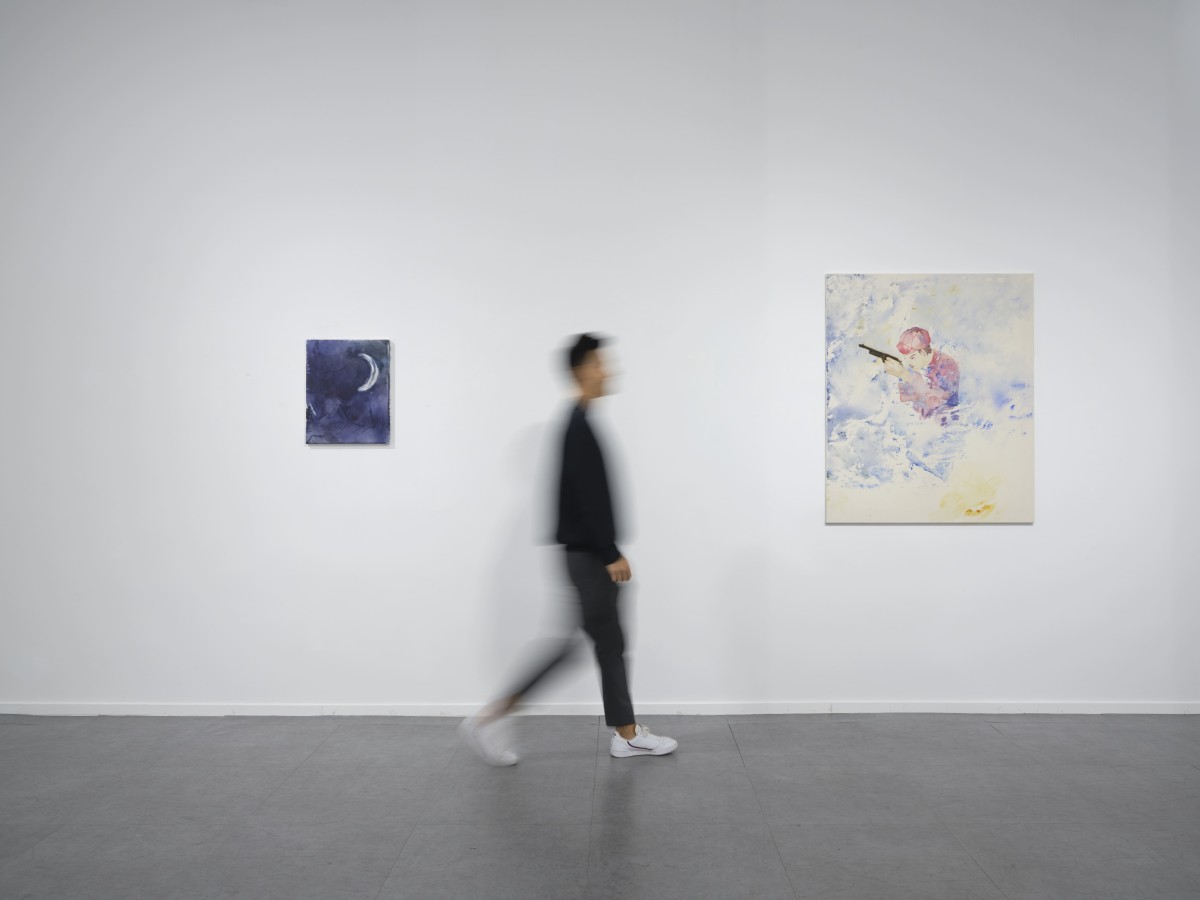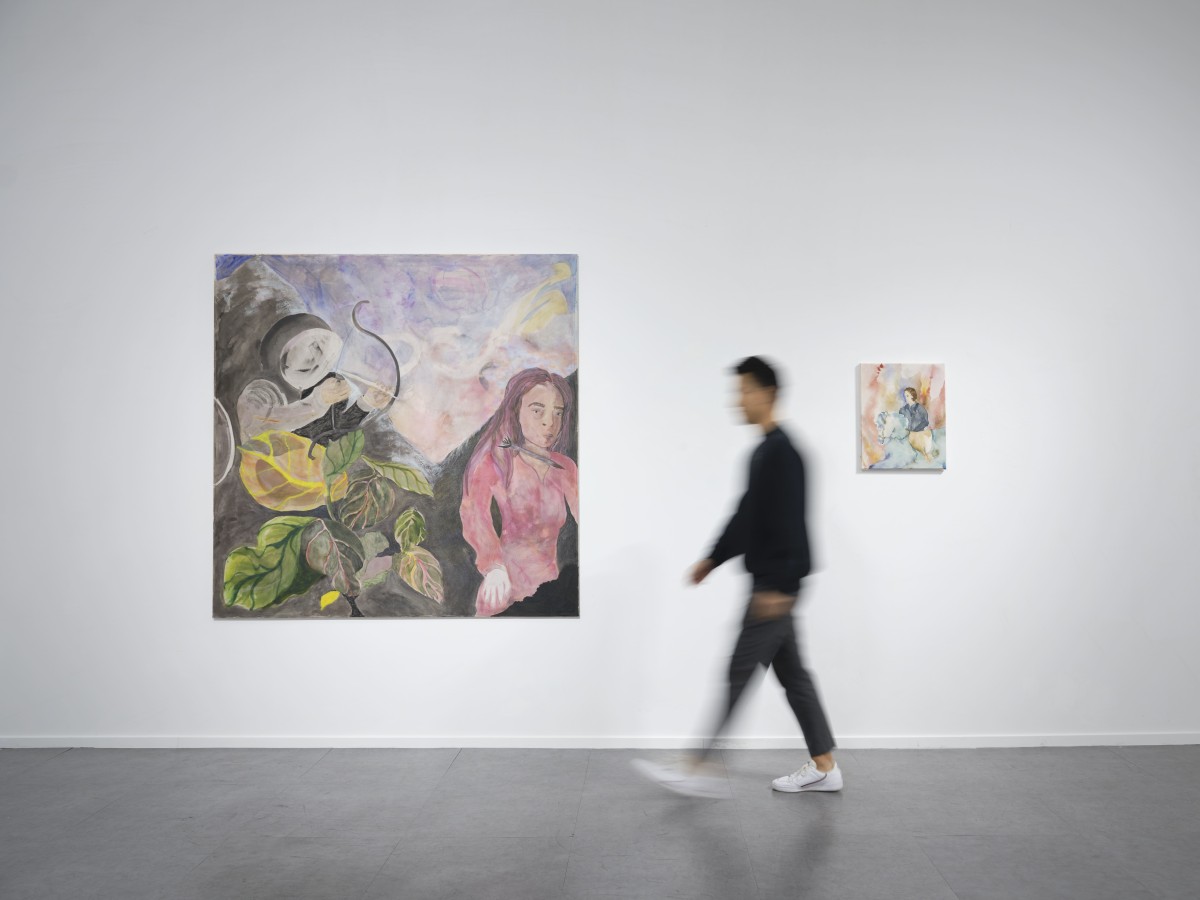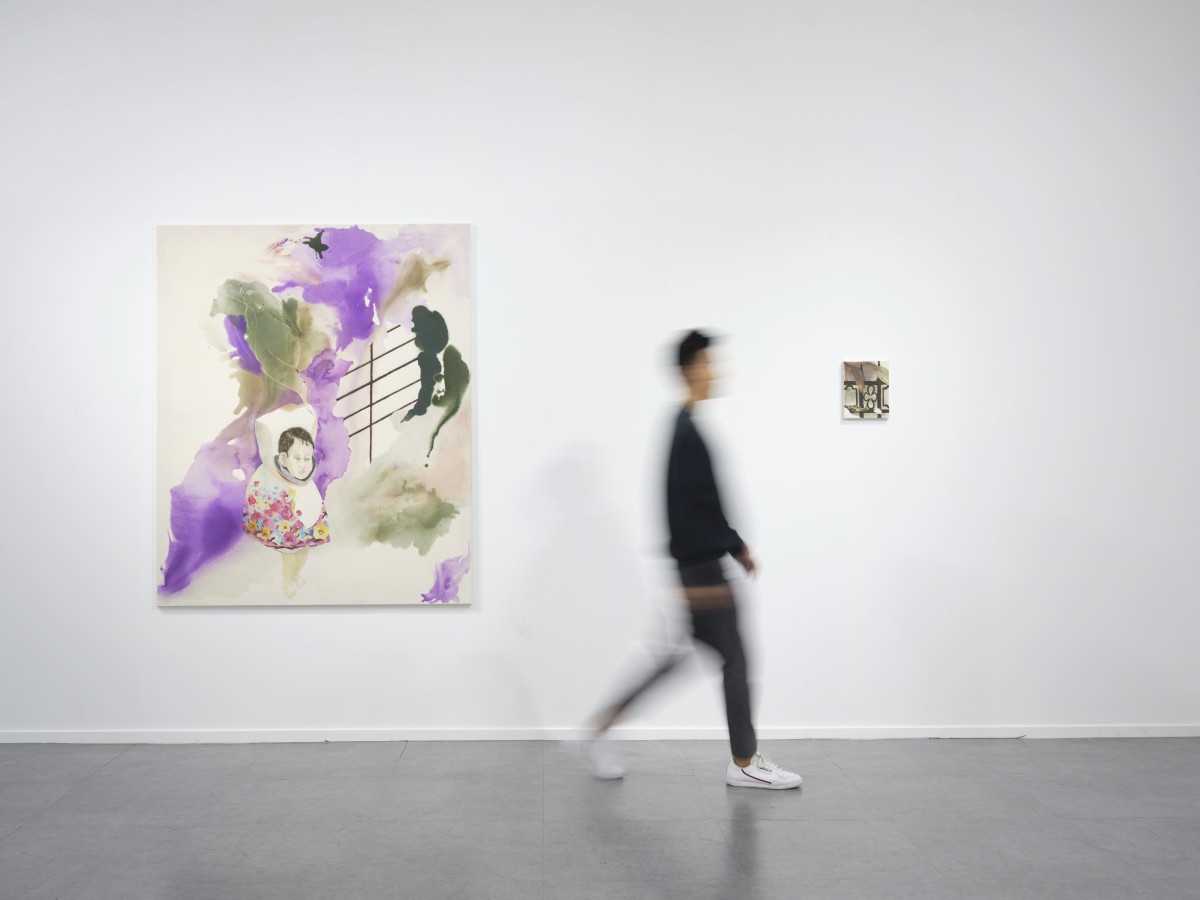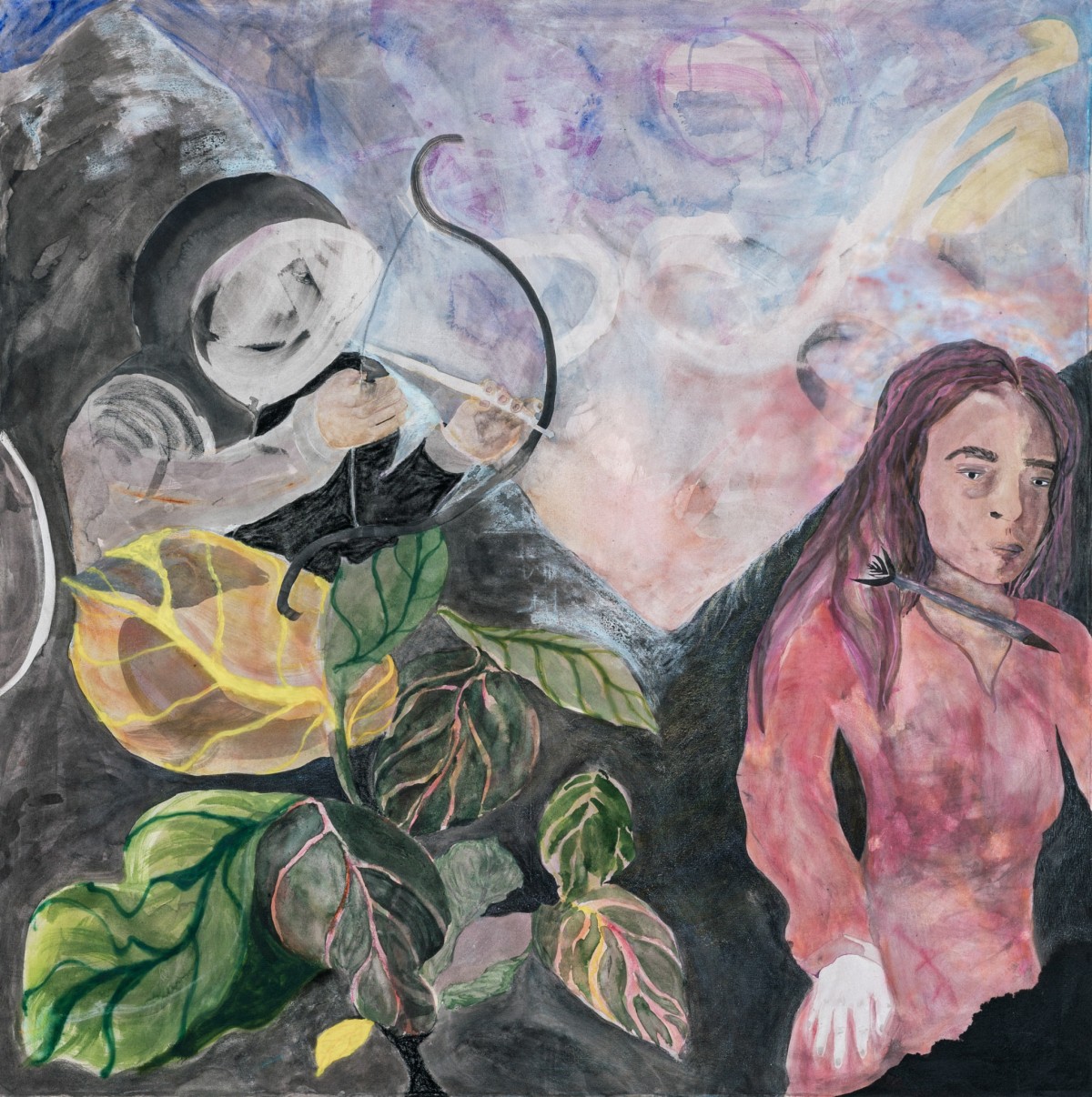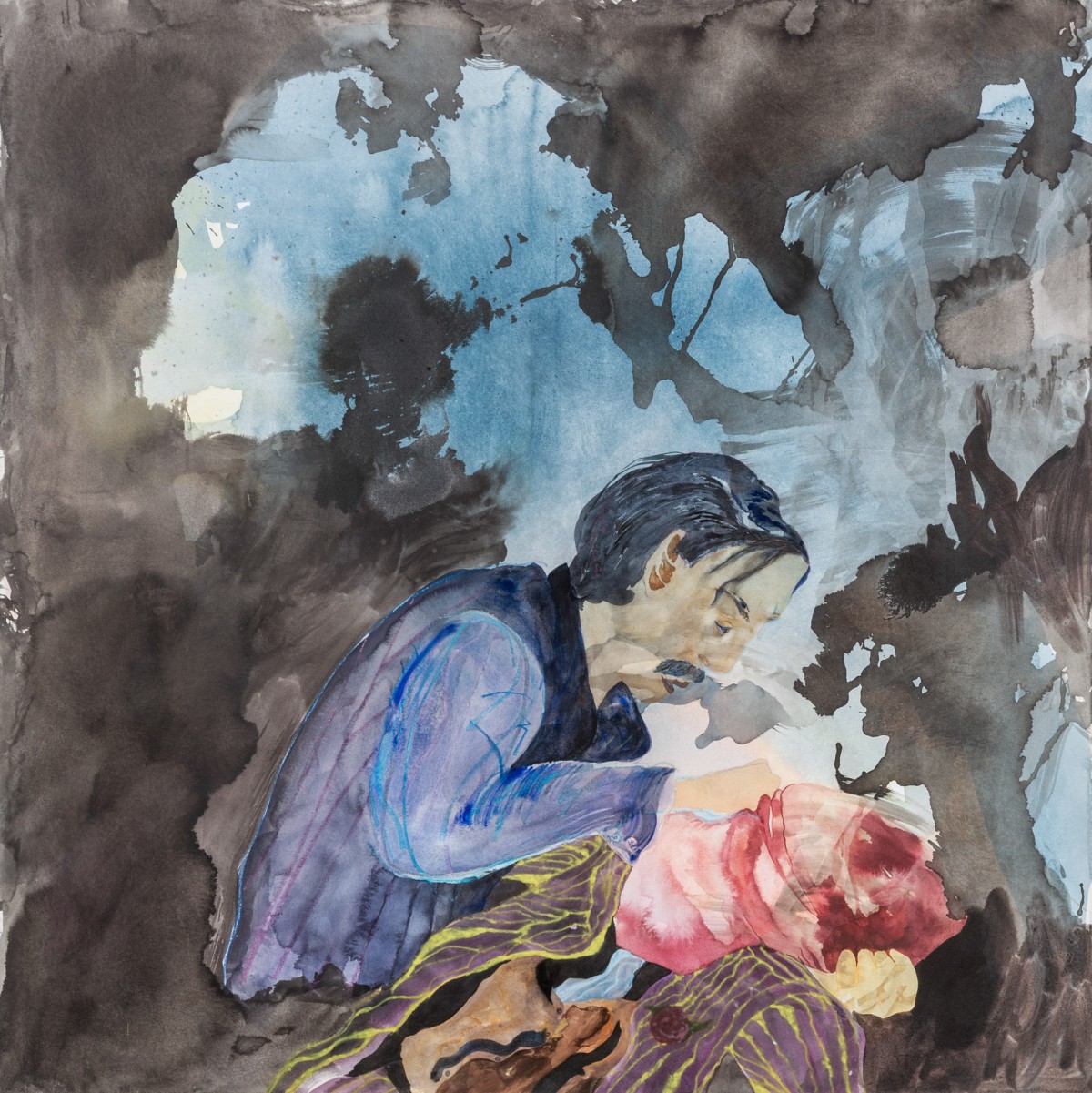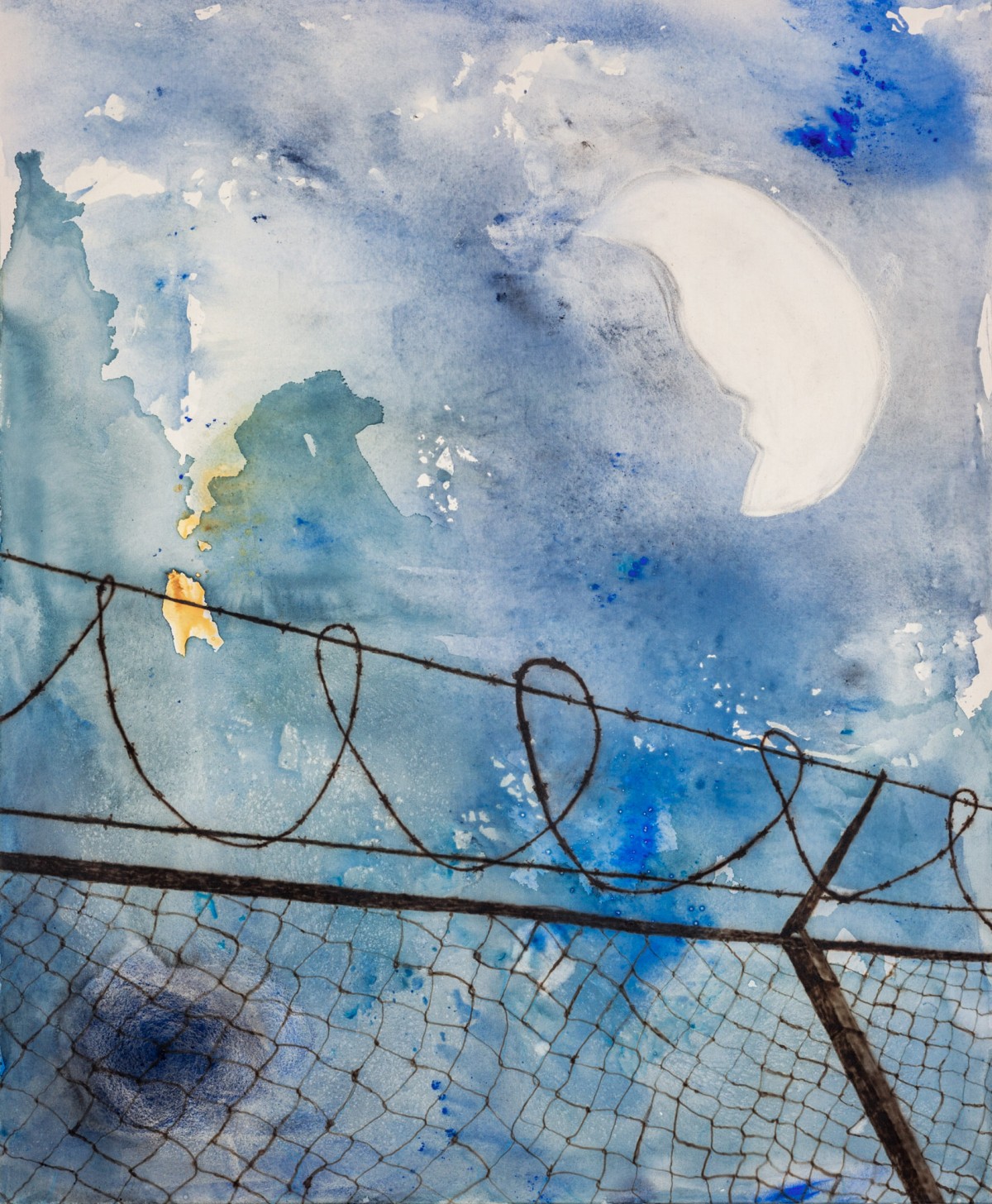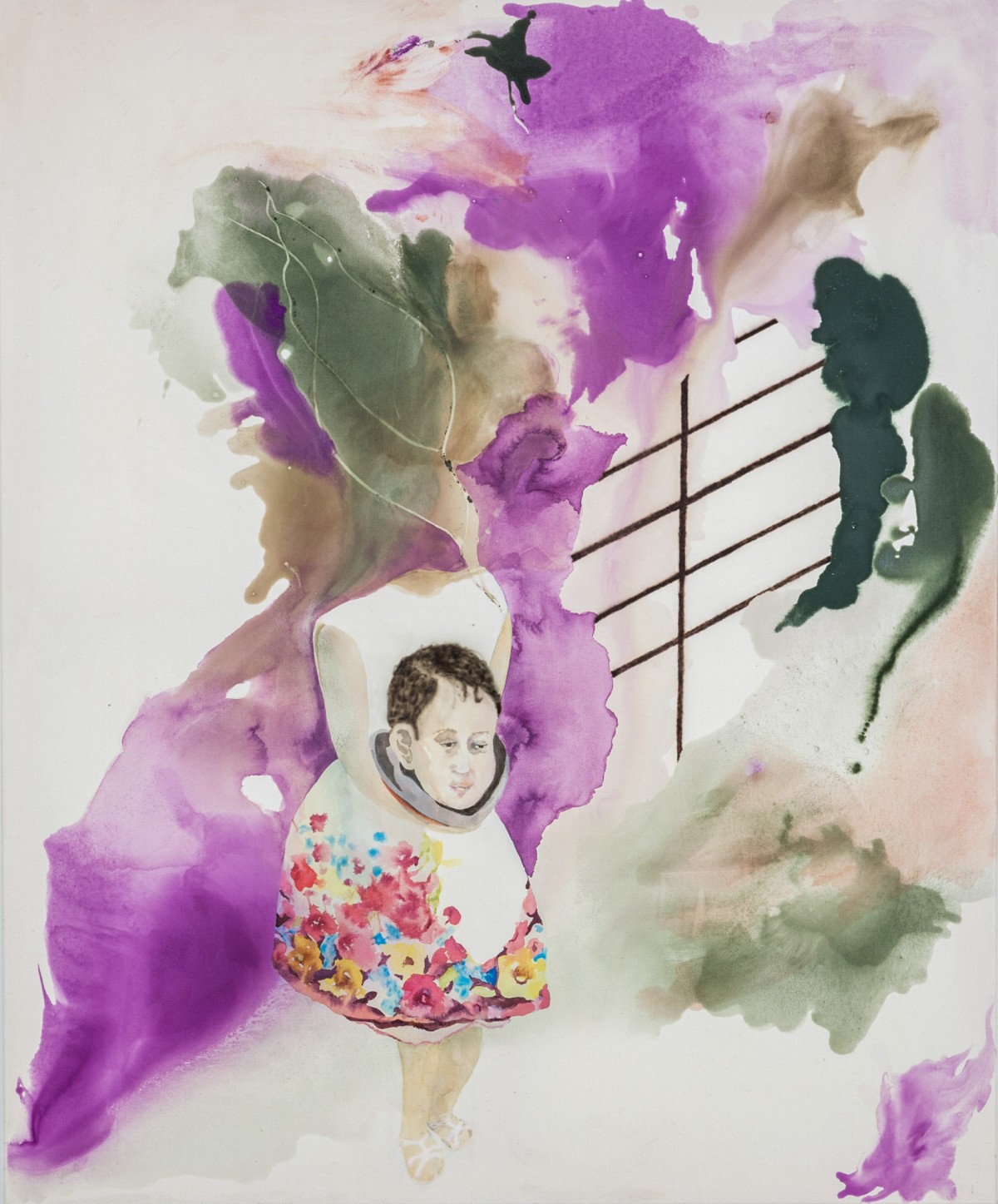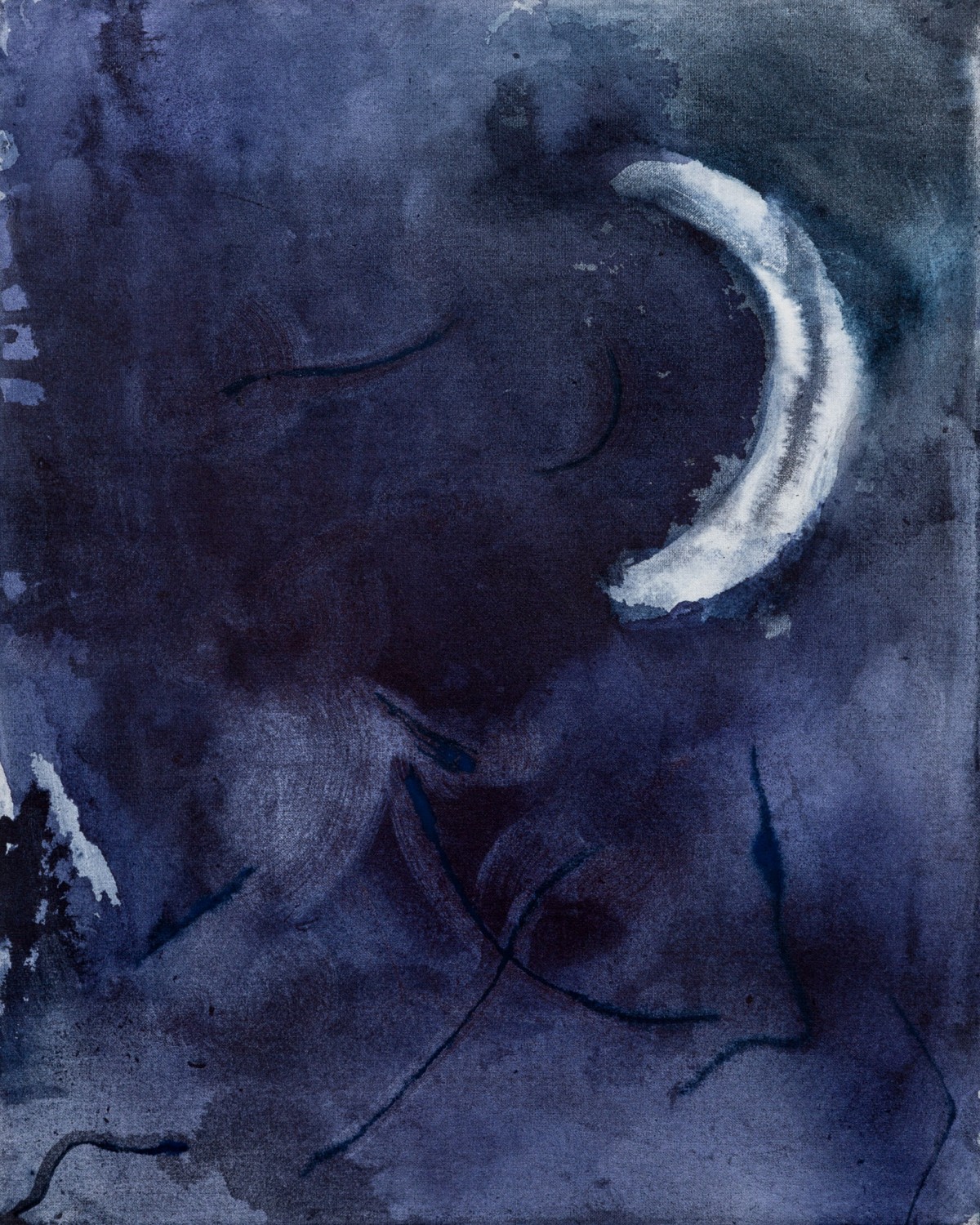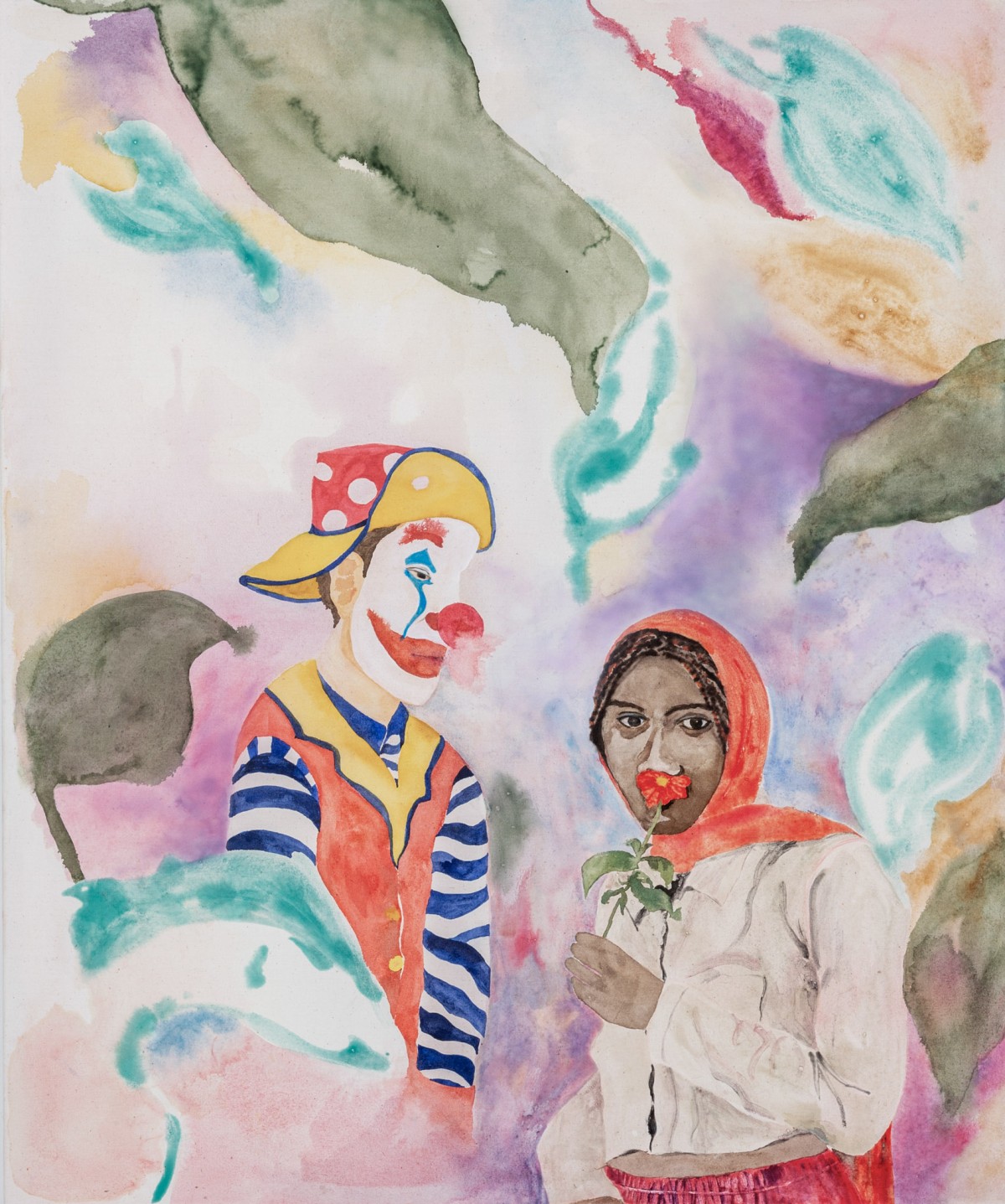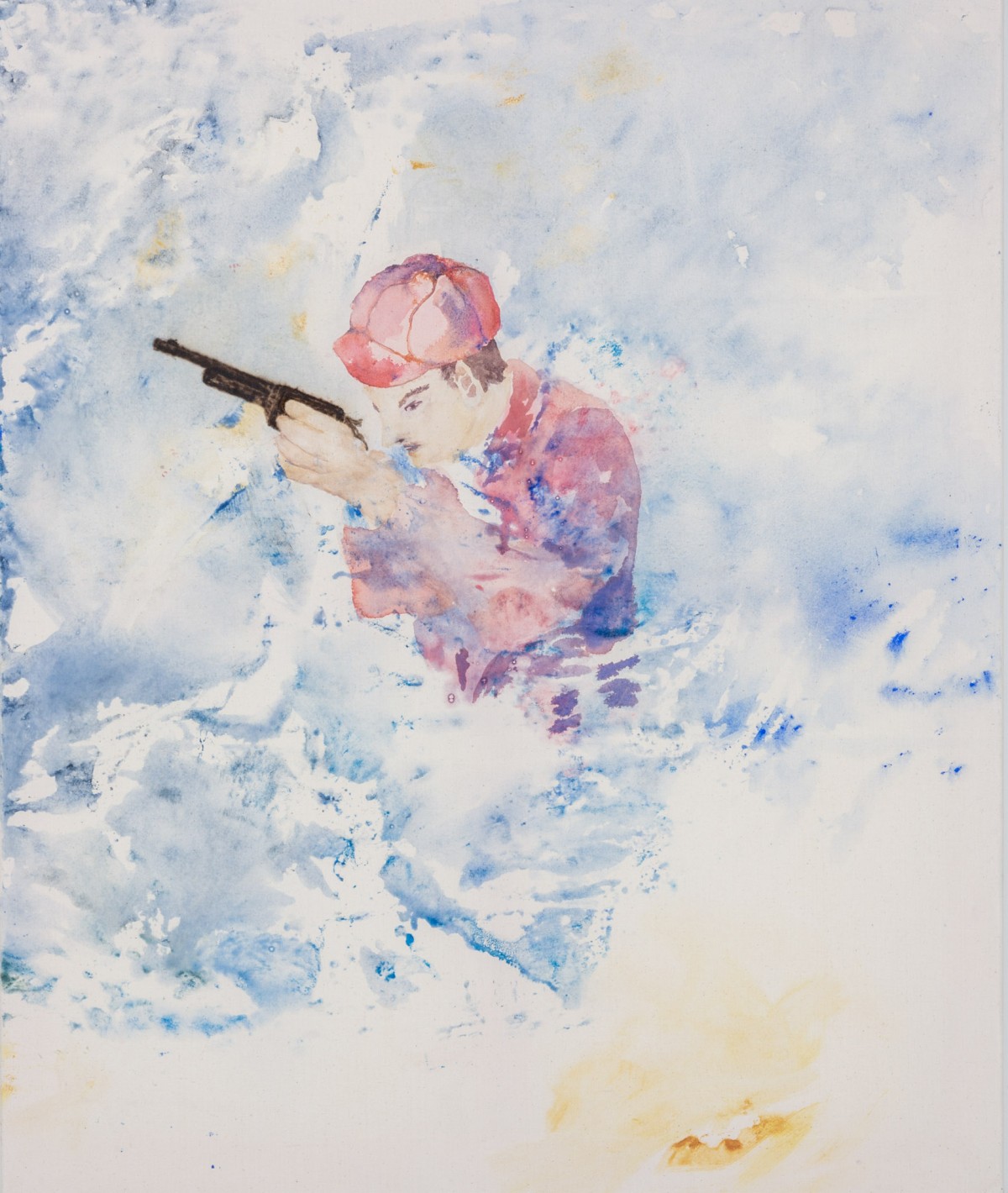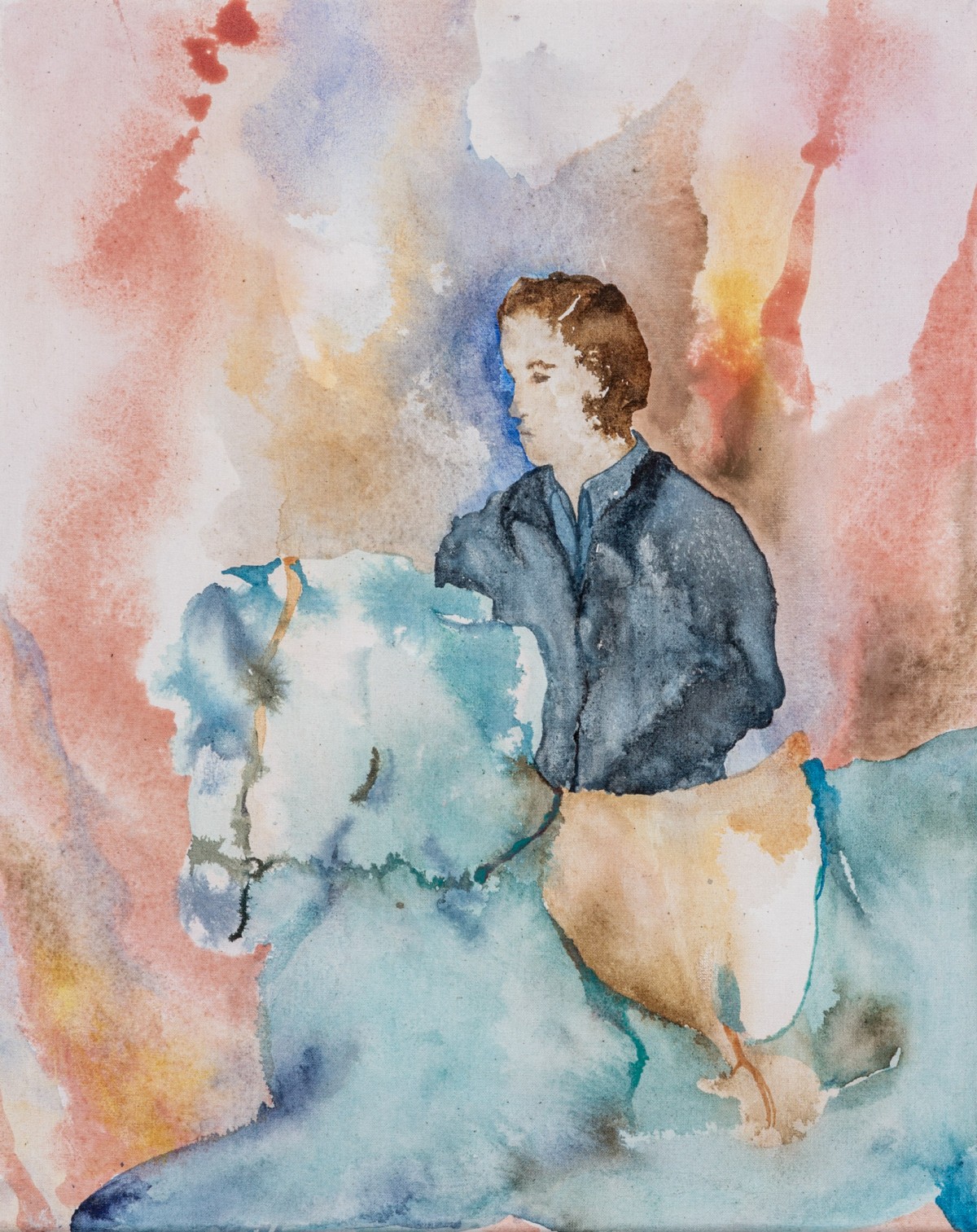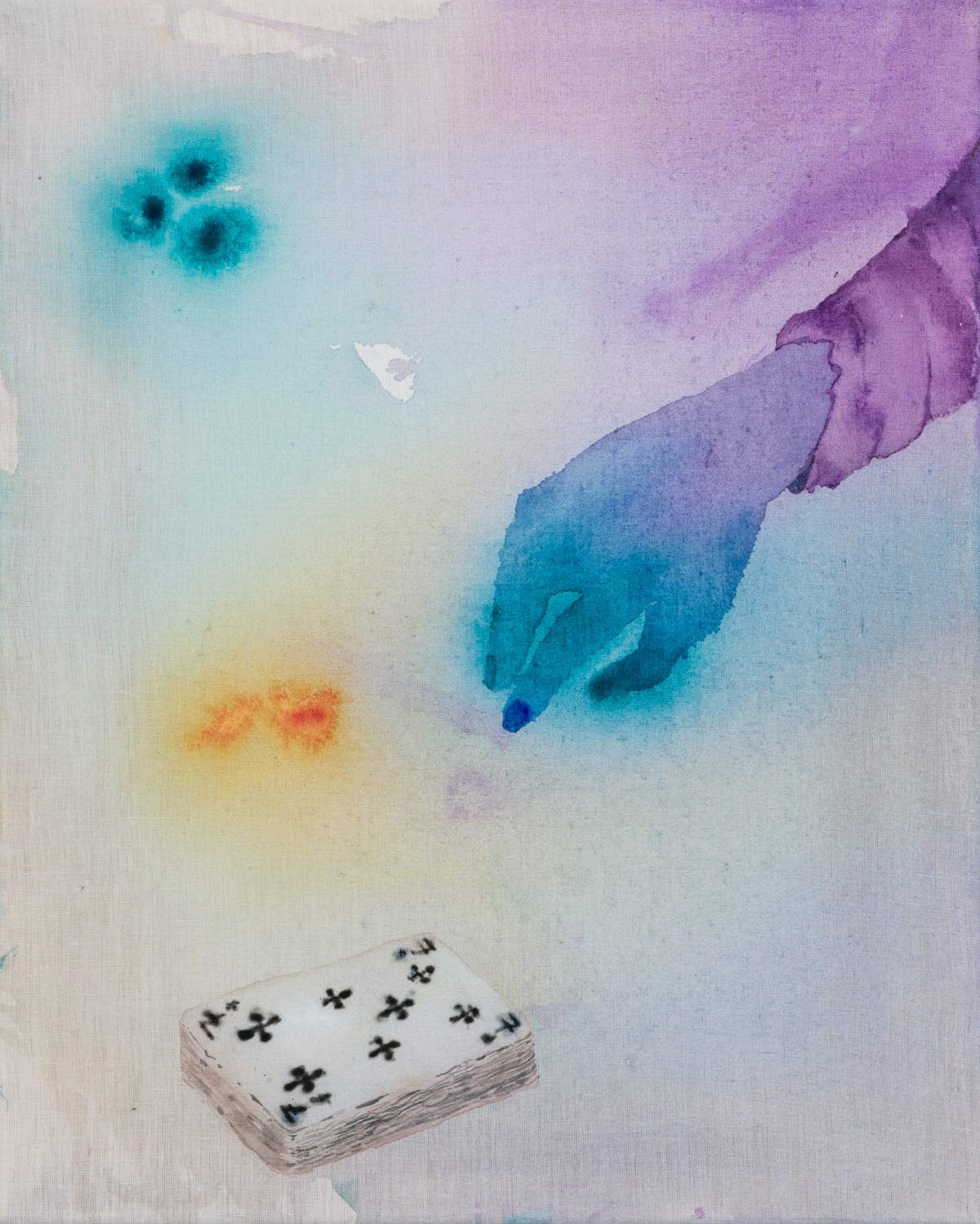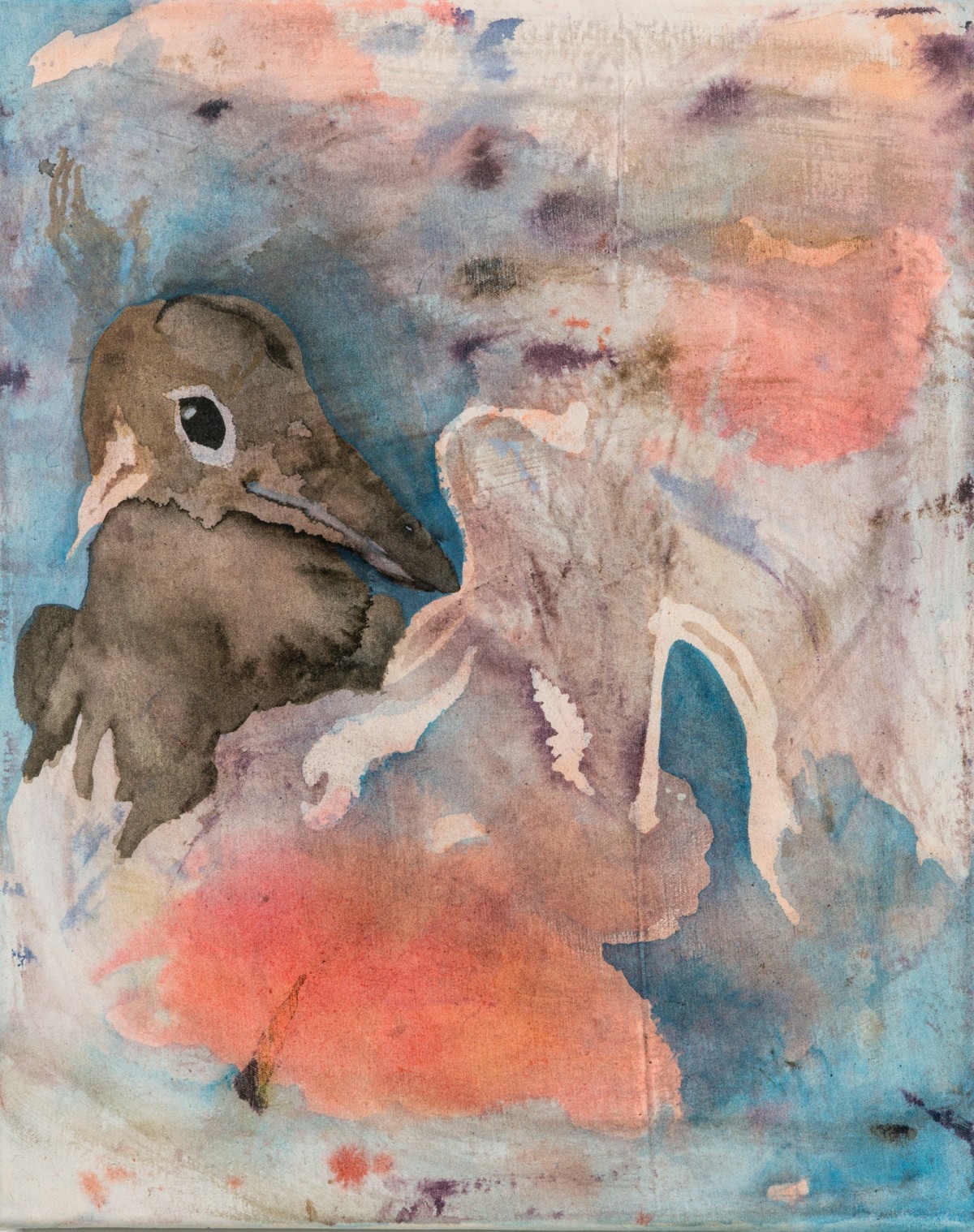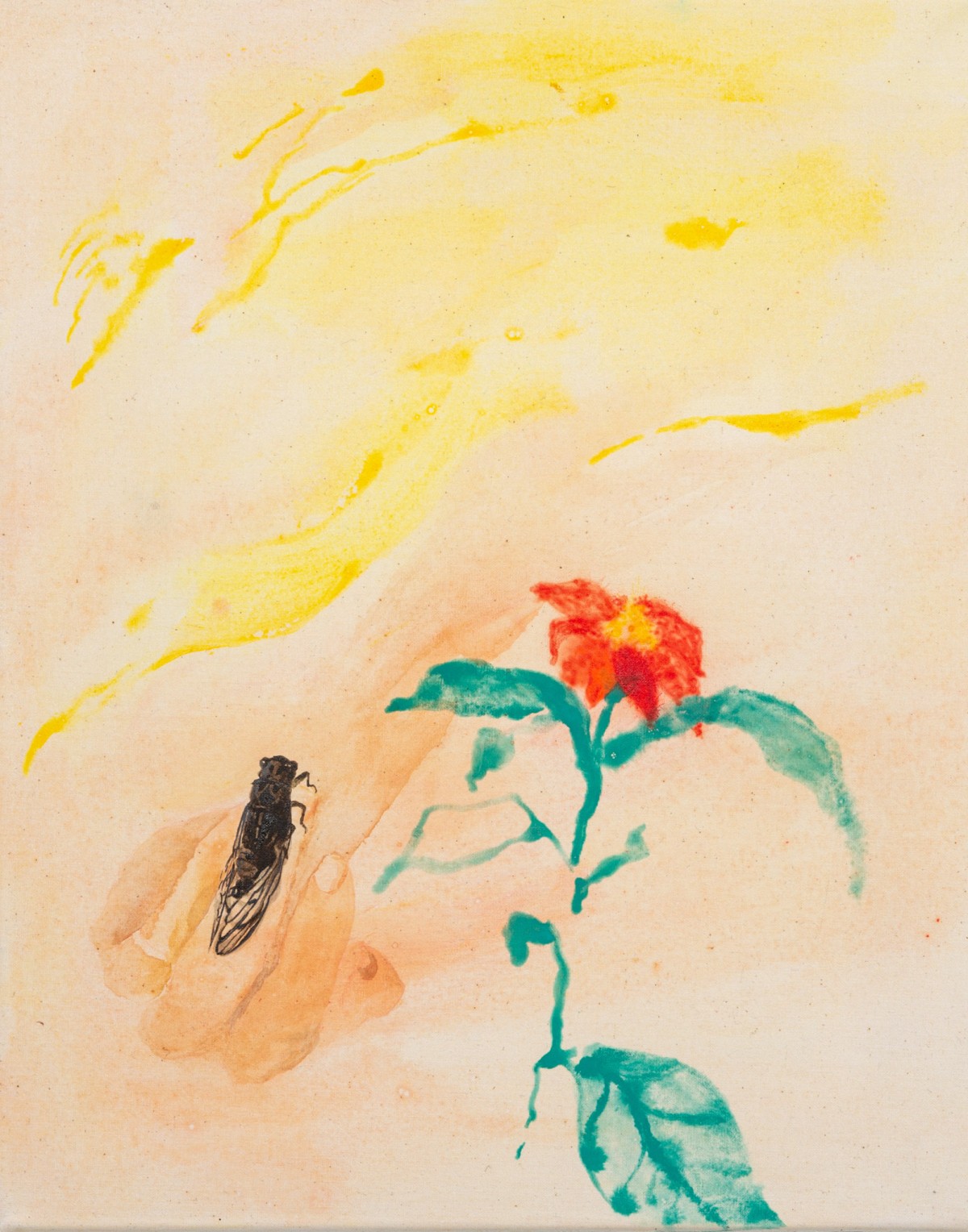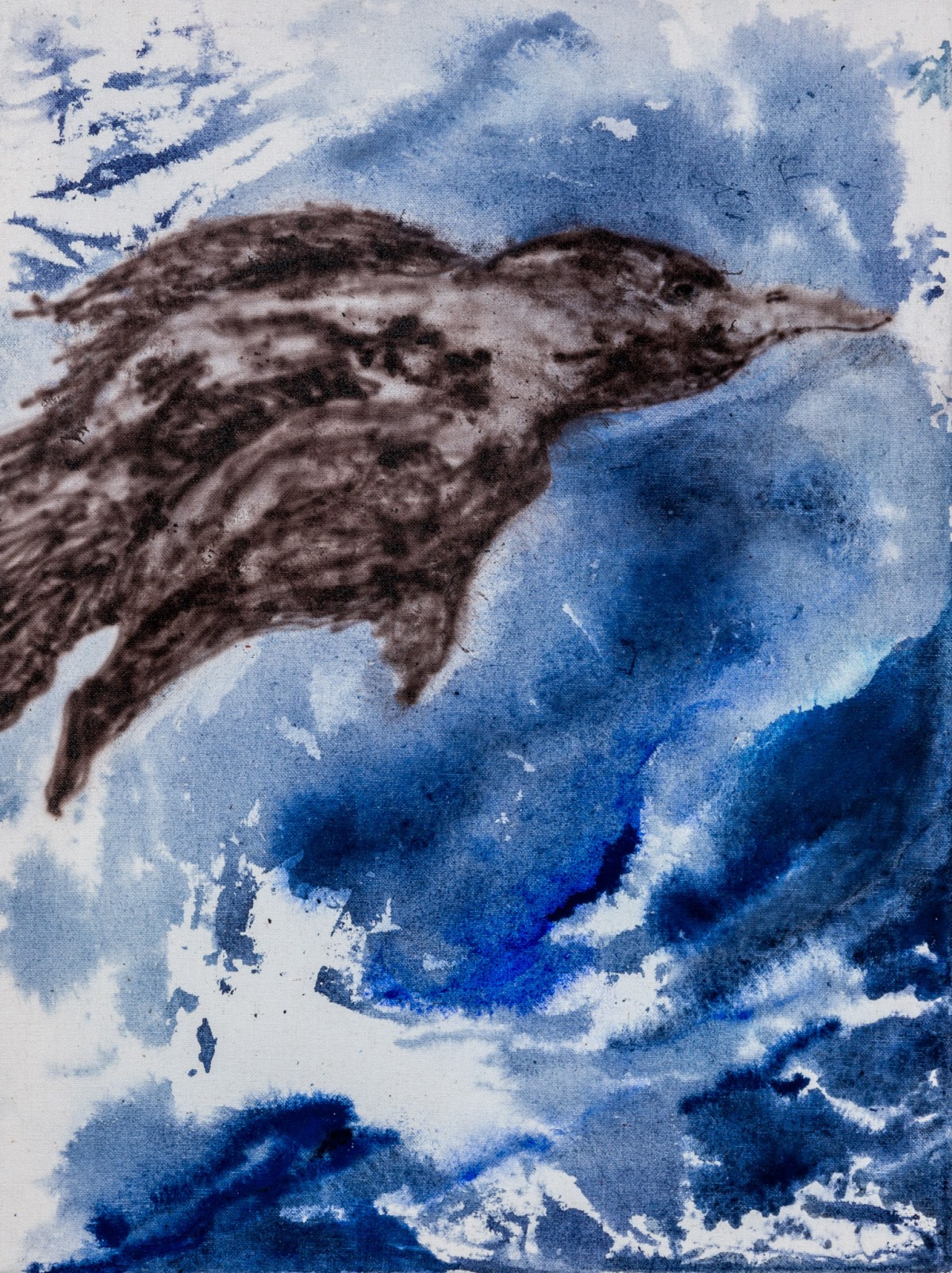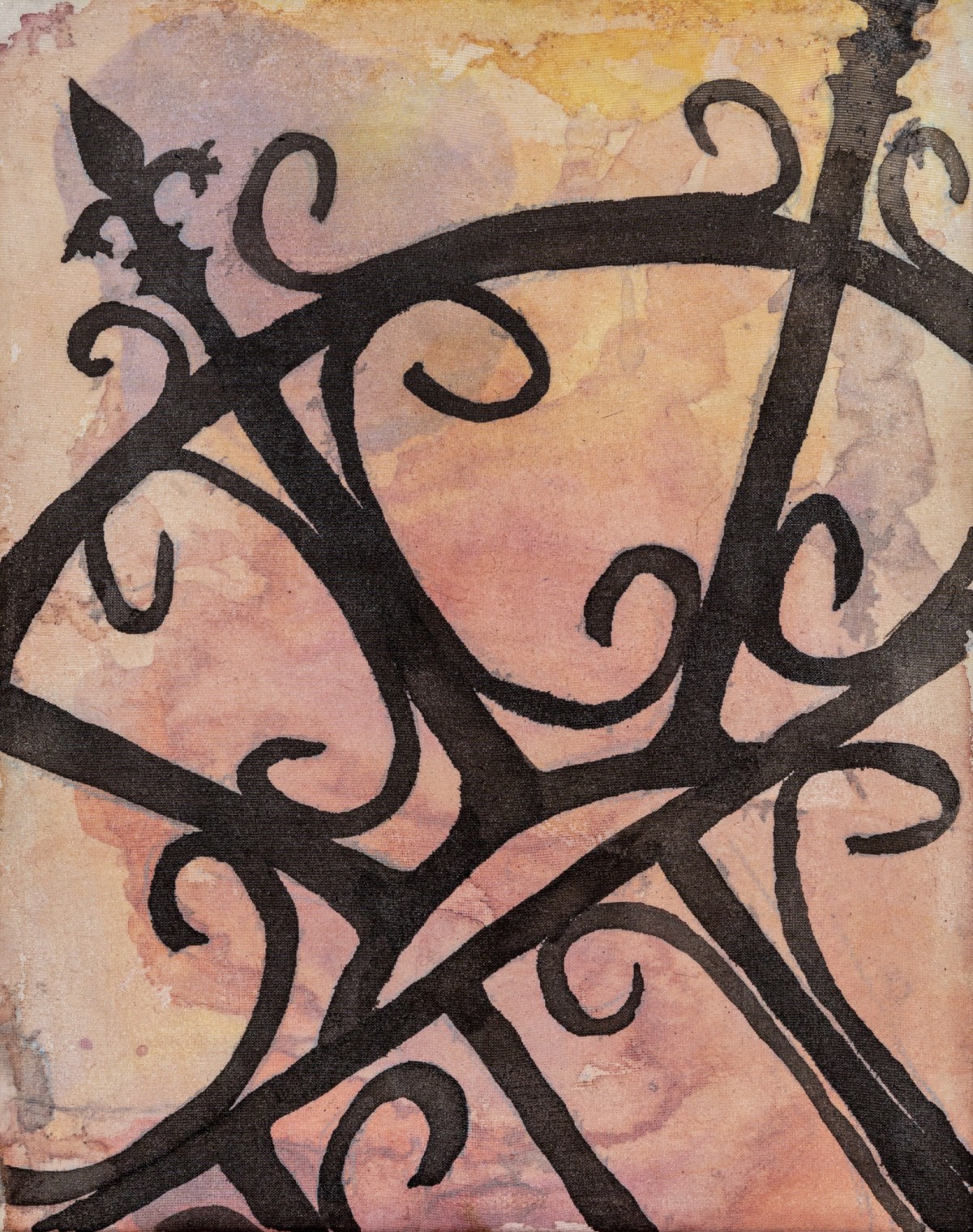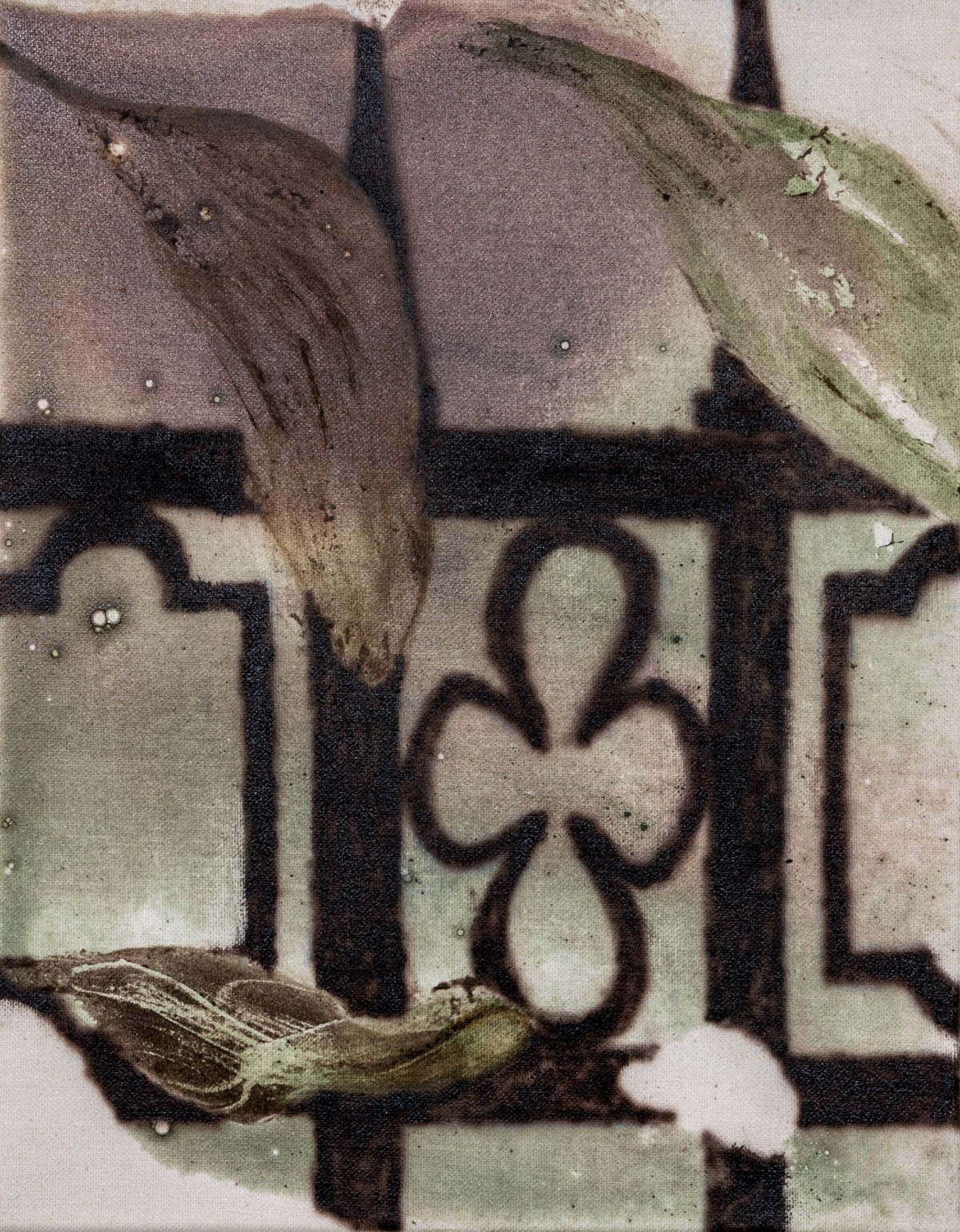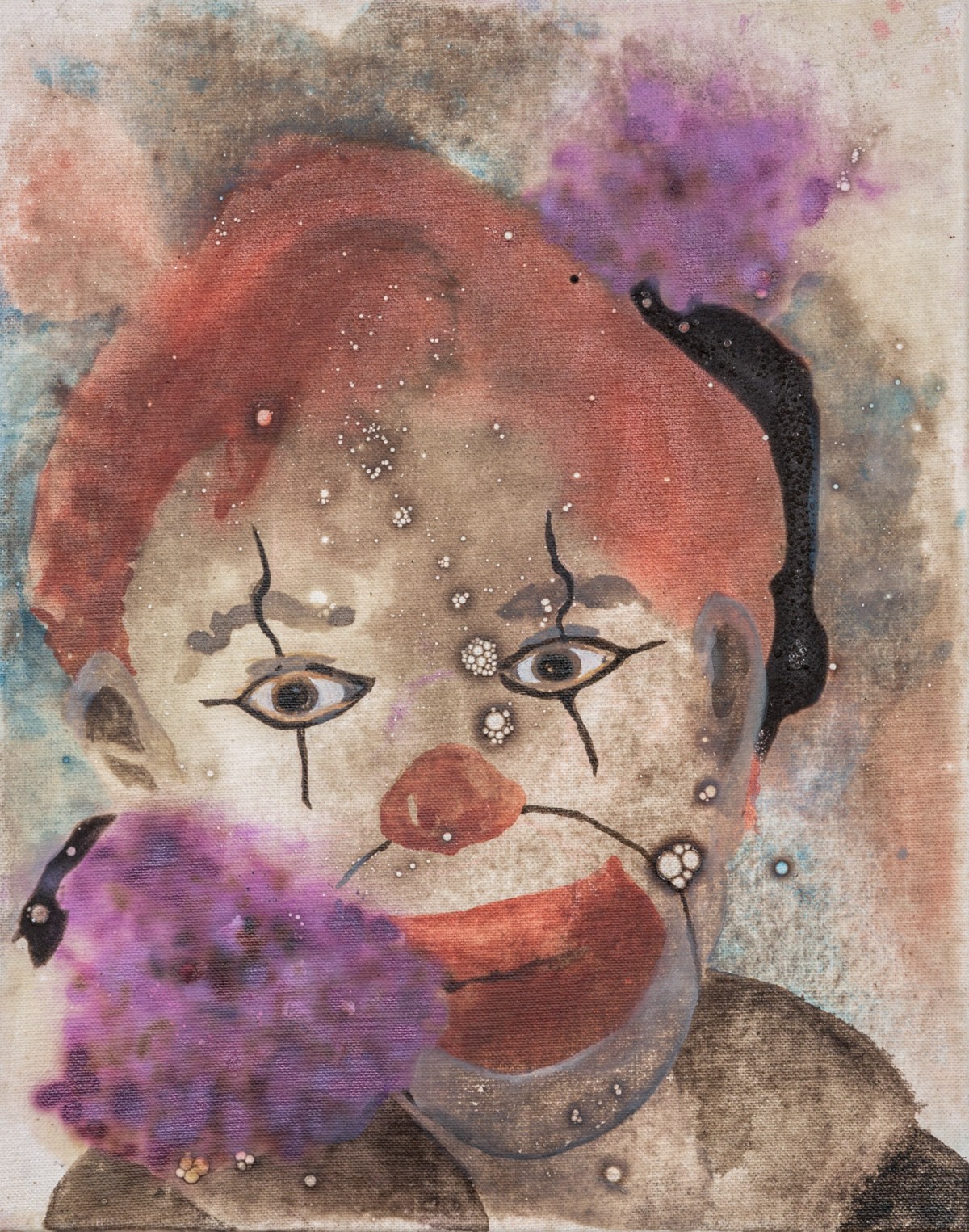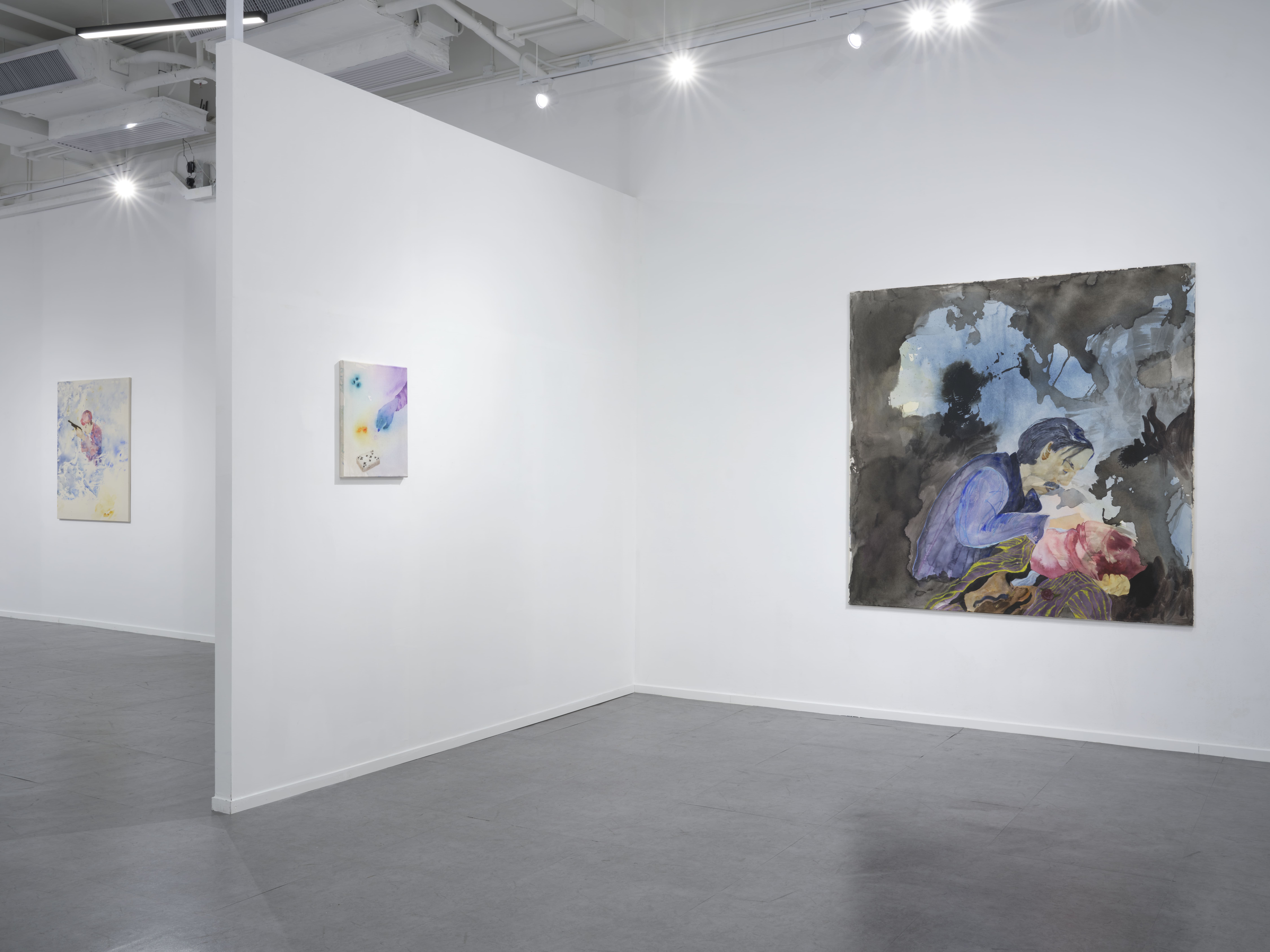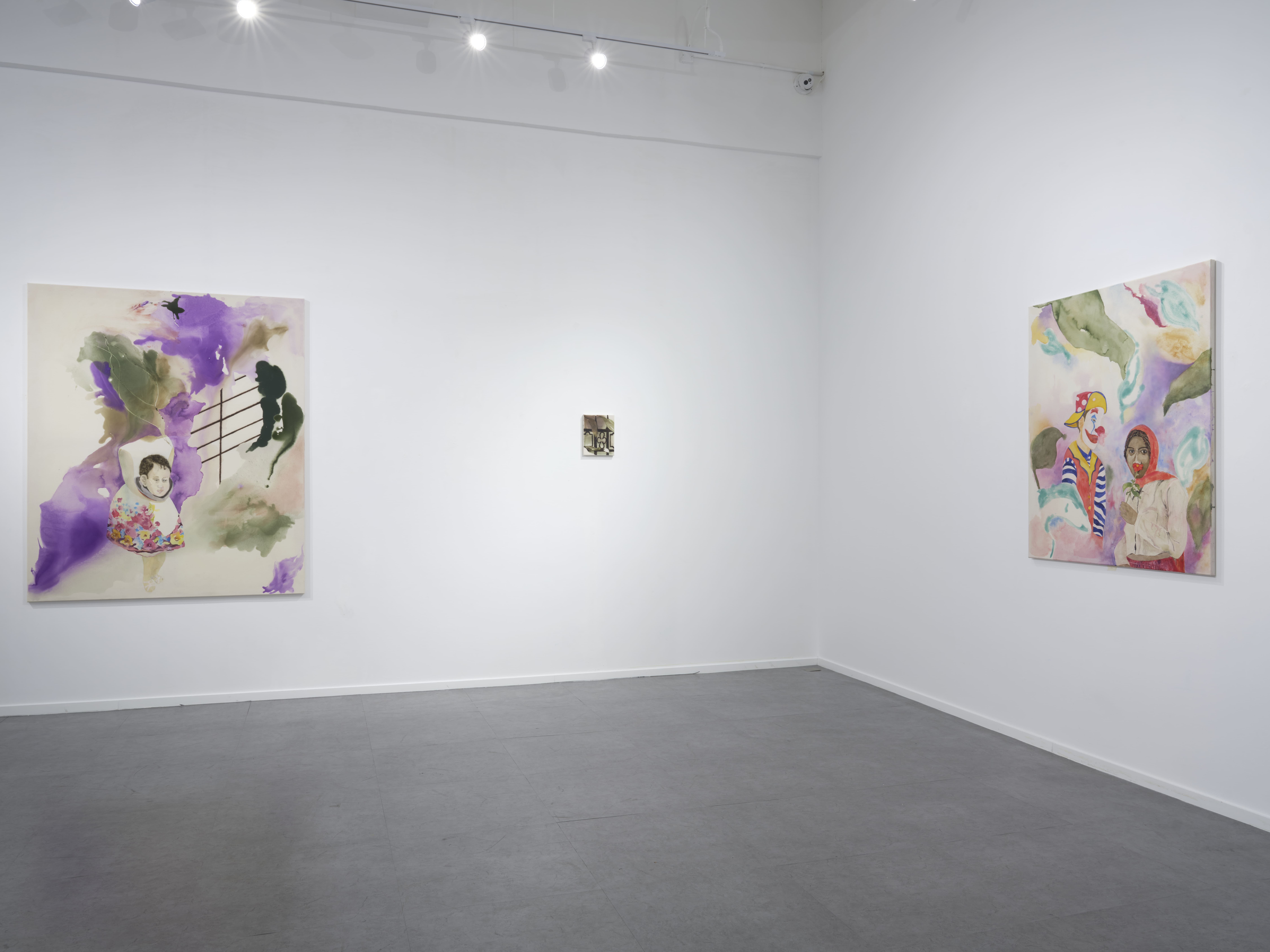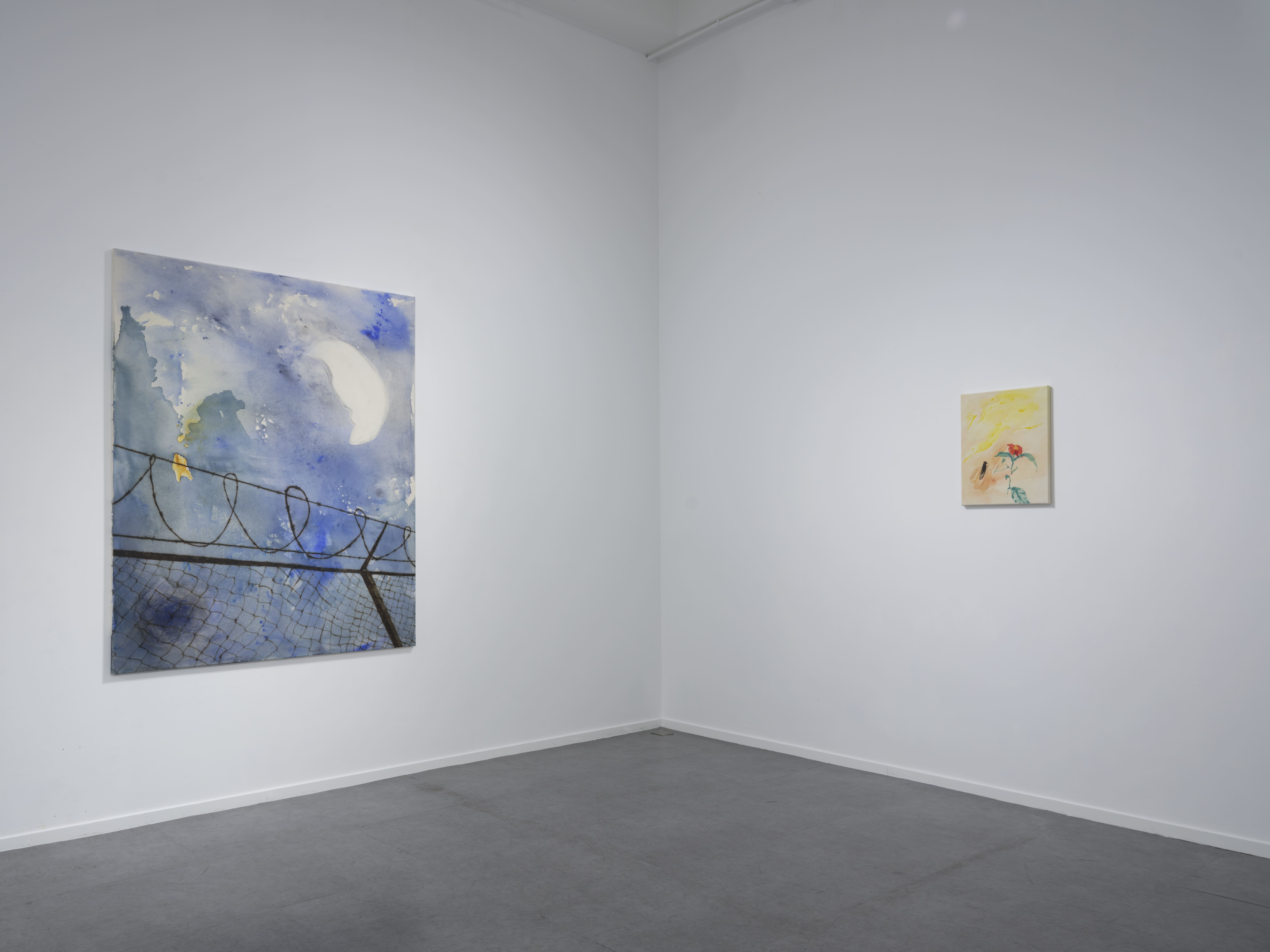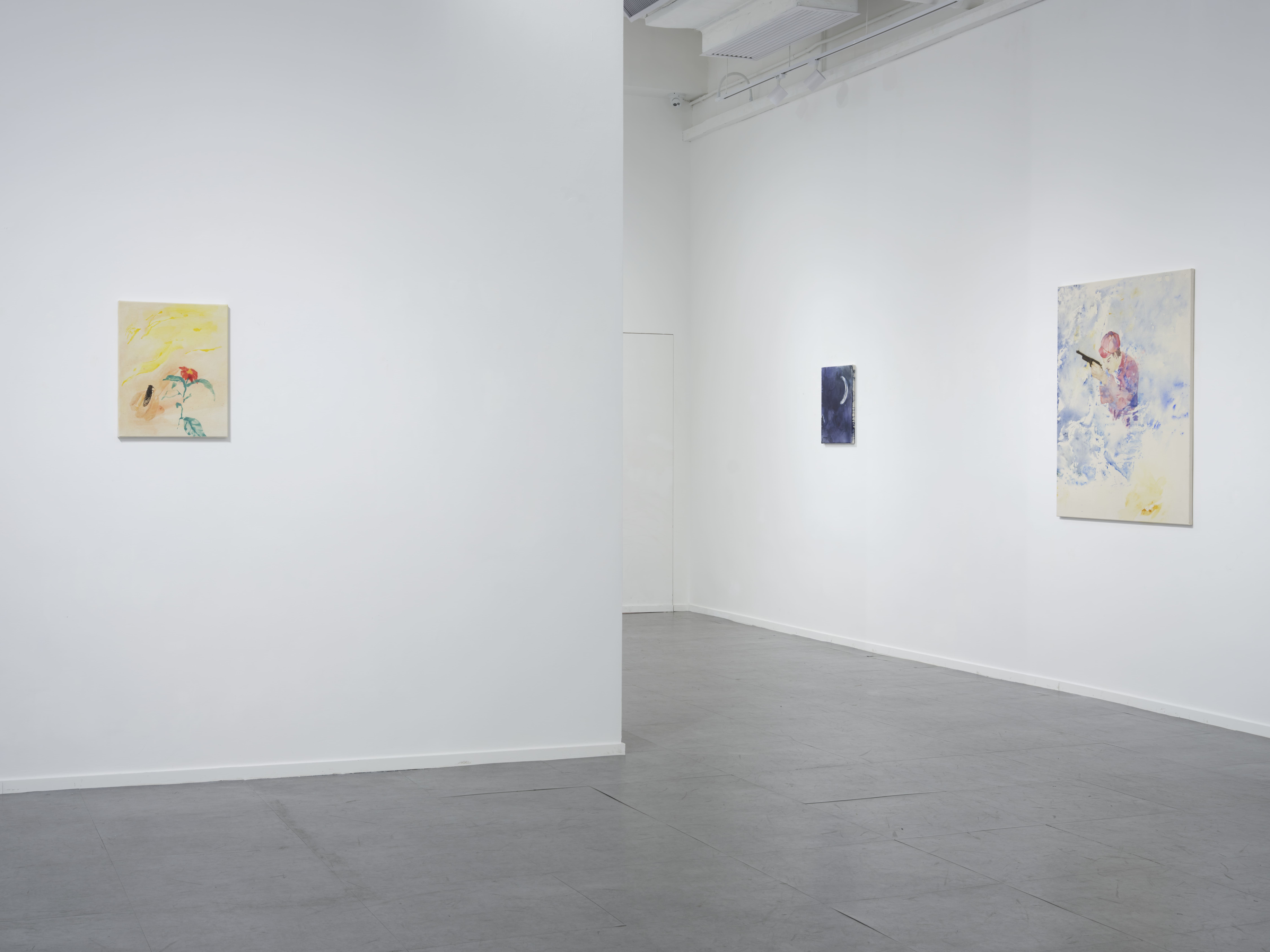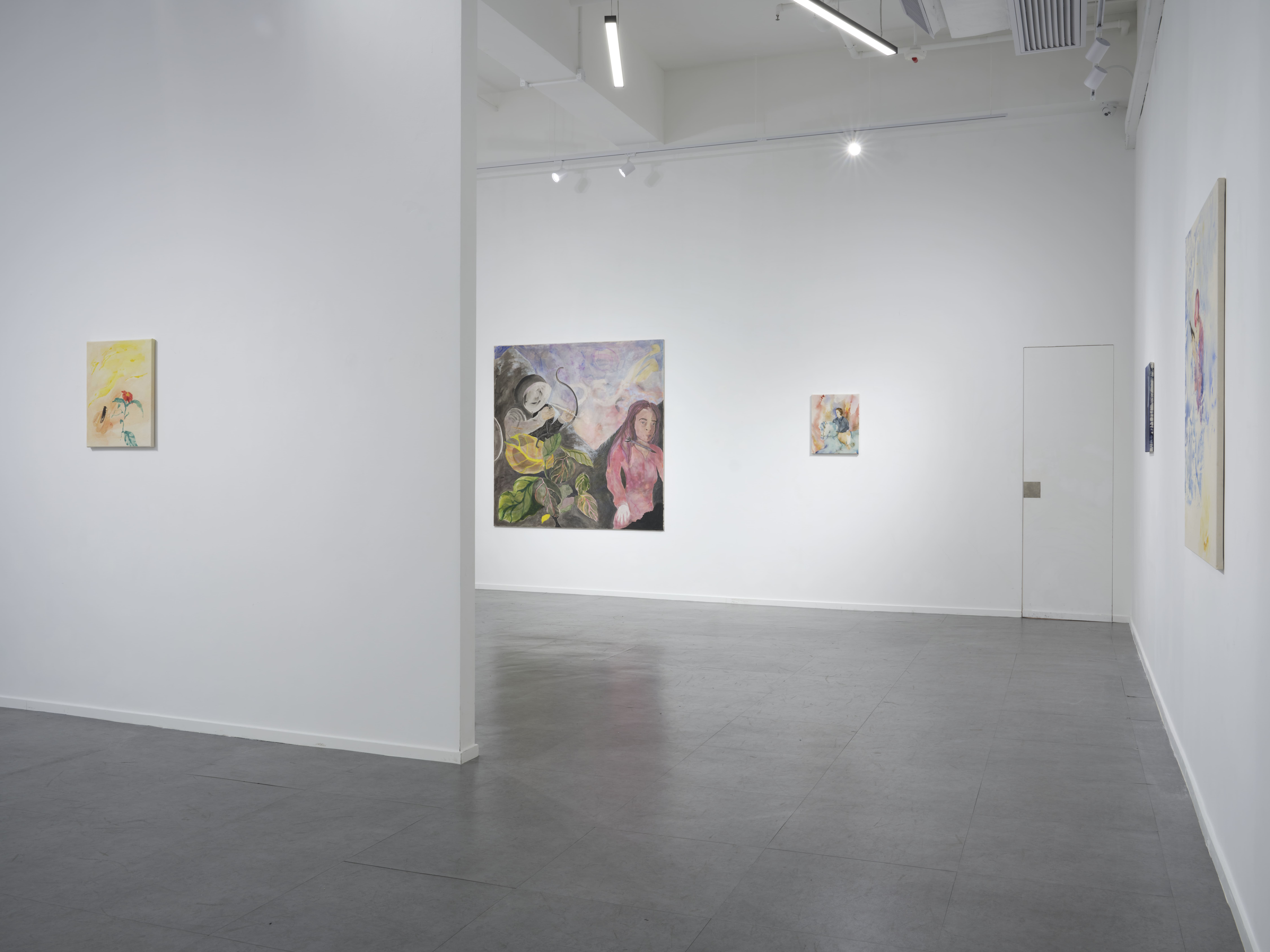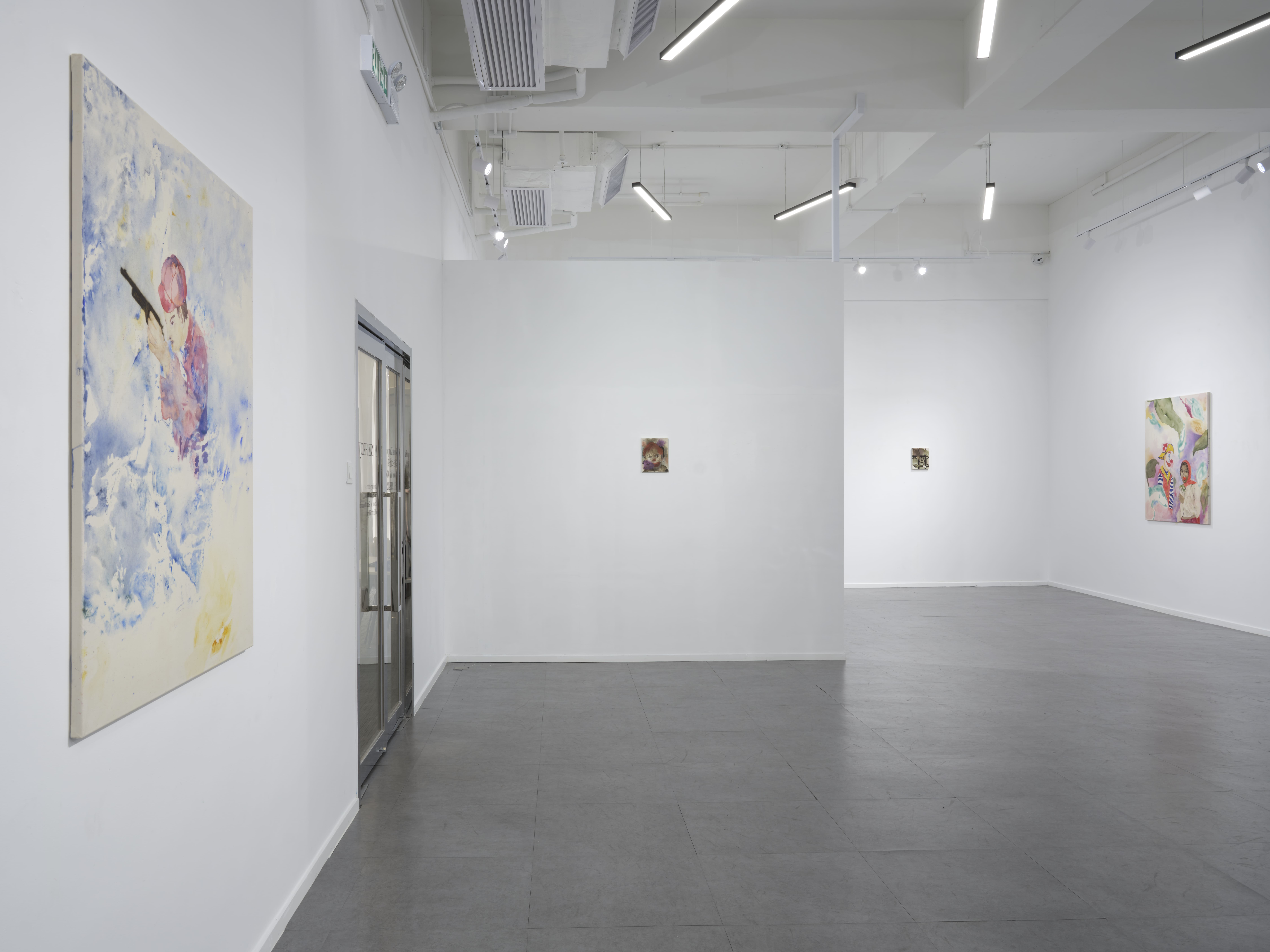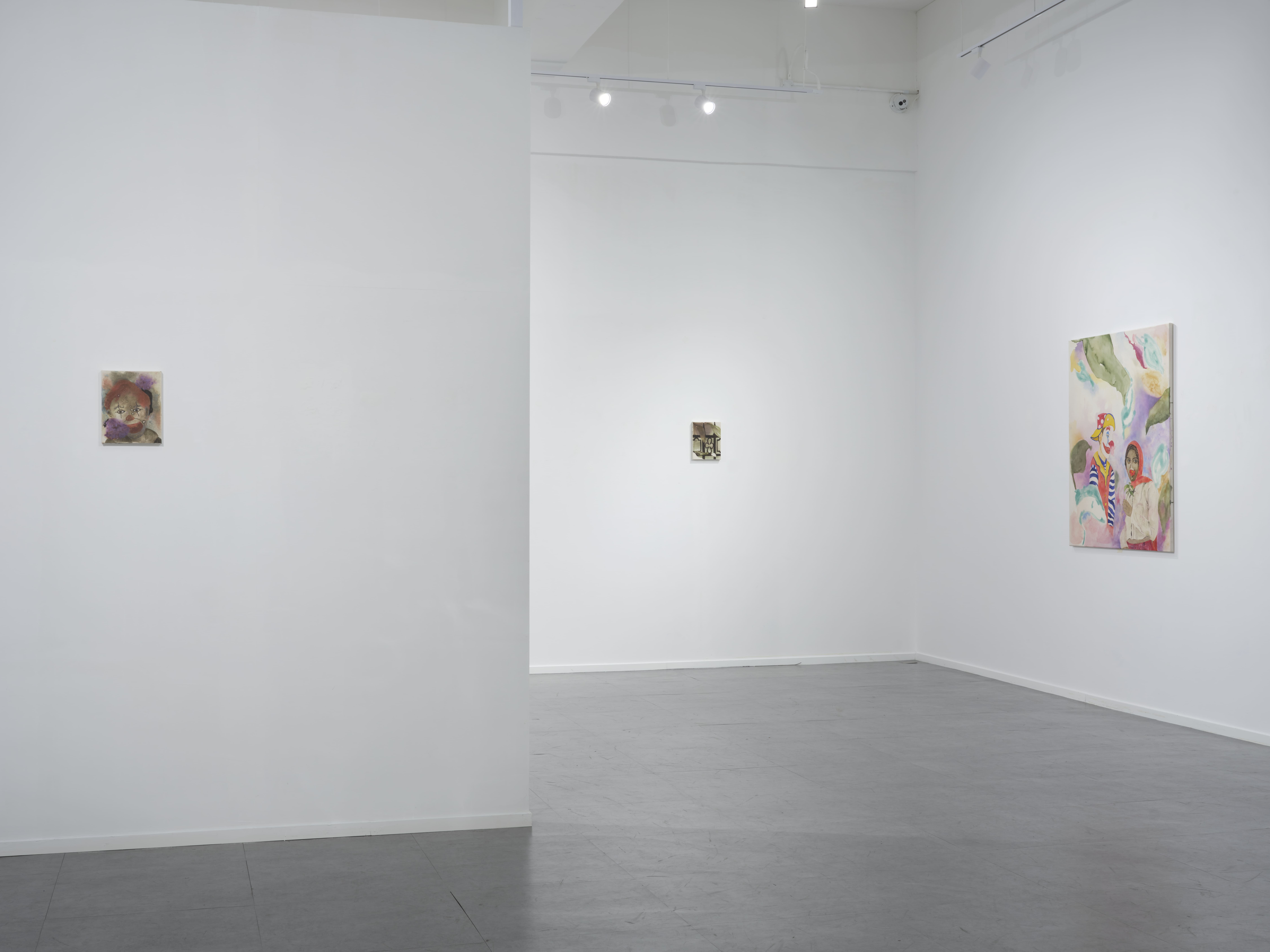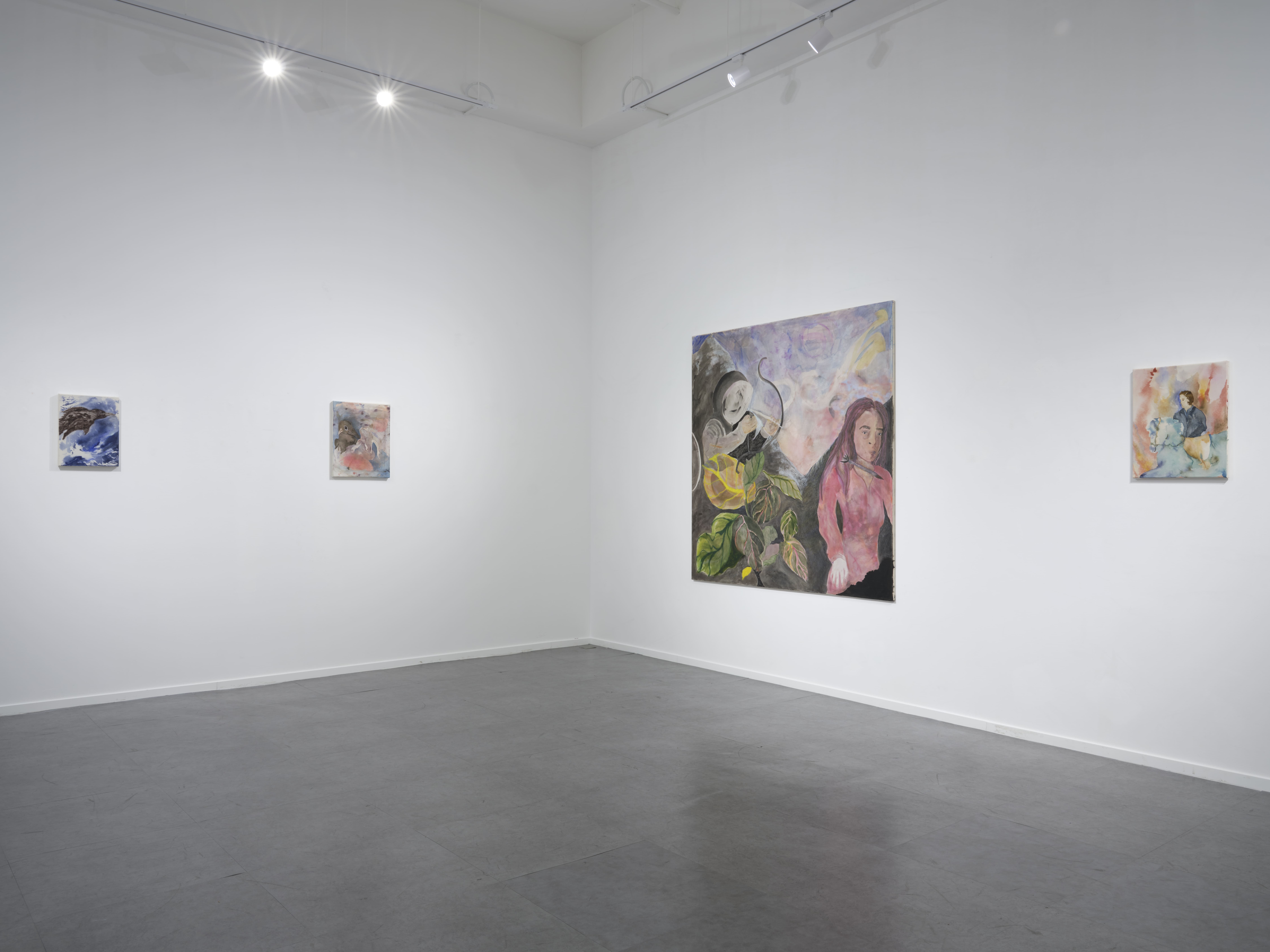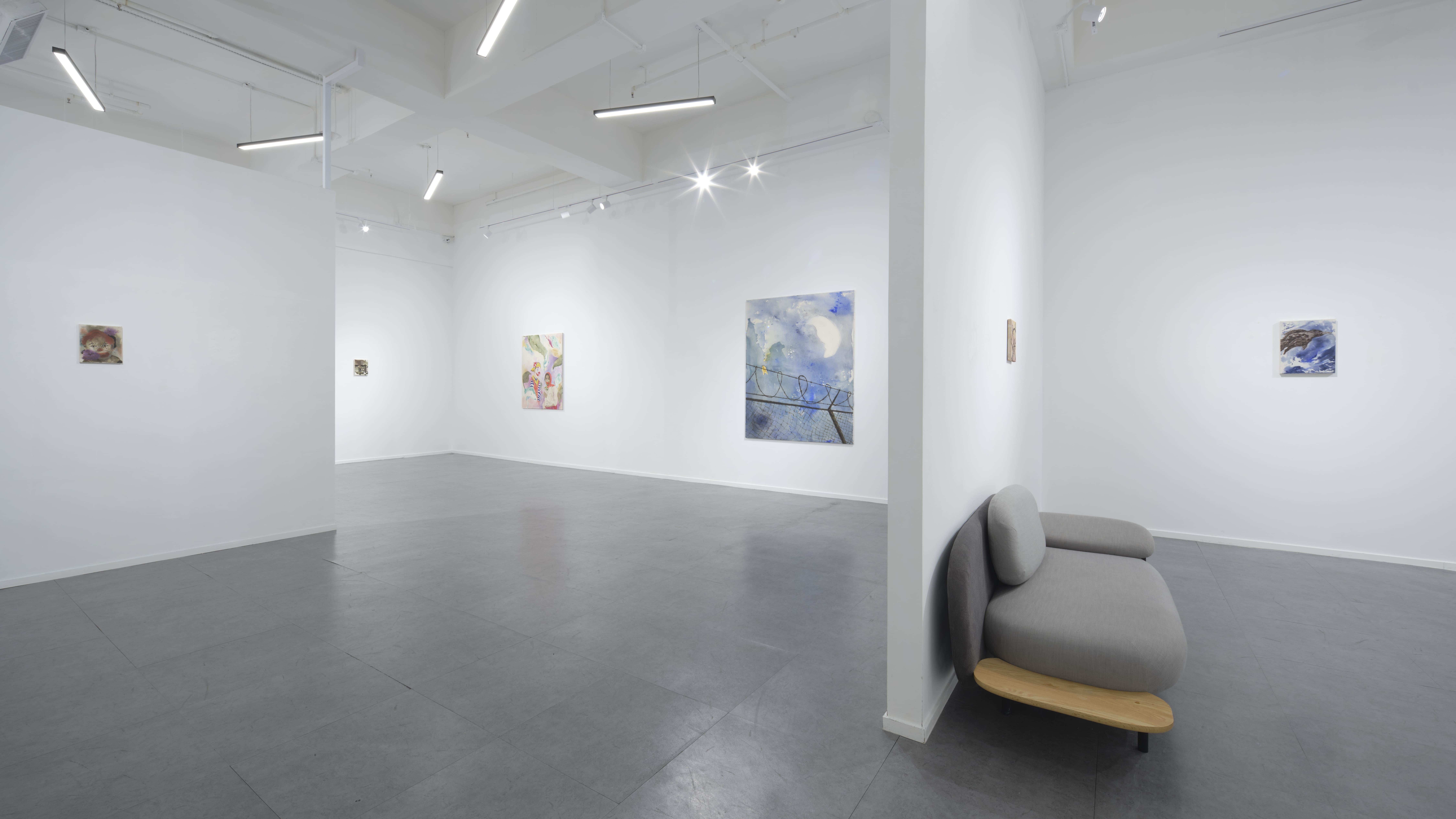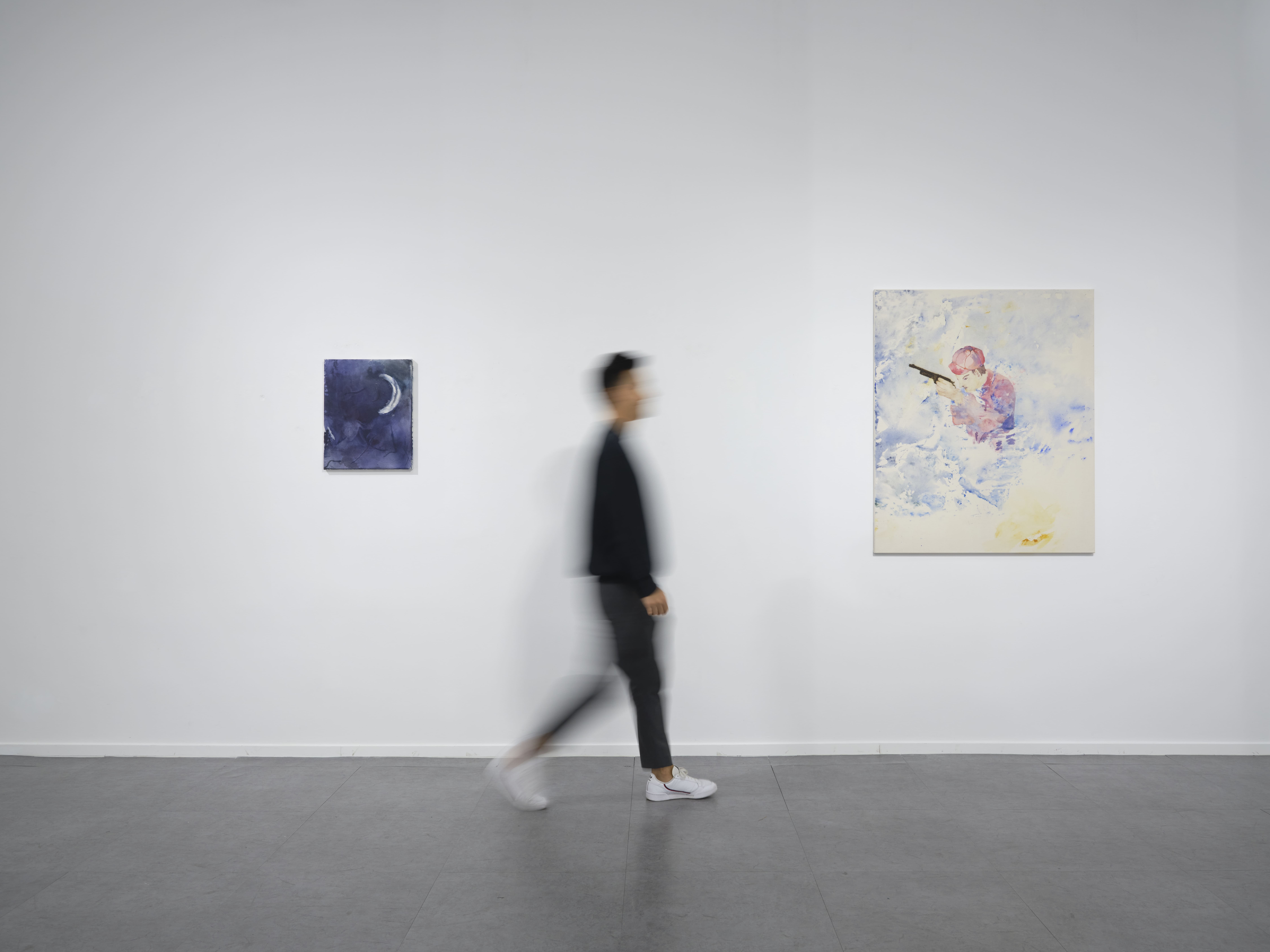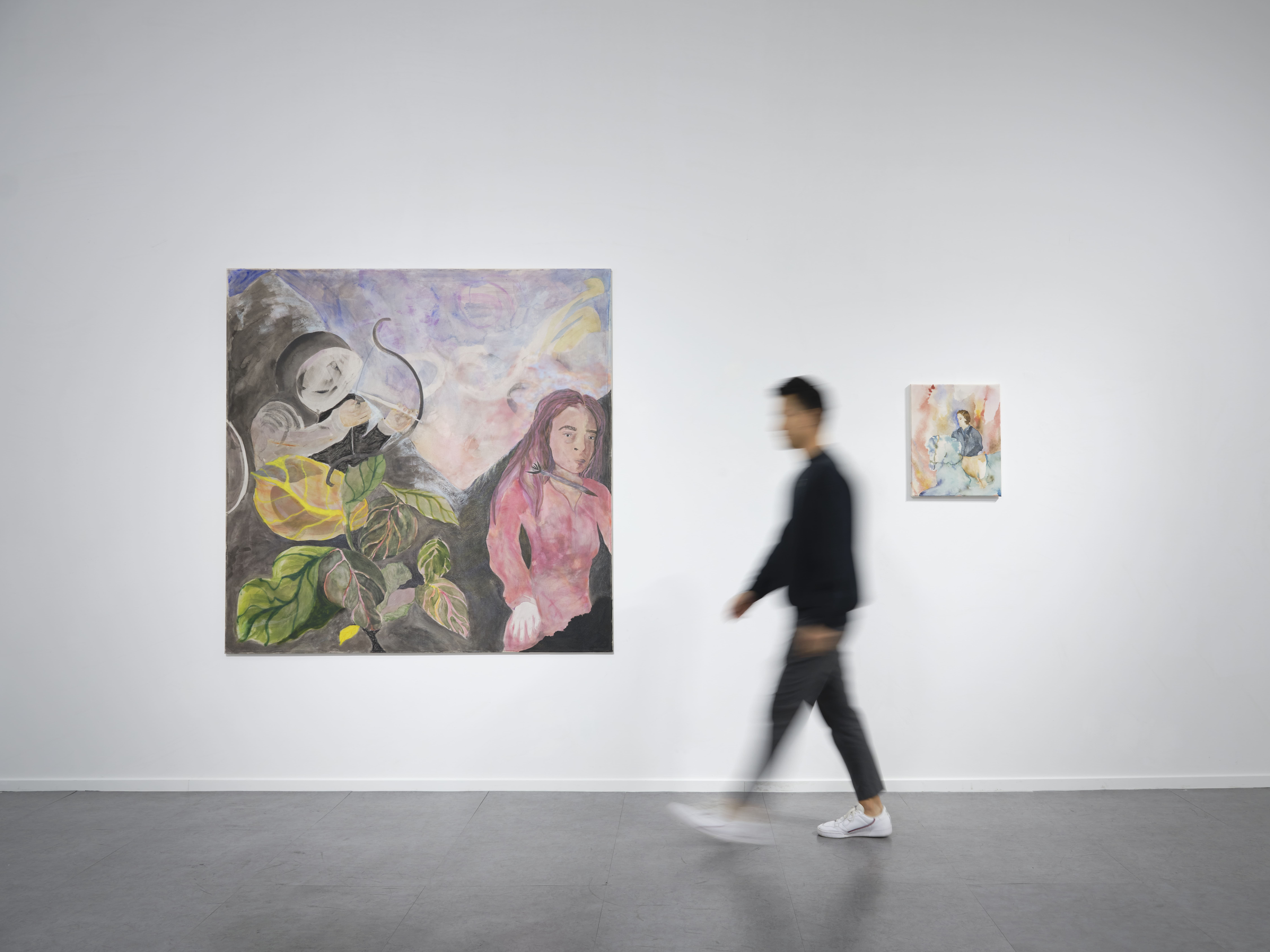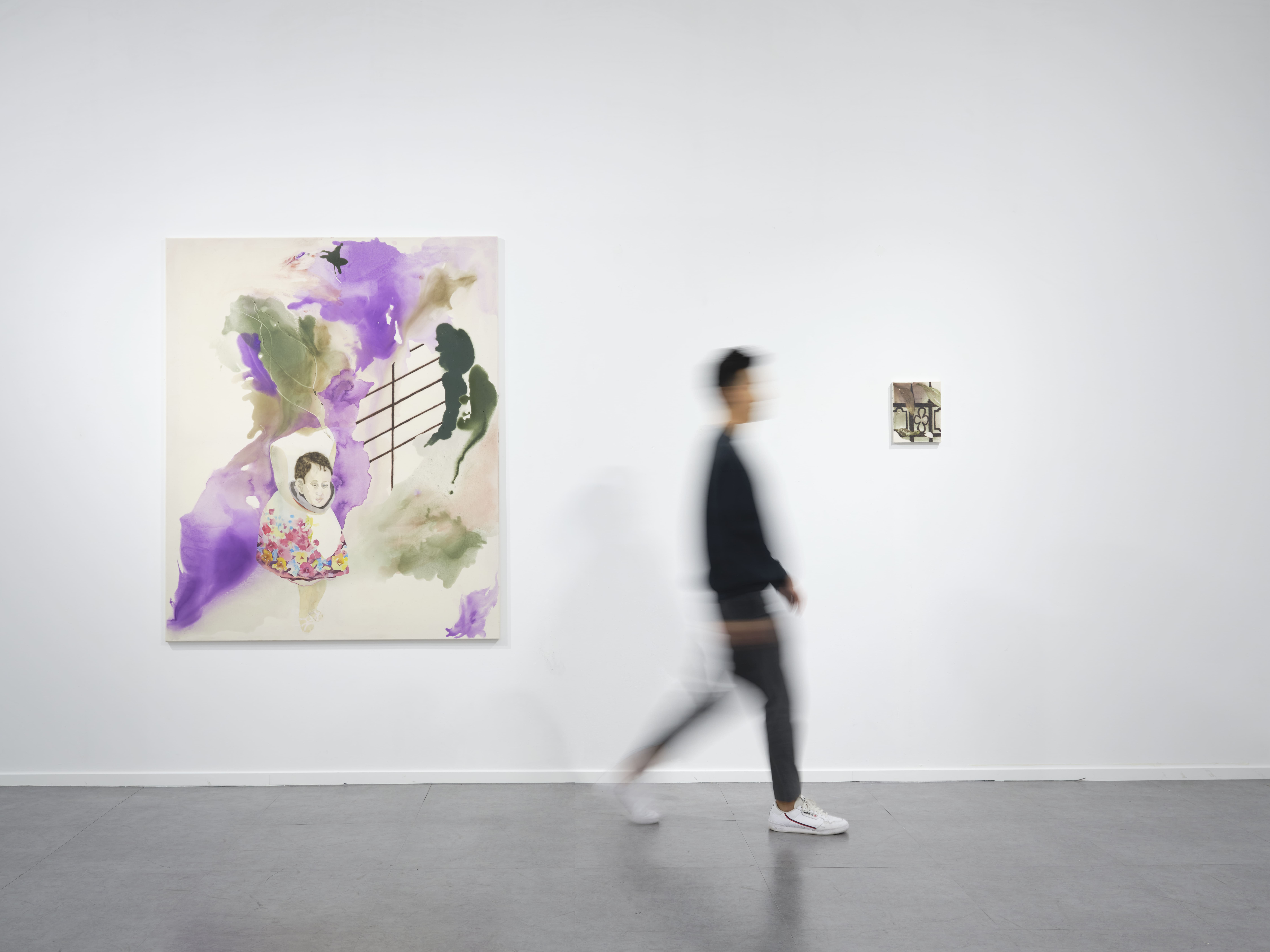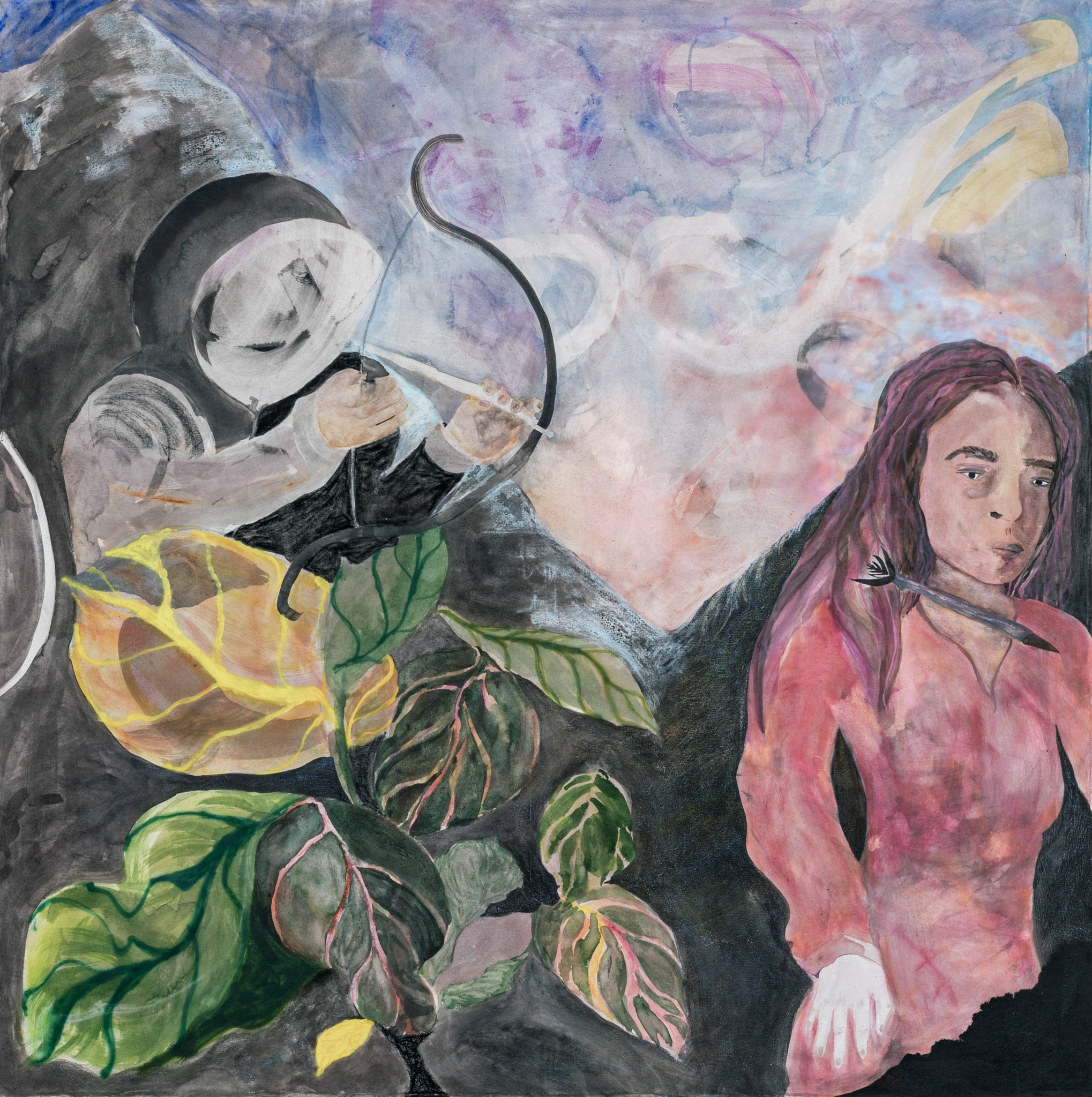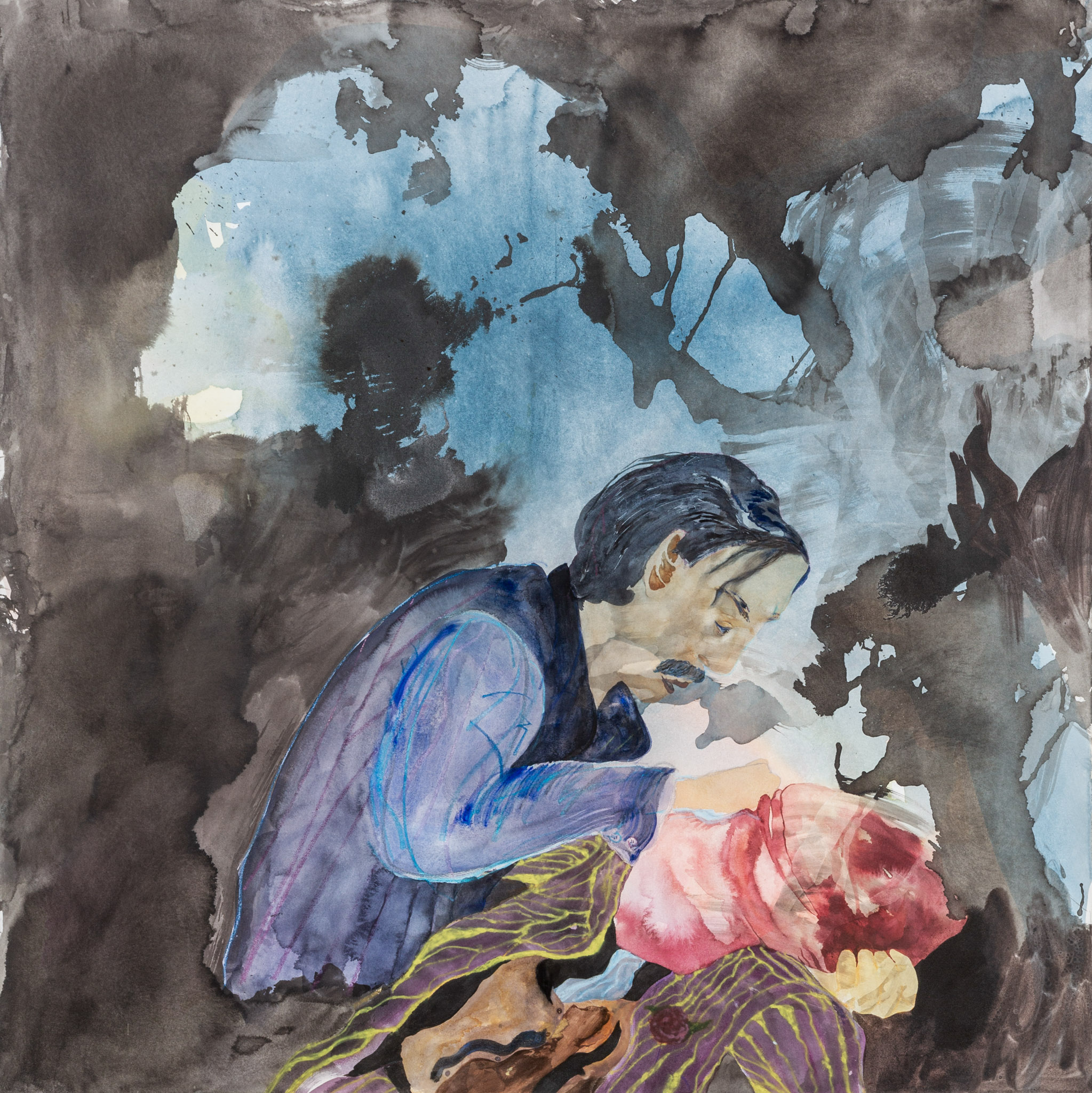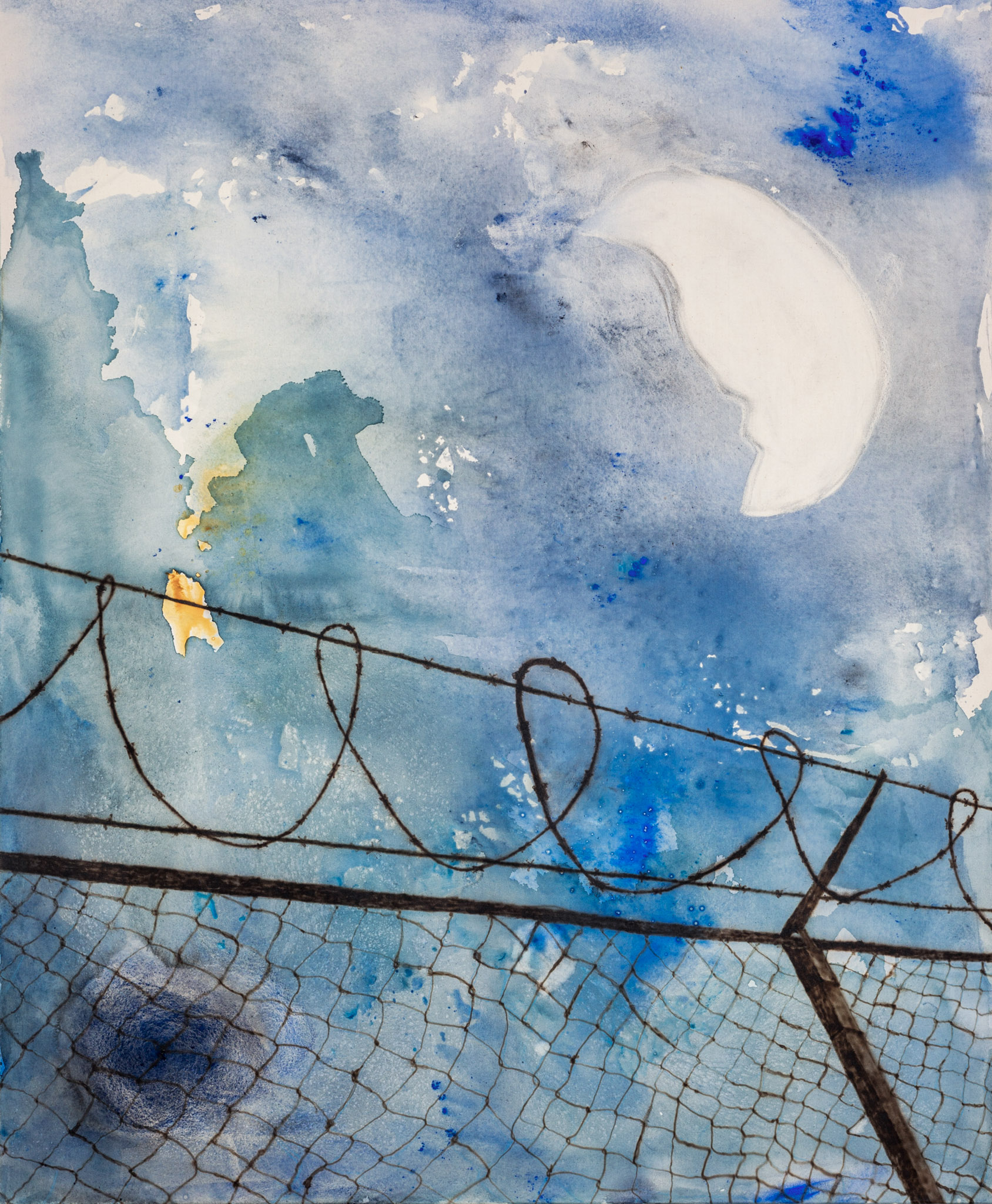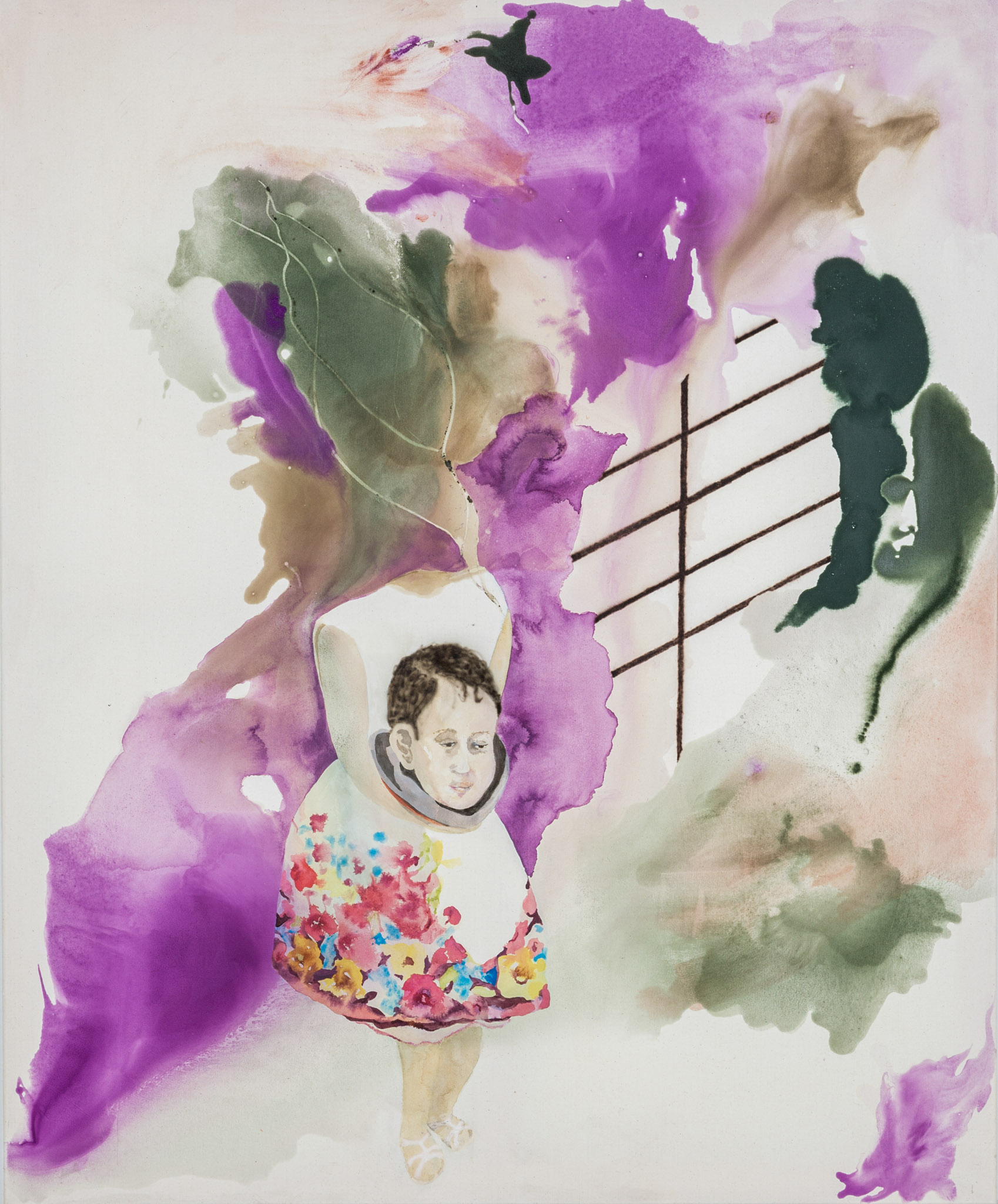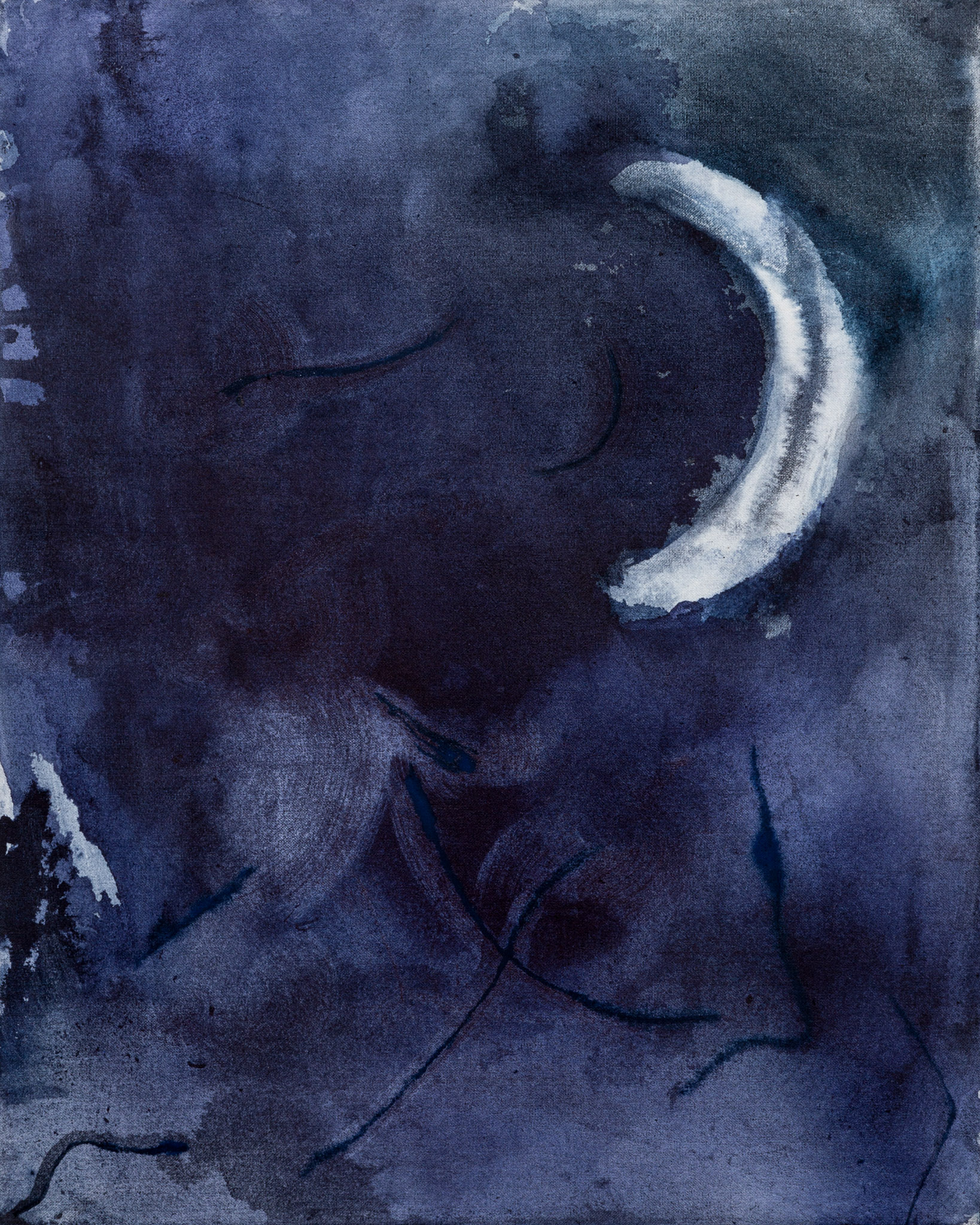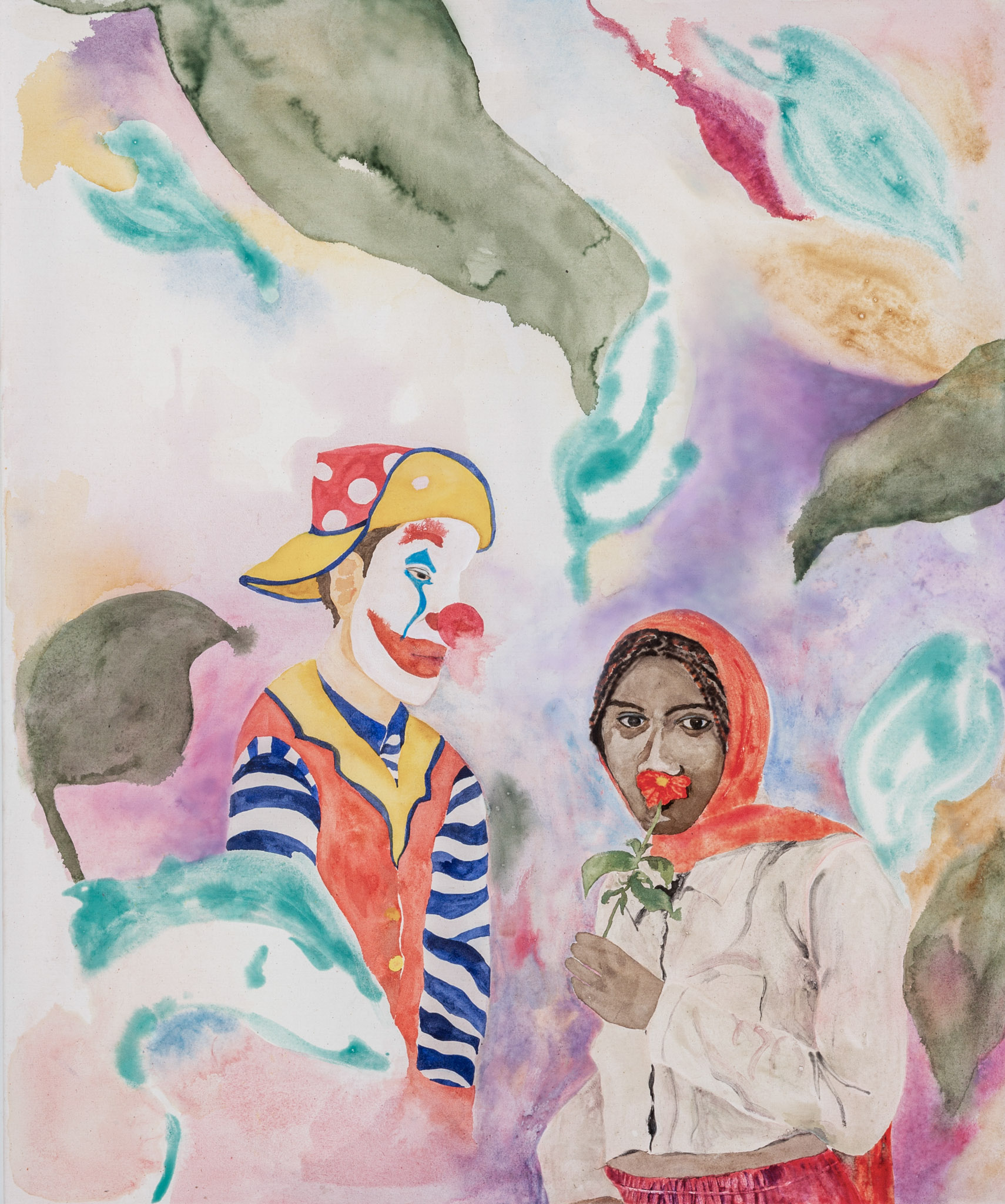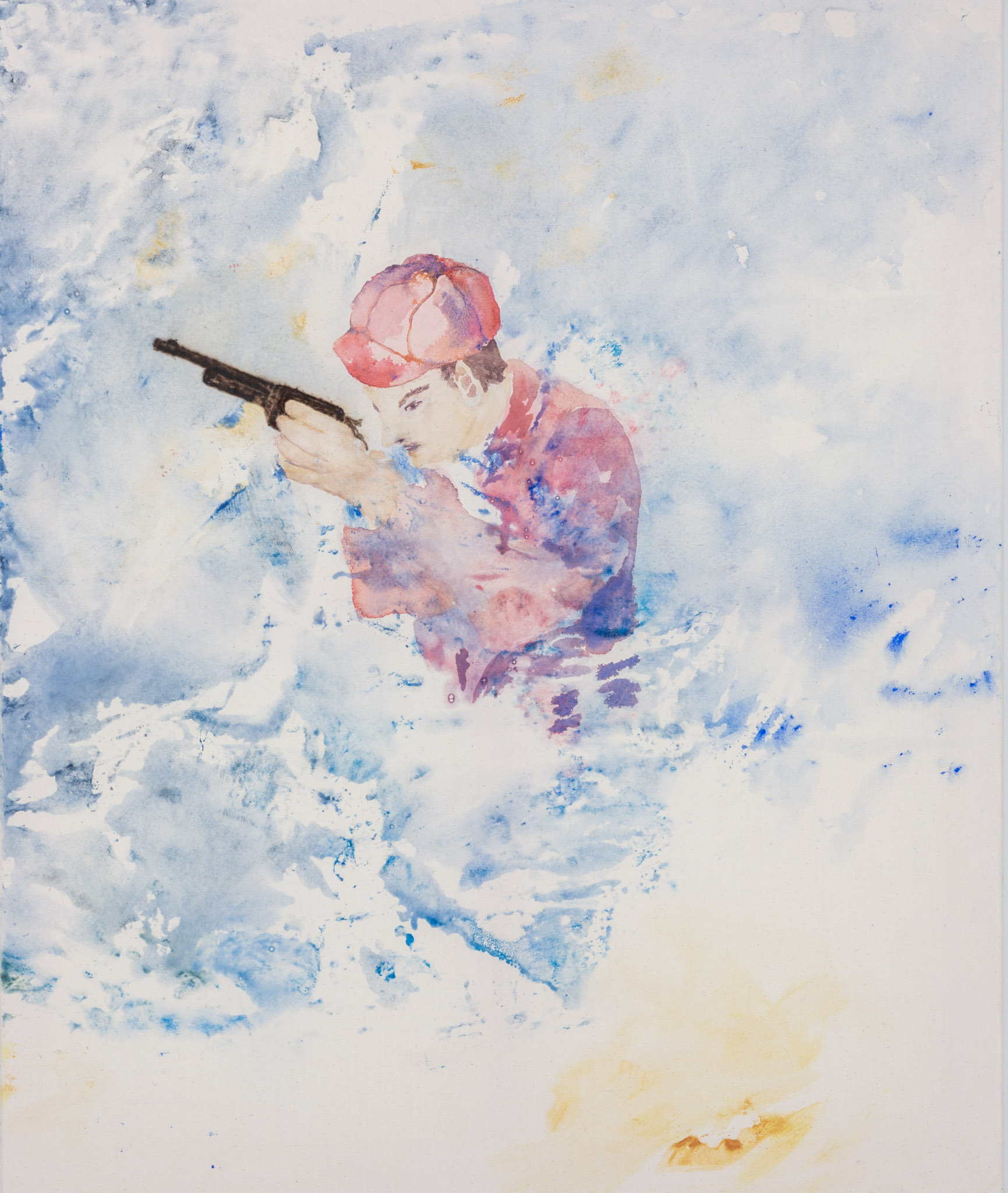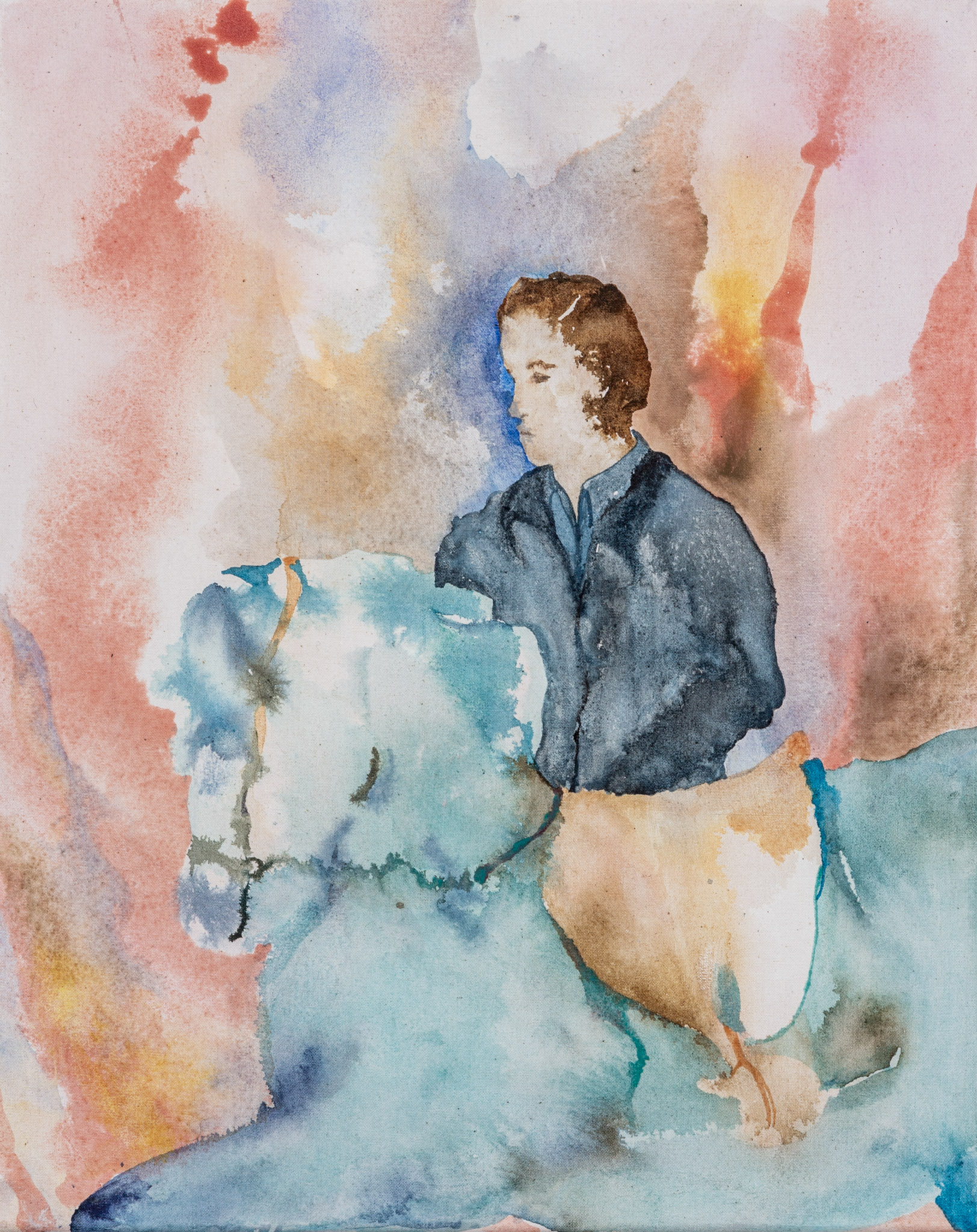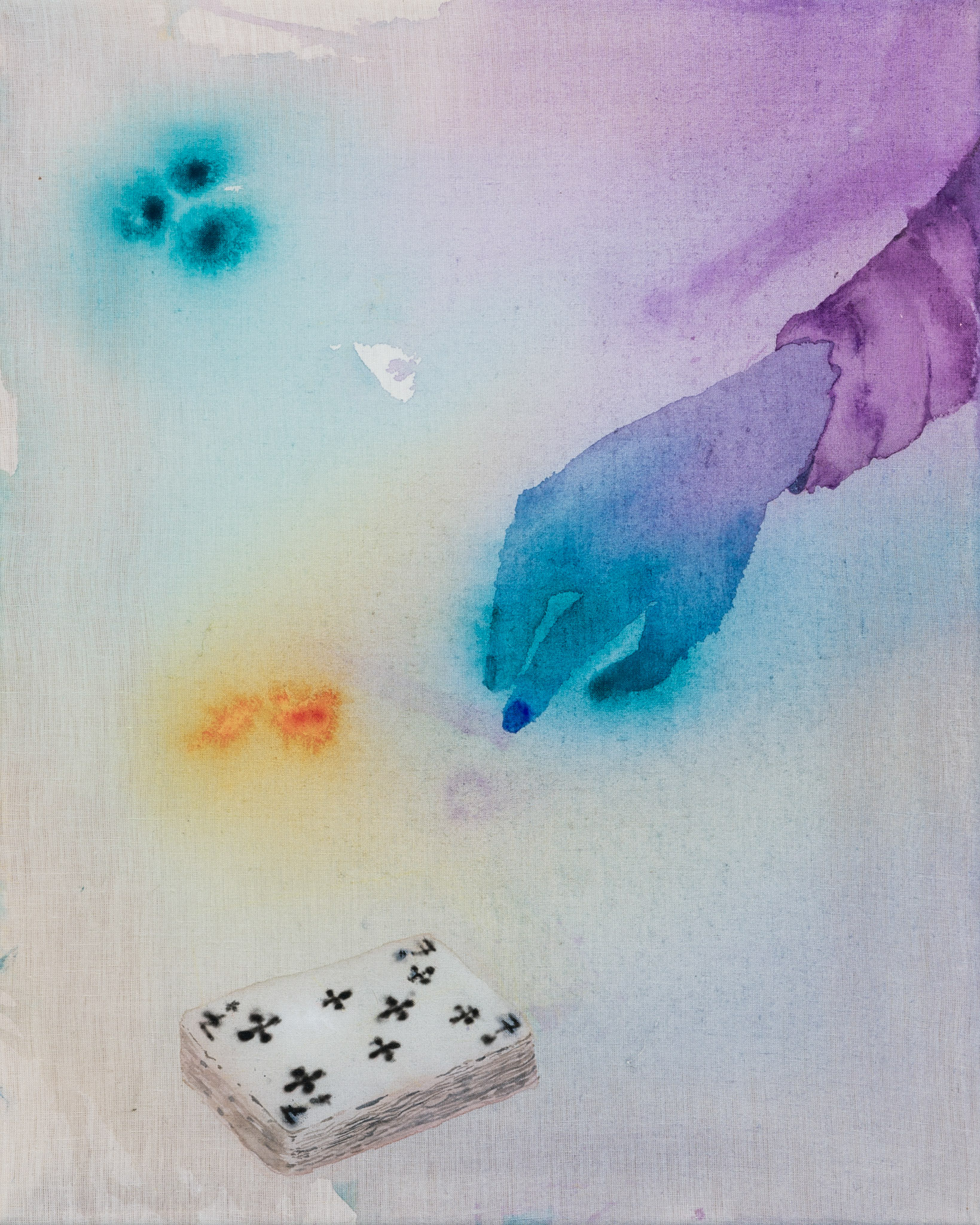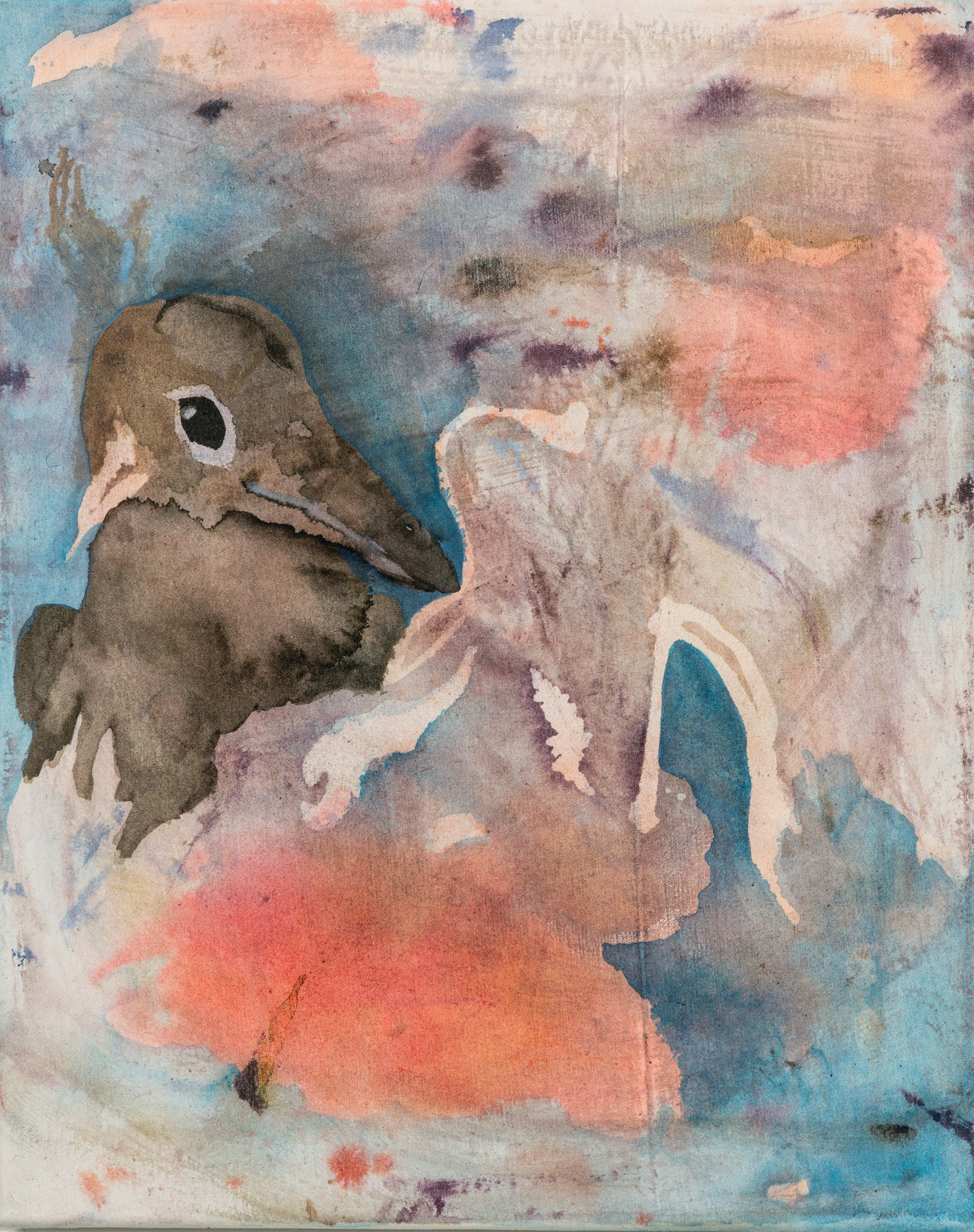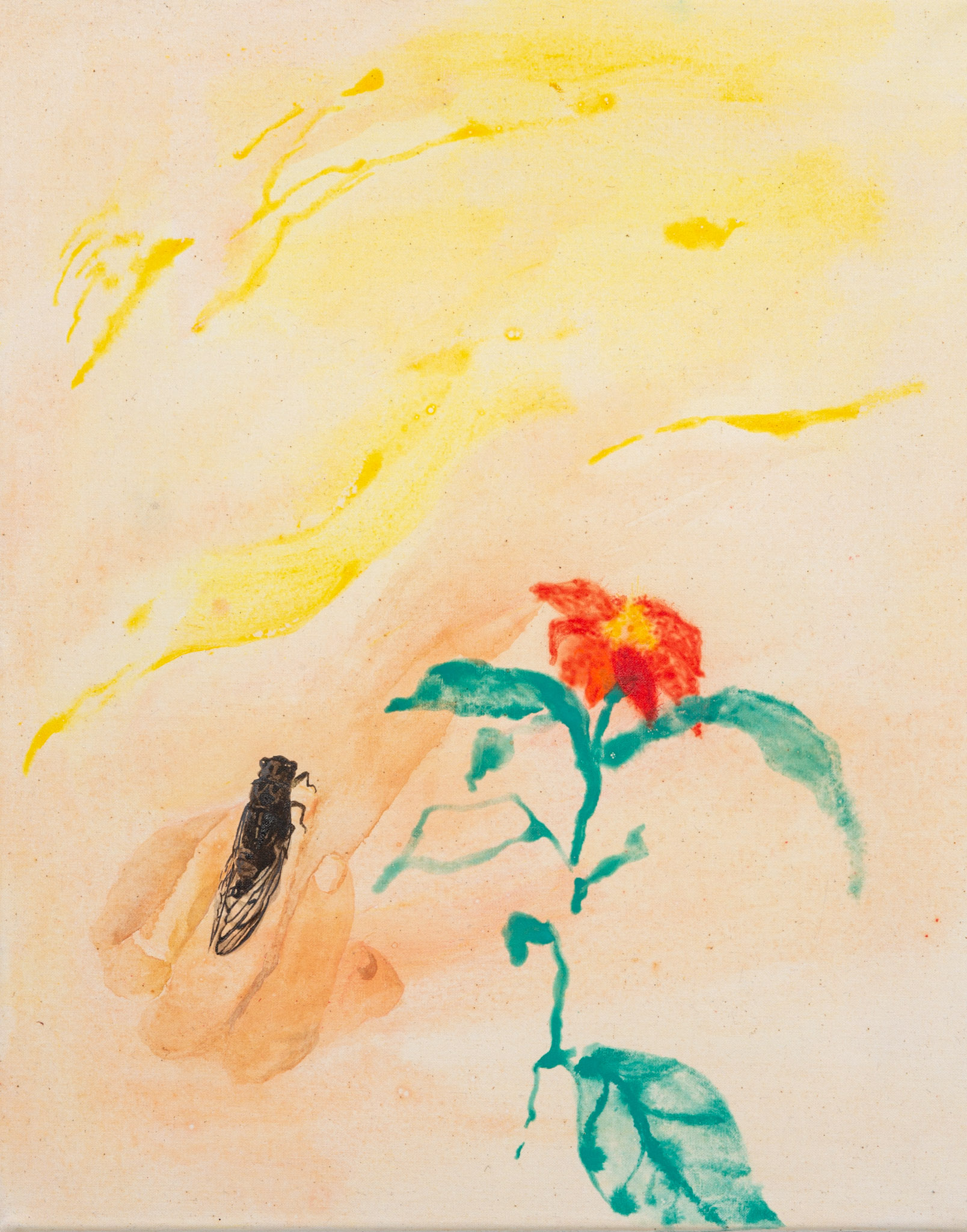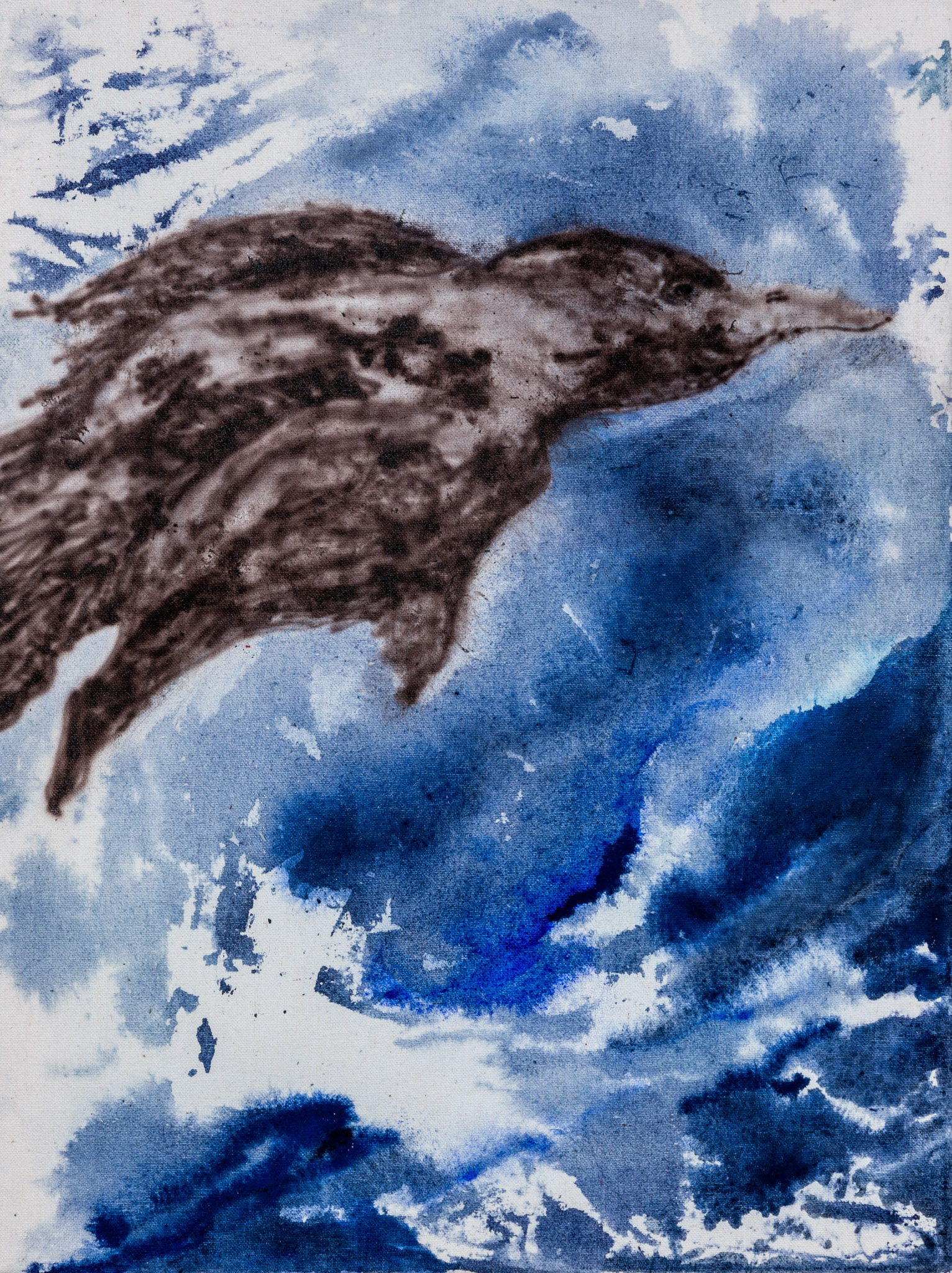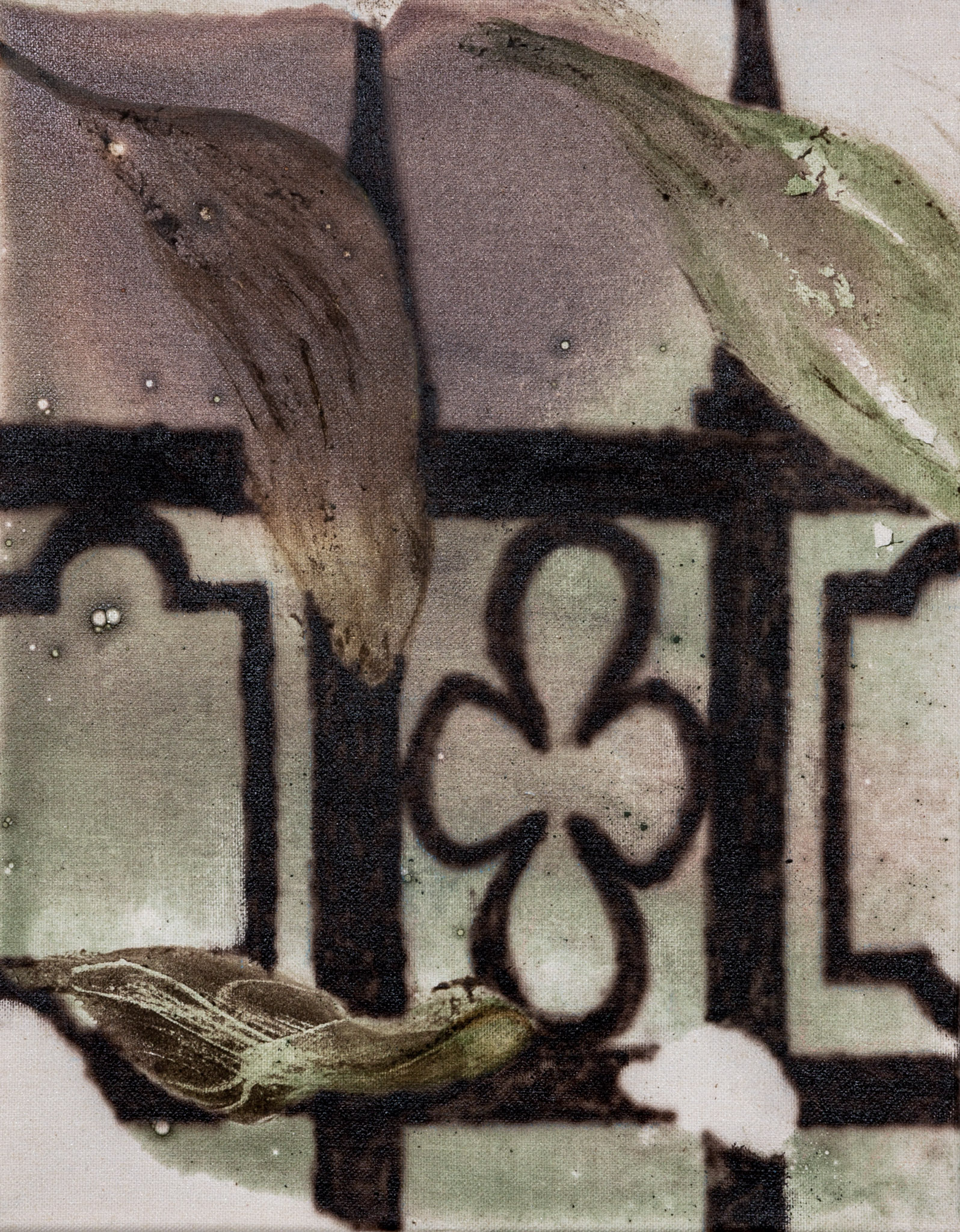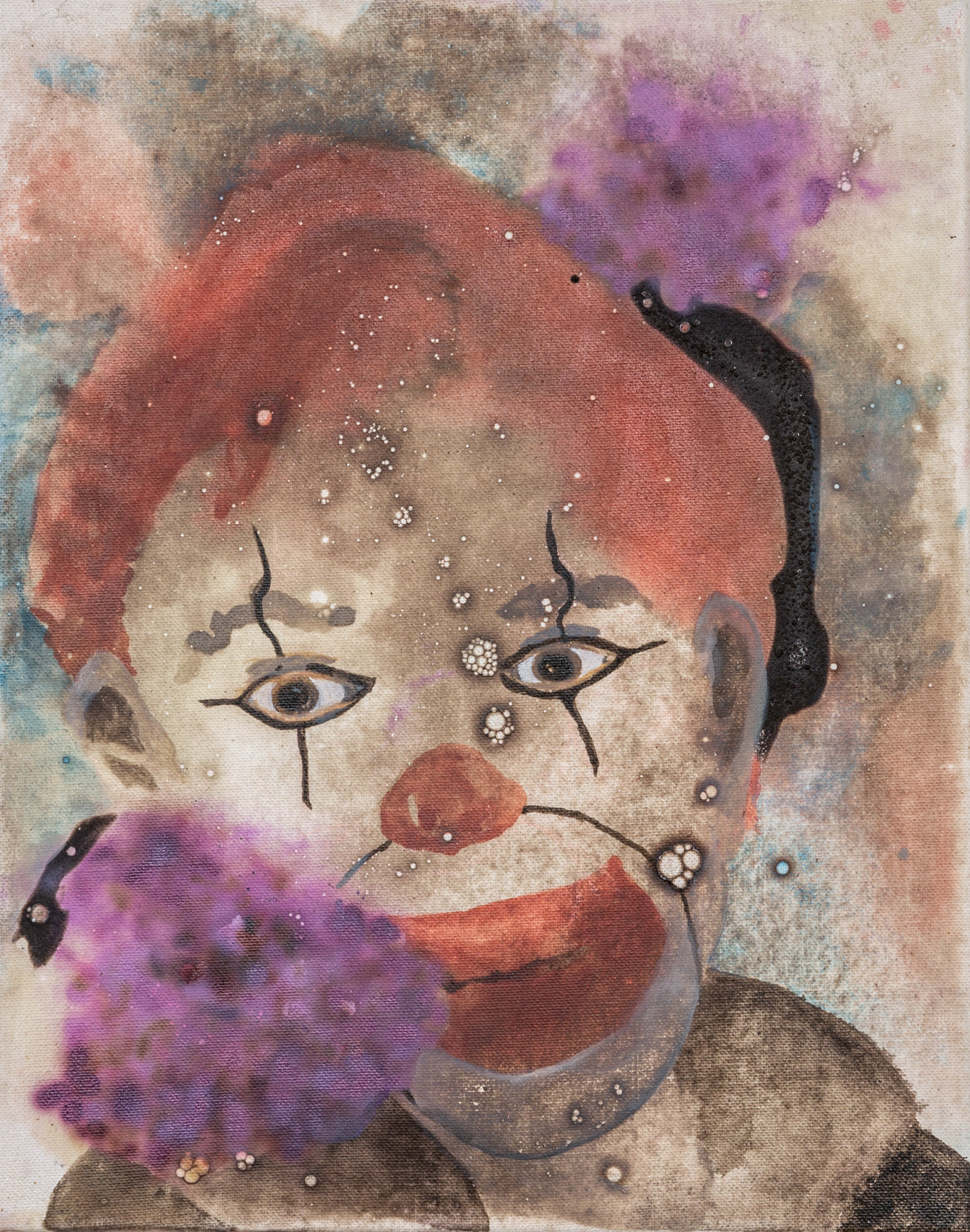 X
Shoot the Moon
January 13–February 12, 2022
MINE PROJECT (now MOU PROJECTS) is pleased to present "Shoot the Moon," a solo exhibition by Paula Kamps. This is the artist's first exhibition with the gallery and in Asia.
Paula Kamps's new paintings are eerie records of social perception in progress. Kamps partially populates her canvases with inky stains and pigment marks, to then shift gears into figuration. Her initial moves are a self-made Rorschach test. Seeking out images from her daily life in the watery forms, she catches fragments of a familiar image—the swoop of a neck or a clown's lips—and fills in the rest.
Kamps employs techniques and materials proper to printmaking and drawing. She stains the canvas with highly concentrated architectural inks and applies traditional pigments bound with rabbit-skin glue. Monoprinting with a casting sheet, she defines the contours with oil pastels. Recently she has been using an airbrush to atomize and spray ink; the consistent yet hard-to-control blur of an airbrush counters the delicate lines and blooming fades of water-based ink.
The imagery Kamps finds in her paintings is a diaristic record of what she, as a German artist relocated to Chicago, notices and plucks out of the American landscape. The paintings are fruits of consciousness developing in a new social context. Rather than making moral claims, her approach is intuitive, documenting the subtle recalibration of her attention. The paintings in "Shoot the Moon" handle imagery with humility. Instead of scheming compositions to make Americana speak social truth, the work details how aspects of the landscape catch her particular eye. The presence of guns and sexual ambition sits alongside flora, fauna, and new friendships. People in these paintings strangle, shoot, and lure one another, but they also pick flowers and go trick-or-treating.
Kamps's style foregrounds fascination over evaluation: her paintings find the uncanny in social violence, depicting US megalomania as creepy and paranormal. She renders metal implements like chain-link fences and guns with an airbrush; they appear imposed on the images, as the industrial airbrush intrudes on traditional materials while giving these tools of state power a carnivalesque feel. It is fitting that Kamps takes the exhibition's title from the 90's Western film, Tombstone, where a drunken gunslinger tries to shoot the moon out of the night sky. Her process reflects the inherent push-and-pull of social perception, mapping familiar forms onto the rush and flow of visual textures, which in turn reimagines those forms and their world.
(Essay by Lily Scherlis)
About the Artist
Paula Kamps (b. 1990, Germany) explores mediums traditionally considered external to painting. The artist uses, among conventional brushes, the technique of airbrushing. She developed a technique midway between watercolor and drawing, using ink to "stain" the canvas. Eventually, these stains reveal figures and scenarios. Kamps grew up in Germany and has moved to Chicago in recent years where she was exposed to a radical geographical displacement and cultural difference. The experiencing of everyday situations and environmental upheavals influence her works. She relates in this new body of work what she calls "diaristic narrative."
Kamps studied at the Kunstakademie Düsseldorf under Tomma Abts and Elizabeth Peyton.
The artist currently lives and works in Chicago, US.
Shoot the Moon
January 13–February 12, 2022